20 + 10 FREE bulbs
£16.47
£10.98
available to order from summer
in stock

(shipped within 2-4 working days)
email me when available
Send
Position: full sun
Soil: fertile, well-drained soil
Rate of growth: average
Flowering period: Apr-May
Hardiness: fully hardy
Bulb size: 11/12

These are probably the best loved of the deep purple tulips. Their velvety, dark maroon, single, cup-shaped flowers on straight stems in May are stunning, so they do deserve their acclaim. The almost-black tulips work well in a 'bruised' coloured border, planted between other plum-coloured flowers and foliage plants. Shown here photographed with tulip 'Shirley'


Garden care: In September to December plant bulbs 15-20cm deep and 10-15cm apart in fertile, well-drained soil. Alternatively, allow 7-9 bulbs per 30cm sq. After flowering dead-head and apply a balanced liquid fertiliser each week for the first month. Once the foliage has died down naturally lift the bulbs and store in a cool greenhouse.
Harmful if eaten/may cause skin allergy
Eventual height & spread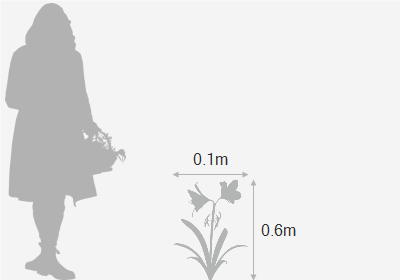 Notes on Tulipa 'Queen of Night'
"Sultry and dramatic this finely-poised, eye-pleasing tulip looks black in spring sunshine. But its popularity lies in being perennial - coming back year after year if a little smaller in form."
Grew these among my wallflowers. Lovely large heads, straight stems. Very classy
Di the gardener
Osgathorpe
I planted these in two containers on my terrace that were visible from inside. They made a stunning display and people commented on them. Sturdy stems and gorgeous deep coloured tulips. Very stylish.
Anna
Dorset
Some but not all of these came up last year but I think one came up this year
Susan
East Sussex
Lovely. They are not meant to, but I'm hoping they come back again next year.
Sebby
Midlands
This particular tulip was brilliant..it lasted in the garden for weeks and I cut about 6 and had them in a vase for ten days. Beautiful.
Annie
Faringdon
Strong, upright tulip & very reliable.
Worth investing in quite a few for full impact.
Happy gardener
Cumbria
Planted in pot on patio
Hey Jude
Essex
Beautiful, rich colour. Stately and elegant
Lovely tulips, not quite as dark or large as ones I've bought from other suppliers in the past, but really beautiful nonetheless.
Kate F
Brighton
Still one of the best
Joyful gardener
Bath
2006 Planting Chelsea Flower Show enquiry Hi, I see you have plants available for the current show, but do you have a plant list for the 2006 award winner (Daily Telegraph,Tom Stuart Smith) available as I am interested in buying some of these plants? Thank you for your time, Kelly

kelly mackenzie

Hello Kelly, He did use a lot of plants in his garden - here is a list which includes most. Allium Purple Sensation Anthriscus Ravens Wing Aquilegia Ruby Port Astrantia Claret Carex testacea Cirsium rivulare atropurpureum Dahlia Dark Desire Euphorbia Fireglow Geranium Lily Lovell Geranium phaeum Samobor Geranium Phillipe Valpelle Geranium psilostemmon Geum Princess Juliana Gillenia trifoliata Hakonechloa macra Iris Dusky Challenger Iris Dutch Chocolate Iris Sultan's Palace Iris Superstition Iris Supreme Sultan Knautia macedonica Lavandula angustifolia Nepeta subsessilis Washfield Nepeta Walkers low Purple fennel - Giant Bronze Rodgersia pinnata Superba Rodgersia podophylla Salvia Mainacht Sedum matrona Stachys byzantina Stipa arundinacea (syn.Anemanthele lessoniana) Stipa gigantea Tulip Abu Hassan Tulip Ballerina Tulip Queen of Night Verbascum Helen Johnston I hope this helps. Helen Plant Doctor

Crocus Helpdesk