Hydrangeas are late arrivals to the summer garden party so they barely get a look at the Chelsea Flower Show. That doesn't mean they aren't stylish though, because these versatile plants can be used in so many ways. They're great in containers of any size and plant breeders are providing us with lots of exciting, jazzy colours and flower forms. They can add some late-summer razzle-dazzle to a woodland garden that finished in May, or they can take their place in prairie planting. The important thing is to pick the right one for the right job because there's a hydrangea for every situation.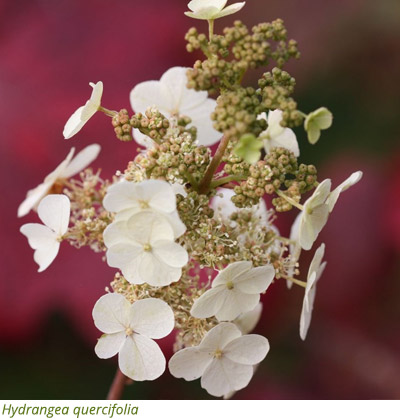 There are plenty to choose from because there are between 80 and 100 hydrangea species found in the Northern hemisphere - depending on which botanist you believe! Most are Asian and summer-thirsty so not suitable for dry positions. However there are two hardy North American species. Hydrangea arborescens and H. quercifolia, that will tolerate drought. Flower form varies from star to double. Some provide flower domes on sturdy stems. Others have lacecap flowers that are as delicate as any paper doily at a posh tea. Some have pointed flowerheads, rather lilac-like in shape. Whichever one you choose, their tempting buds are always sumptuous long before the flowers. Their four or five-petalled flowers last for many weeks and then the flowerheads fade into winter and provide a papery seedhead of tiny florets to catch the frost, or shimmy in the breeze. As winter wears on the seedheads look almost skeletal.
The most highly bred type, Hydrangea macrophylla, is the shrubby upright hydrangea often seen growing in the western half of Britain where summer rainfall is higher. It's a seaside speciality too and it flowers on two-year old wood, so it really resents being pruned hard. Give this a sheltered position and then cut it back to the highest buds in late spring. Flowers come mostly in shades of pink and white, although the flowers of some turn azure-blue on acid soil. You can add Hydrangea colourant on neutral and alkaline soil. The mixture of iron and aluminium lowers the pH, although you still need to select a blue variety because many pinks are bred to keep their colour.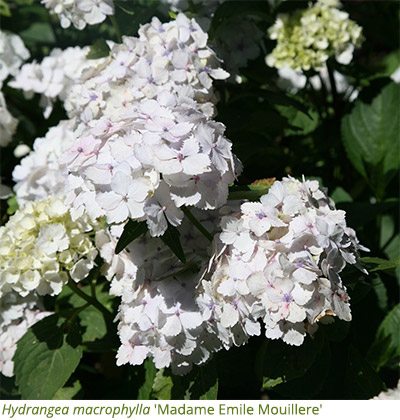 H. macrophylla needs summer moisture because it's evolved in a rainy Asian summer climate. Good garden forms include 'Madame Emile Mouillere', a pale-pink with slightly ragged edged flowers. 'Preziosa', thought to be a hybrid between H. macrophylla and H. serrata, has pink flowers, even on acid soil, and this is considered to be one of the best pink forms. 'Lanarth White' has a ring of informally arranged pure-white starry flowers surrounding lilac-pink fertile flowers so this always looks fresh and cool and it colours up on any soil. 'Blushing Bride' (also called 'Endless Summer Blushing Bride') is a recent breeding breakthrough because it's capable of flowering on old and new wood and this extends the flowering season from June until October. The flowers are a soft blush-white, so easy to place. It was discovered by a sharp-eyed nursery worker at Bailey Nurseries in Minnesota USA and has been hailed by the renowned American horticulturalist, Dr. Michael Dirr, as "a horticultural miracle" in his book Hydrangeas for American Gardens. It's taller than many, reaching 5 feet or 1.5 m, and it could be used as a specimen shrub or it could form an informal hedge.
If you want to try for a blue hydrangea opt for 'Mariesii Perfecta' (syn. 'Blue Wave'), an old French variety raised by Victor Lemoine in 1904. This sturdy lacecap has stood the test of time, although it will only produce blue flowers on acid soil. If you're after a snazzy hydrangea for a pot, 'Zebra' combines rich-green foliage and white flowers with black stems. Other showy, black-stemmed forms include the shocking-pink 'Black Steel' and the multi-coloured 'Glam Rock', a purple-eyed pink with random splashes of lime. If you want really large flowers go for the purple-pink 'Kardinal Violet', a new lacecap that will bloom from summer through to autumn.
Drier summers, which are a problem for many Asian 'macrophylla' hydrangeas, present no problems for Hydrangea arborescens, an American native found in an area stretching from Louisiana to Florida and northwards to Iowa. This tough species has to endure cold-snowy winters and hot dry summers and it will happily grow anywhere in Britain, regardless of rainfall or temperature. This species has been grown in Britain for 300 years, having been introduced into Britain in 1736 by Peter Collinson (1694-1768). He was a major patron of John Bartram (1699-1777), a Quaker usually referred to as the "father of American botany".
The most desirable form is 'Annabelle', and this was discovered growing wild near Anna in Southern Illinois, hence the name. It was launched in the mid-1970's by the Gulf Stream Nursery and now it's grown all over the world. It is often used in box parterres, because the lime-green buds are a feature long before the green-veined white flowers appear on strong stems. It's also used with late-summer perennials, or you could grow it close to sultry shrubs such as Cotinus coggygria 'Royal Purple' or a black sambucus. 'Annabelle' will tolerate some shade and the lime-green buds look particularly good against blue flowers like Campanula lactiflora 'Prichard's Variety'. A larger headed form called 'Strong Annabelle' is also available. 'Lime Rickey' has lime-green flowers.
Hydrangeas often produce sports, or shoots with different coloured flowers, and there are several pinks including 'Pink Annabelle', 'Sweet Annabelle', Invincibelle Spirit and 'Ruby Annabelle'. These will grow in bright shade and full sun.
The other American species widely grown is H. quercifolia. It's often called the oak-leaved hydrangea because the large leaves are the same shape as an oak tree's leaf. The lax habit of this hydrangea is suited to large containers, or you could let it tumble over a low wall because it will generally be wider than it is taller. The foliage colours up very well in autumn, to maroon-red, and this flatters the pointed flowerheads. 'Snow Queen' is an award-winning variety with large white flowers and the flowers fade to pink and green just as the leaves redden. The equally good 'Snowflake' has downward facing, slender white flowers.
If you want an excellent hydrangea for shade, perhaps under large trees, or for late colour in a border full of spring woodlanders, consider planting Hydrangea paniculata. The species name, from panicle, describes the pointed flowerheads not dissimilar to lilac. This hydrangea doesn't mind being pruned back hard and, if it's pruned back hard it produces much larger flowers -but in smaller numbers. At RHS Wisley in Surrey the giant trees on Battlestone Hill are underplanted with several large-flowered forms and they include Vanille Fraise, literally strawberry ice cream, and a pure-white called 'Silver Dollar'. At RHS Wisley these are heavily pruned every spring to encourage much larger flowers and these match the scale of the trees above. Those with smaller gardens should probably prune lightly to encourage lots of smaller flowers.
'Silver Dollar' is also an excellent container plant when grown in large tubs and forms of H. paniculata splay outwards very pleasingly so they fill a container very well. The classic form is 'Limelight' and the rounded flowers, which are only slightly conical, are a fresh green when they open in August. They fade to pink and green before browning in spring. There's also a 'Little Lime' and this is a smaller version of 'Limelight'. Raised at Windsor Great Park, 'Tardiva', flowers later than many and the conical white flowers have just a few sterile flowers so it's very delicate and airy. 'Grandiflora' has fuller flower spikes. 'Wim's Red' begins as a pink-white and then the flowers darken to dark-red as temperatures drop.
If you want a compact form, the recently launched H. paniculata 'Bombshell' has plenty of rounded cream flowers. I'd also recommend Little Spooky for its hummocks of greenish-white flowers which would look superb in a dark pot. Or try the sugar-pink rosettes of Miss Saori, the RHS Flower Show Plant of the Year in 2014.
If you have room and you want to get a touch of blue and you don't have acid soil, the shade-loving Hydrangea aspera 'Villosa Group' will light up August with its pincushion of tiny violet flowers surrounded by large sterile flowers that are the same colour as gloaming, that moment when the sky begins to darken. It's perfect at the back of a shady border, because it's lanky and could reach over 15 feet in time. By then the bark will have taken on a ragged appearance, more cinnamon stick than most, and the hirsute, dark-green foliage will frame lots of flowers.
If you think that hydrangeas are as faded as run-down seaside town, then think again. They are invaluable in the late-summer garden and they'll light up a dark corner too!