Position: full sun
Soil: fertile, well-drained soil
Rate of growth: average
Flowering period: May
Hardiness: fully hardy
Bulb size: 11/12

An elegant tulip with broad, white, slightly feathered petals, each with a bright green central band. Perfect for a sunny, well-drained border where it will brighten up a spring day or for planting in pots on the patio. It looks particularly lovely teamed with silver-foliaged plants or with other tulips, especially the dark plum-coloured varieties like 'Black Hero'.


Garden care: In September to December plant bulbs 15-20cm deep and 10-15cm apart in fertile, well-drained soil. Alternatively, allow 7-9 bulbs per 30cm sq. After flowering deadhead and apply a balanced liquid fertiliser each week for the first month. Once the foliage has died down naturally lift the bulbs and store in a cool greenhouse.
Humans: Harmful if eaten; skin allergen; Pets: Ornamental bulbs - not to be eaten
Eventual height & spread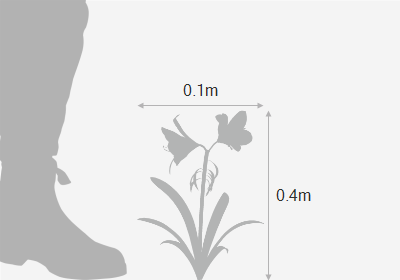 Notes on Tulipa 'Spring Green'
"Simple, cool and muted with streaked green and white flowers - this is the perfect tulip for refreshing gloomy shade among ferns and spring woodlanders."
These are beautiful and long lasting tulips the Spring.
merixmas
Glasgow
Beautiful strong and healthy
Planted amongst my wallflowers. Perfect. Impressive
Di the gardener
Osgathorpe
I have purchased few varieties of tulips from crocus but few variety didn't flower at all and some of them one or two flowered. I also purchased tulips from different suppliers and had no problems.
Keen gardener
Northampton
The tulips were beautiful when they came up in their first year. Being a bit of a lazy gardener, I left them in their pot over winter having fed them when green and gave then a bit of new compost in the spring. This summer, about two thirds of them came up again looking just as beautiful and elegant. I will do the same again over this winter and see how many make it next summer. They flower for a long time too. So all in all, good value. Once they stop flowering I will buy some more- I'm not really a tulip fan, but I love these.
Narn
Near Kinross
I normally leave tulips in the ground for next year. So we shall see how they perform next year
Chris
Reading
Placed in border along with wallflowers
ShirazLady
Lancashire
Lovely tulips beautiful colour
I used them in pots they were stunning.
DiDi
Chichester
Stunning late flowering tulip
This is quite a late flowering tulip (mid-May) but the green colour is really unusual and beautiful. The flowers are quite tall and last for a good few weeks. Planning to buy more of these!
Cimmerian
Durham
I have many tulips( several verieties) is it okay to leave them in the ground regards eamon e

iknonuthin

Hello, The majority of tulips (including this one) should be lifted each year after they have died back. The exception to this rule is the species tulips (like the one on the link below), which can be left in the ground year after year. http://www.crocus.co.uk/plants/_/tulipa-humilis-persian-pearl/classid.2000025450/

Helen