Position: full sun
Soil: well-drained, including chalk, enriched with leaf mould or a loam-based potting compost such as John Innes no. 2
Rate of growth: average
Flowering period: July
Hardiness: fully hardy
Bulb Size: 20/22

One of the most popular varieties of lily, and its not hard to see why. The huge trumpet-shaped white flowers are flushed with pink, smell divine and provide great wafts of scent throughout the garden when they are open. Alternatively bring them inside as cut flowers and they will fill your home with their heady perfume. Lilies are one of the all time favourite summer-flowering bulbs as they will look superb in any garden scheme. The RSPCA have reported that all parts of lilies can be fatal to cats, including the flower, leaves and pollen. For more information visit Rspca.org


Garden care: Lilies can be planted at any time from early autumn, to mid-spring. Planting in autumn often helps them settle in and become better established before they start to put on their new spring growth, but spring planting is a better option if your soil is heavy and wet during winter. Choose a sunny spot, preferably where the plant receives a little light shade at its base, and plant each bulb 15-20cm (6-8in) deep in a well-drained soil, enriched with well-rotted organic matter or leaf mould. Space them between 15 - 30cm intervals and provide support before the flowers appear. Deadhead the faded blooms promptly and cut the dead stems back to ground level at the end of autumn.
CAUTION do not eat ornamental bulbs
Delivery options
Bulb orders £3.99
Click & collect FREE
more info
Eventual height & spread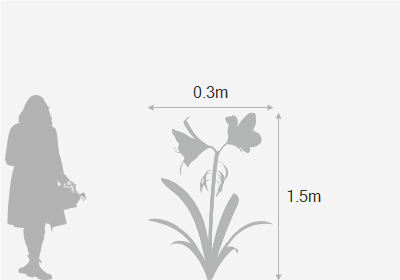 Very good quality plants.
Very good quality.
Blackcilla
Scottish Borders
Very pleased, nice bulbs.
Used to add height and interest in a mixed border.
"Ace of Spades"
Hampshire
Wonderful fragrant blooms
Great in pots in a courtyard
MW
Sussex
I kept these in a shed over winter an potted them up in spring. They looked a delight and scented the air by the front door.
Pamela
Portsmouth
I was delighted with the result
Saw a picture of the Lily and Heuchera grown in a tall dark container, was delighted with the effect, the heuchera picked up the colour in the Lily.
Pocket P
Shropshire
In pots they can be moved to where fragrance is best appreciated
HappyEssex
Saffron Walden
Really healthy plant so long as you keep the lily beetles away.
Min
Somerset
This was a long time ago but the flowers were very good.
I just planted them in the garden and they grew and flowered well.
------
South of England
While doing some new planting in the little garden dedicated to beloved dogs, I misjudged the location of the Lilium Regale I planted last year, with the result that I broke off a lovely healthy new shoot. (Last year's dried stem was not a good guide, so at least that's one lesson learned) Hope against hope, probably, but is there any chance of recovery, or should I pick myself up, dig the bulb up and start all over again? (Never good about plant losses, especially self-inflicted ones, I'm particularly sad over this one)

rue

Hello, This is such a shame, but I would not give up hope just yet as the bulb will be putting all its energies into producing a new shoot to replace the damaged one.

Helen
Lilies Hi I have grown Lilies for the 1st time this year. Can you advise me if they are annuals or bi-annuals? What do you do after flowering? Kind regards Robert

boblee

Hello Robert, These are bulbous perennials, so will carry on year after year. They will be starting to die back soon, but you should still be feeding with a high potash fertiliser now. Leave them where they are and make sure they are well watered - in winter you can cut this back a little - and they should come back again next year. I hope this helps. Helen

Crocus Helpdesk
Advice on planting your pre-designed Red Summer border Dear sir/madam I am particularly interested in buying the Red Summer Pre Designed Border. Please can you tell me whether these plants are suitable for planting in conjunction with weed inhibiting fabric. I want to minimise the amount of weeding required. Many thanks for your help Ruth

Ruth Hamilton

Hello Ruth, You can plant these into the weed supressing fabric without any trouble at all, provided you make sure the fabric allows the water to drain through. All you need to do is cut big crosses into the fabric and peel back the edges to plant and then fold back the edges again. I hope this helps.

Crocus Helpdesk