Position: partial or deep shade
Soil: moist, humus-rich, acid soil
Rate of growth: average
Hardiness: frost hardy (but usually fully hardy when established)

Recently introduced to the UK, this Brazillian 'tree' fern does eventually form short stem as it matures. It's for the newly emerging bright red fronds that it is most sought after. These fronds are a good size, and they form a distinctive shuttlecock shape so it is quite architectural. As they mature the fronds turn bronze, then finally settle on a rich green colour as the season progresses.


Garden care: It will usually require some winter protection for the first few years. Incorporate lots of well-rotted leaf mould or garden compost into the planting hole. Keep well watered during the growing season.
Eventual height & spread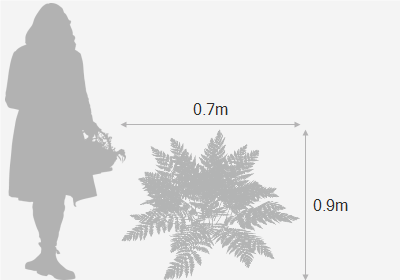 Beautiful fern, very healthy and has grown superbly well.
Banana
Devon
I would by this product again
After nine months it is too early to say how our fern is going to unfold next spring but last summer was already great result after we planted it. thank you Crocus!
DJE
London N4
Planted with two other ferns which are growing like on steroids! This one sadly died.
ThecDoctor
Northamptonshire
attractive ferns which survived frosts though would benefit from protection.
Anne
Dorset
Died within six months. I bought two, they are in an area where other ferns have flourished. The other one has hardly grown in the year that I have had it. A very underwhelming plant.
MF
London
Signed up for email alert and made a purchase last year when it became available to order. It was doing ok but started to struggle during the winter so I gave it a tiny bit of tomato feed and it perked up. As soon as the cold weather arrived I brought it inside and kept it on the window ledge untill all the awful snow had past around April time. Kept watered and in deep share this summer and it's starting to really take off! I haven't had any pink coloured leaves on mine yet but hopefully as it gets mature it will in the future. Another couple of weeks and I will bring indoors again for the winter. I would recommend to someone who is a confident gardener.
Krissy
Luton
Rather delicate, at least when young
I bought two which quickly lost the red flush in the younger leaves. They held on for a couple of months but slowly died over August-September. I think the summer was too hot and dry for their liking.
Karin
London
I would not buy this again
I wanted this unusual fern as a feature in a shady part of the garden in a large pot. But sadly it died.
Hardy perennial
North Wales
Sadly beast from east killed this but crocus refunded 🙏🏼
Needs frost protection in early years
Rachel
Cardiff
There are currently no articles for this item.