It might seem ridiculously early to be thinking about spring bulbs. However they've already been lifted from the fields and the popular ones will sell out really quickly. Most bulbs have to be planted in September and this includes daffodils, grape hyacinths, scillas, alliums and crocus. Tulips should wait until the temperatures have dropped because they're prone to fungal disease called Tulip blight. Temperatures usually fall by the end of October and then you're safe to plant them right up until Christmas and they will still perform.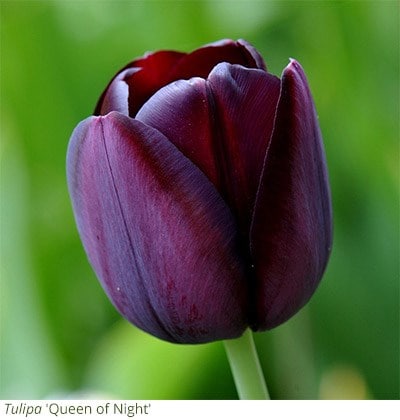 There's something magical about looking at a boring, brown bulb, or corm, because come next spring they will provide you with lots of colour. The flowers will also satisfy early flying insects and this is particularly true of crocus flowers, as their goblet of petals keeps the air temperature inside the flower warm, and that makes the nectar flow. Planned properly your bulb show could last from January right through towards the end of May. Generally it's better to plant larger numbers of fewer things, because if you use sixes of one thing and tens of another, it will look like jellybeans scattered through the garden. Choose a colour scheme, especially with tulips, and be aware that if you choose a dark tulip, like 'Queen of Night', you will also need a paler partner otherwise those sultry flowers will disappear against the bare earth. The general planting rule is to plant at twice to three times the depth of the bulb.
For a February show you'll need a brighter spot mostly, one that the warmth catches. The smaller flowered crocuses flower a full four weeks earlier than the larger, more colourful ones. Crocus vernus types and generally these smaller-flowered early ones are not strong enough to push through grass, so are not suitable for naturalising in a lawn. Their soft colours include creamy yellow 'Romance', the paler cream 'Cream Beauty' and the purple-shaded yellow 'Advance'. These team well with blue-flowered rosemary, such as 'Miss Jessop's Upright' and the two usually flower together, pleasing the bees.
The spring-flowering crocus collection will give you a trio of different colours including the rich purple-red 'Ruby Giant', the yellow-centred, pure-white 'Snow Bunting' and the fragrant golden yellow Crocus chrysanthus var. fuscotinctus. These could be planted in sunny positions along the border, or you could do potfuls, which could be forced to flower slightly earlier in a cool greenhouse. If you want to combine all three colours, purple white and yellow, in one bowl the very hardy Crocus sieberi subsp. sublimis 'Tricolor' is capable of pushing through snow. It's just like a purple egg cup containing a boiled egg and this crocus persists from year to year. All these early crocus need good drainage and this is very important with all smaller sized bulbs.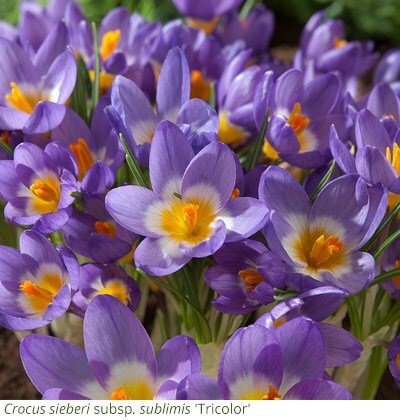 When it comes to larger crocuses, suitable for naturalising and grass, drainage isn't so important because generally they are descended from an Alpine crocus found in meadowland. These will flower four weeks later than smaller crocuses, although there is one exception and it's called 'Vanguard'. This sublimely lovely silver and purple crocus was collected in Russia, where winters are much colder, and as a result it flowers two weeks earlier than any of the larger crocuses - hence the name 'Vanguard'. The purple striped 'Pickwick' is a good companion for 'Vanguard' and the two will give you four weeks of flower. The lovely 'Grand Maître', a mauve-purple, is another lovely addition to a bold lawn or you can use it as a forerunner to containerised narcissi.
If you're looking for an early bulb for shade, the ice-blue Scilla mischtschenkoana would be perfect. This emerges through the bare earth like snowflakes on the ground and then pushes upwards and it's not grown nearly enough. A little later the bright-blue flowers of Scilla siberica appear and the flowers show up particularly well against the bright green foliage. This will flower in the lea of deciduous shrubs or round a tree trunk, as long as it's not too dry. It's also invaluable in containers as a warm-up act for later flowering narcissi. Allow it to self seed and form colonies and then it will shine in March.
Grape hyacinths, named for their fragrance, need a brighter position. Some of them are thugs and spread far too readily, although this may not be a problem in the wild are setting. Those with smaller gardens should plant choicer muscari, and there are several forms of Muscari aucheri that don't produce thousands of offsets. 'Ocean Magic' (a play on aucheri) is a soft baby blue with a green colour wash. The pure-white 'White Magic' is very pristine, but a little bit of white goes a long way in the garden so use it sparingly unless you've got a green garden full of ferns and topiary. The two tone flowers of Muscari latifolium are later to flower, but the bright-blue topknot and purple-blue skirt are very attractive.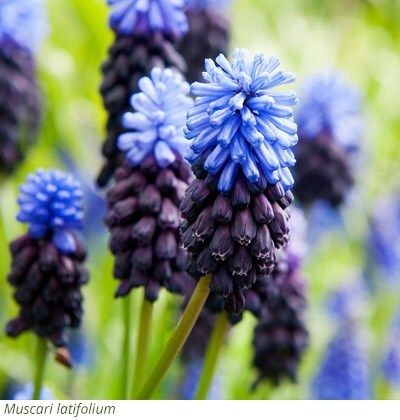 Bright cobalt goes so well with smaller narcissi whether there bright-yellow, pallid-yellow or clean-white. Excellent shorter daffodils include 'Jetfire', with a slightly swept back yellow outer and a trumpet that becomes orange as the flowers mature. This foot high American variety persists really well in grass, although it's quite brash compared to something like the old, wilding lookalike 'W.P. Milner' which has been around since then mid-nineteenth century.
One of our native daffodils, the all-yellow Narcissus obvallaris, also known as the Tenby daffodil, naturalises in grass really well. When growing a species (that's one with two Latin names) it's usually better to allow them to self seed because this is how they spread in the wild. This daffodil will produce black seeds in early summer and these should be sprinkled around and seedlings will follow. The Tenby daffodil, found in damp Western areas of England, prefers good soil.
If you're going to grow a showier daffodil it's often better to use a pot so that you can admire the detail. 'Lemon Drops', a multi-headed daffodil is superb in a container because the flowers seem to resist rain and heat so it's a really good value. Or you might like to try the rather weird and wonderful peach and white 'Rainbow of Colours' with its white outer petals and split, fluted corona. The tried and tested, award-winning 'Tahiti' is a subtle blend of pale-yellow touched with orange. These probably aren't suited to a country garden.
If you want a bold stand of yellow daffodils to line an avenue, or plant under trees, or to cut, 'Carlton' is for you. This flowers in March, reliably well, and if you want a follow-up act the smaller flowered daffodils with tiny fluted cups are good in April and May. Often called the poet's daffodil, forms of Narcissus poeticus, include recurvus which has slightly sweptback white petals and a red-edged yellow cup. This one is often called pheasant's eye because of that distinctive inner, and 'Actaea' is just as good. 'Geranium' shares the same flower form but the inner cup is a deep-orange so it's eye-catchingly beautiful.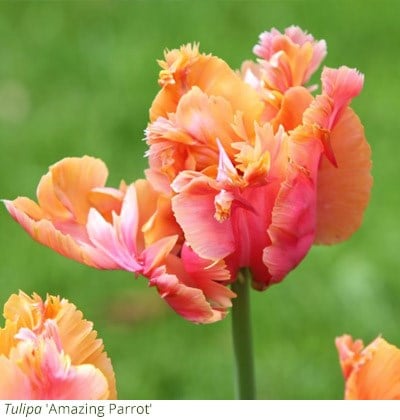 The small-capped narcissi often overlap with tulips and when you're thinking about tulips having an inspiring blend is the way to go, rather than too many different colours. Blends always, (well almost always), contain a Triumph tulip. These flower in the second half of April and they have thick-petalled egg-shaped flowers that reach roughly 40 -50 cm. This, the most highly-bred group of tulips, is the cut-flower tulip, and colours tend to be far more vivid.
The Radicchio collection contains 'Jan Reus', a deep-red Triumph, and it's softened by the feathered salmon-pink to sunset-orange 'Amazing Parrot' and the warm-red 'Avignon'. This combination of mid-season and later varieties will give 3 - 4 weeks of colour. Grown in a pot, out of full sun, this will please everyone.
The Cherry cream combination uses one of the finest purple Triumphs 'Negrita' with the striped 'Rem's Favourite' and 'Purple Doll'. 'Negrita' and 'Rem's Favourite' persist well in borders and you can brighten it up with the lily-flowered terracotta 'Ballerina', or mute it with the mottled mauve-white 'Shirley'. For a more ornate look opt for the double-black 'Black Hero' (a very late tulip that's the double form of 'Queen of Night') and a maroon-purple called 'Ronaldo' with the yellow-bordered, dark 'Gavota'.
The very best tulips, the tried and tested, often have an AGM award from the RHS and the vivid-pink 'Barcelona', the maroon-shaded, warm orange 'Prinses Irene' and the sombre-red 'National Velvet' are all exceptional. Newer ones that have done very well include the soft swirl of apricot and cream found in 'La Belle Époque', the most popular tulip for cut flower. 'Violet Bird', a vision of purple streaked in green, the clear-pink 'Mistress', the fringed 'Lilac Crystal' and the muted pink and brown 'Sanne' are all great varieties.
The best sell out quickly - as I know to my cost !!