There are many gorgeous English flowers that are reminiscent of a country lane dressed in its finest summer regalia. One of the major players is the hardy geranium with its gaping, saucer-shaped flowers heavily veined in order to guide the thirsty bee to the vital nectar and pollen. Some will set seeds, perhaps a little enthusiastically, but these seeds will satisfy the goldfinches and greenfinches later on. Others are sterile so they carry on flowering, seemingly forever, because they cannot be pollinated despite the foraging bee. Their flowers last for months with seedlings rarely produced - if at all.
There are varieties galore and it's quite possible to have hardy geraniums or cranesbills in flower from March until October in shades of pink, white, blue and rich magenta. Some will curtsey at the front of a border, others ramble and scramble, whilst some carpet the border edge as neatly as any alpine. Should you want to cut them back at any stage, they respond quickly and put out fresh foliage, sometimes followed by more flower, all in the space of a fortnight. No wonder the versatile hardy geranium is universally popular with the gardener. It's easy, accommodating and it rarely looks untidy - and it slots into the garden with ease.
Non-stop summer flower power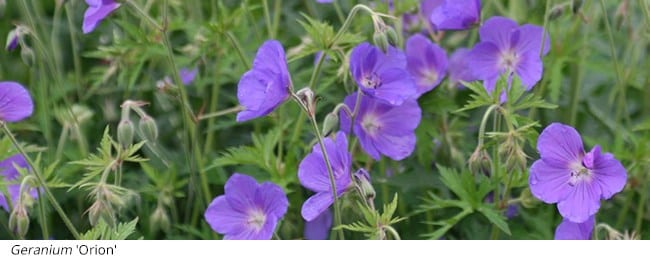 Being sterile may be frustrating for the plant, but it's a highly desirable trait in the garden setting, for sterile plants produce flowers over many months without the worry of unwanted seedlings popping up in strange and unwanted places. Each individual flower lasts a long time too and being sterile doesn't deter the bee. They still forage enthusiastically.

One of the very best is the deep-blue 'Orion', a seedling from 'Brookside'. It outshines every other blue due to its large, cobalt blue saucers striated in reddish purple. The paler middle adds more definition and this stunning geranium begins flowering in May, pre-empting the roses and most summer-flowering herbaceous.

Cut this mound-forming star back in the first week of July, to literally nothing, and 'Orion' will produce highly divided leaves within days and then carry on flowering until autumn. It does need a wide space, as it will cover almost a yard, but it stays tidy reaching between two and three feet in height (60-90cm). It coincides with the ruby-red buttons of Knautia macedonica and deep-red astrantias such as 'Claret' - creating a Persian carpet effect of rich colour and tapestry.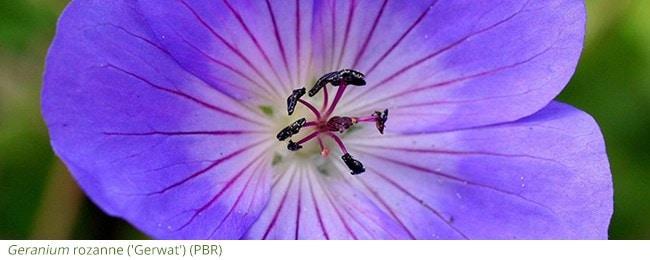 If you want a paler-blue geranium for late-summer, look no further than the brilliant 'Rozanne'. This was a Chelsea superstar, introduced in 2000, but it still graces all the best gardens because it flowers for so long, sending up white-centred paler blue flowers studded with sooty black stamens. The soft strokable foliage, inherited from G. wallichianum, is lightly marbled and lobed and in autumn there are glimmers of red. Many gardeners give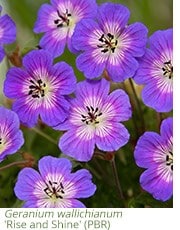 'Rozanne' a Chelsea chop, cutting back by a half or a third, to delay the fresh flowers until August. Whatever you decide,this is a wonderful plant for ground cover, quickly spreading to form a rambling carpet of blue, or let it roam in naturalised planting schemes. Similar to look at are the G. wallichianum varieties such as 'Havana Blues' with larger than average pale blue flowers above clumps of yellow-green foliage, or 'Rise and Shine' with a cobalt-blue flower marked with magenta-pink veins that age to a rich pinkish hue. Both of these G.wallichuanums forms colour up well in autumn with reddening foliage.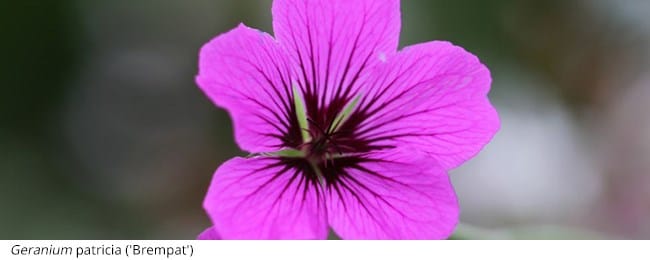 Not all hardy geraniums are blue. Some come in strident pink and 'Patricia', officially described as a magenta-pink, is hardly ever out of flower. This large geranium will perform in slight shade too, like one of its parents G. psilostemon, and it's a showstopper with duskily-middled flowers held up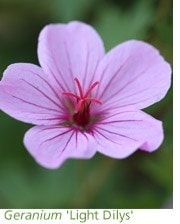 on long stems. The more reserved 'Light Dilys' is a red-veined mid pink with a darker pink eye. A sport (ie. a different coloured shoot), from the equally worthy reddish purple 'Dilys'. Both are compact geraniums (15" or 40cm ) with divided foliage and long stems topped by smallish flowers. However 'Light Dilys' is the prettier of the two and is small enough to be planted at the front of the border where it will send up wands of flowers.

Many of the geraniums mentioned so far have arrived by accident, mainly as seedlings between two species growing close together. However Alan Bremner, who lives on Orkney, has deliberately bred many exciting hybrids often with the Orkney prefix (like G.'Orkney Cherry'). His best geraniums are given special names however and there are two hybrids which stand out from the pack, 'Dreamland' and 'Sabani Blue', which are wonderful additions to the garden.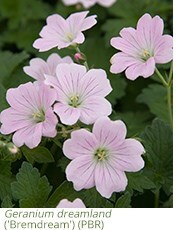 'Dreamland' is a breakthrough in breeding because it combines soft grey foliage, from the slightly tender G. traversii side, with hundreds of pale pink flowers throughout the summer on a small, hardy plant reaching eight inches (20cm) in height. Give this long-flowering geranium an open sunny site at the front of a border and mingle it with other silvers that might include dianthus and silver thyme - Thymus 'Silver Posie'. Or flatter a true blue sea holly such as Eryngium × zabelii 'Jos Eijking' or an English lavender such as 'Imperial Gem'. It's said that this is Alan Bremners' dream geranium - so it must be good.





Spring performers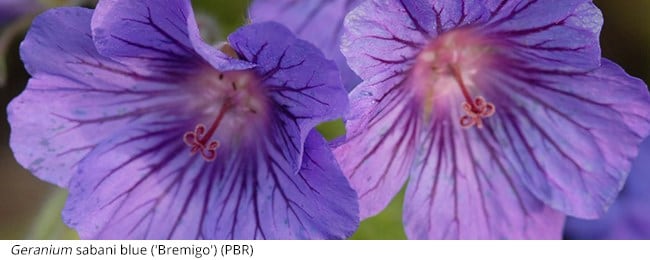 'Sabani Blue' is grown for its heavily veined violet flowers and soft grey-green foliage. Once summer arrives, this hardy geranium will disappear underground, so this is probably best in a spring border. Highlight the colour of the red veins out by using an elegant April-flowering tulip such as Tulipa 'Couleur Cardinal'. Or use a fresh combination of blue and yellow with lemon wallflowers or a pallid lemon narcissus to make the blue even more vibrant.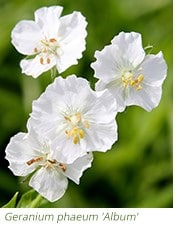 The wilder areas of the garden are perfect for the upright spring-flowering Geranium pheum, a shade-loving delicate cranesbill with small reflexed flowers and attractive foliage. The pure white form 'Album' is very fresh and cool having light green leaves that blend well with ferns that might include the stunning black bristled Dryopteris wallichiana. There are also sultry forms with chocolate zoned foliage including 'Samobor' which bears dark maroon flowers with lighter centres.

Geranium macrorrhizum is another spring-flowering geranium - but this one sprawls and flops. It's a wonderful thing lolling over a wall, or planted in the depths of a woodland border where it can cover bare ground without smothering anything. The pungent foliage and full magenta flowers of 'Bevan's Variety' are made for carpeting apple blossom. However they make a good addition to shadier areas because they flower in May extending the hellebores and bulbs. 'White Ness' is a compact white form with good bright green foliage.


High summer performers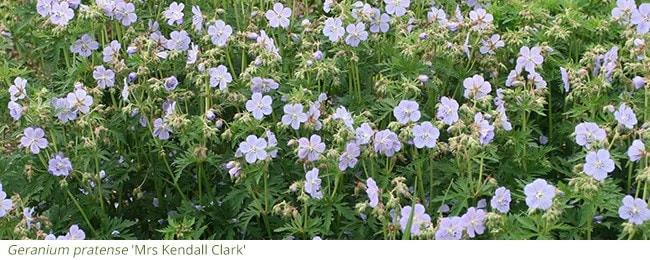 Many hardy geraniums flower once, with great abundance and charm, before they fade again. These ephemerals come and go, but that makes the garden more dynamic. The meadow cranesbill Geranium pratense is a midsummer performer that arrives with the roses. Its upright stance, with saucer-shaped usually white, or violet- blue, or campanula-blue flowers have a white eye and are variously veined sitting above the deeply divided lobed foliage. Loved by butterflies, and perfect for naturalistic planting schemes where it can self seed freely. Geranium pratense 'Mrs Kendall Clark' like the species has an upright form but is taller, reaching three feet (90cm) but takes up very little ground space. The lilac-blue flowers, heavily veined in grey seem to shine in the summer sun, and flatter just about any colour going - rather like a pearl necklace with a posh dress. Like the parent she does seed, but comes true, so if you don't want too many cut the spent stems back before those hooked seeds escape.


Small and perfectly formed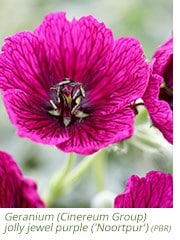 Some of the most useful hardy geraniums are diminutive sun lovers bred from alpine species. They fill a space well and produce lots of saucer-shaped flowers that are heavily veined. Most need good drainage to persist. Give them a dry position, but water them well in their first season. Listed under the Cinereum Group, they include 'Ballerina' (a purple-pink with dark veins and a smudgy eye) and 'Thumbling Hearts' which has red centred pink flowers and masses of veins. Recently there has been a new range introduced which are stunning plants in vibrant colours, compact and easy to grow. G. Jolly Jewel Salmon, G 'Jolly Jewel Purple, and 'Jolly Jewel Pink' can flower from late spring through to late autumn. Plant them in a sunny spot (this will keep the flowers coming), at the front of a border or in pots for a long lasting colourful display. .

If your garden perhaps isn't so well drained, you could plant 'Orkney Cherry' a bronze leaved compact geranium with masses of small bright pink blooms flowering over many months. It's rather like aubretia in habit and can trail over a wall, or down a slope. If you want something with a showier flower that will also tumble, try 'Dragon Heart' because the black eyed magenta-pink flowers are much larger than most geraniums.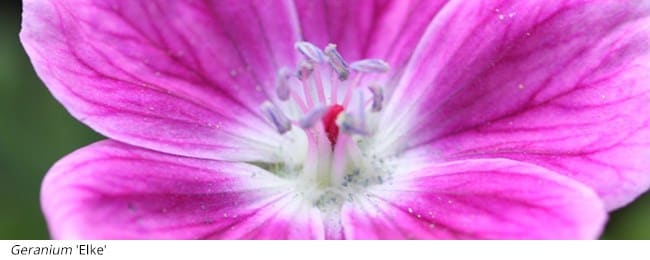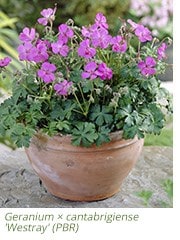 Dry shade can be a problem in many gardens and finding a pretty plant that isn't going to be thug can be difficult. Geranium nodosum is a treasure as it likes these conditions and will grow under trees or shrubs from early summer, perfect for the woodland or wild garden. Being a species the flowers can be variable in colour, a mixture of purple and pinks with bright green leaves which adds to its charm. G. × cantabrigiense 'Westray' is another introduction from Alan Bremner. A versatile semi-evergreen, clump forming plant with many small pink flowers and lime scented foliage, creating a lovely aromatic carpet. Happy to grow in sun and shade, (although the more sun it has the better it will flower), but unlike its parent Geranium macrorrhizum it is more controlled, and won't spread or flop, so is ideal for the smaller garden or for pots.
In dry positions the British native, Geranium sanguineum, performs well forming a low-growing carpet of heavily divided leaves and wide open deep pink flowers. 'Elke' has a pale edge to its pink flowers and there's a pure white form G. sanguineum 'Album' with pristine all white petals and dark green leaves. The latter will look as cool as a cucumber on a hot summer's day and it's accommodating because all forms of Geranium sanguineum flower in semi-shade or sun. Perhaps the prettiest of many is the pale pink, heavily veined variety G. sanguineum var. Striatum because the circular flowers just keep on coming. The bees love them almost as much as the gardener.