Gladioli for the summer garden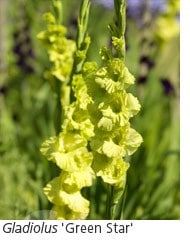 It's very easy to dismiss gladioli and Barrie Humphrey's Edna Everage hasn't helped the gladdie's image one bit! However gladioli make good additions to a cutting garden, or they can be massed into a border. They come in exciting colours and forms and the aptly named 'Plum Tart' has ruffled pinkish-red flowers held on strong stems. Gladioli also provide rare summer glimpses of apple-green and 'Green Star', which has now replaced the old variety 'Green Woodpecker', is one of the best. Mix this with 'Purple Mate' for upright splendour, but whatever you do avoid any straight lines when planting.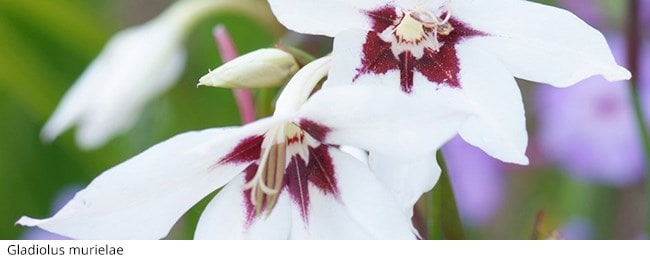 Not all gladioli are stiff and showy, the species are subtler in form and colour. Gladiolus × colvillii 'The Bride' has warm-white starry flowers softened by pink stamens. 'Nymph' is white with lipstick pink kisses on the petals and Gladiolus murielae is a nodding white with a maroon eye.
These subtler forms are worth planting in containers by a seat because they are fragrant, especially in the evenings. Or you could containerise an exotic Ginger lily such as Hedychium gardnerianum. The pallid-yellow flowers, which appear in late-summer, are studded with snuff-brown anthers and the foliage is positively banana-like. In warmer gardens it will overwinter in the ground. It's another fragrant beauty, again smelling strongly as the light fades. These are all summer pleasures to acquire now.