Gladiolus murielae
Abyssinian gladiolus (syn acidanthera or callianthus )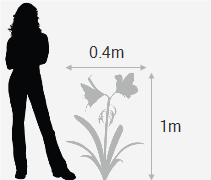 Position: full sun
Soil: moist, well-drained soil
Rate of growth: average
Flowering period: August to October
Hardiness: frost tender


Bulb Size: 6-8cm

Delightful spikes of nodding, funnel-shaped, highly fragrant white flowers, with a prominent burgundy blotch at the base of each petal, seem to dance on the breeze at the ends of their slender stems from late summer. It is a delightfully elegant plant that is ideal for adding movement to a sunny border. Plant it in clumps throughout the beds, or pot them up and keep them on the patio next to a seating area or often-used pathway, where you will be sure to make the most of the heady scent.


Garden care: Plant corms 10-16cm (4-6in) deep in spring, on a bed of sharp sand to aid drainage. In frost-prone areas, lift them when the leaves turn yellow-brown, dip the corms in fungicide and store in a dry, frost-free place over winter.


2 litre pot
within 2-3 days (exc weekends)
2 litre pot
within 2-3 days (exc weekends)
Do you want to ask a question about this?
If so, click on the button and fill in the box below. We will post the question on the website, together with your alias (bunnykins, digger1, plantdotty etc etc) and where you are from (Sunningdale/Glasgow etc). We'll also post the answer to your question!
1 Question | 1 Answer
Displaying question 1
Q:

I grew a pot full of these last year and ended up with a lot of leaves but no flowers,what did I do wrong?

Asked on 2/5/2014 by the boot from Cornwall

1 answer

A:

Hello there

There could be a number of reasons, - if they are planted too late in the season then they might not flower, or not enough sun as they sun do like full sun, or maybe planted too deeply- they should be planted between 10-15cm deep, or the corms were too small, or overcrowding in the pot, or even that the soil is too rich in nitrogen so they are producing lots of leaves rather flowers.

Sorry I cannot give you a definite answer, but hope this helps.

Answered on 2/6/2014 by Anonymous from Crocus
Displaying question 1