Position: full sun or partial shade
Soil: moderately fertile, humus-rich, well-drained soil
Rate of growth: average to fast-growing
Flowering period: August and September
Hardiness: frost hardy (needs winter protection in cold areas)

Arching sprays of bold, tomato-red, funnel-shaped flowers appear in August and September among handsome, pleated, mid-green leaves. This vibrant bulbous perennial is perfect for a mixed or herbaceous border in a sunny, sheltered site or as part of a 'hot' colour scheme. For maximum impact plant in bold drifts in a sunny, sheltered site with moderately fertile, humus-rich, well-drained soil. They make excellent cut-flowers.


Garden care: Plant the corms (bulbs) in spring approximately 8-10cm deep and 10-15cm apart. Resist removing the faded foliage in autumn and cover the crown of the plant with bracken or bark chips to protect the plant against frost damage. Lift and divide congested colonies in spring, planting the divided sections 8-10cm (3-4in) deep.
CAUTION do not eat ornamental bulbs
Delivery options
Bulb orders £3.99
Click & collect FREE
more info
Eventual height & spread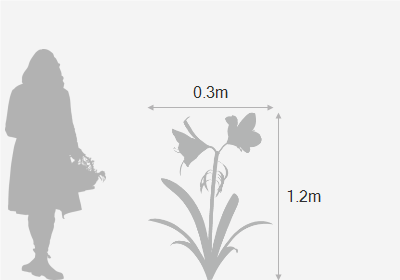 Got all 10 bulbs germinate but none flowered depitebwaterinh.
Alchemist
Oxford
saw these flowers in my brothers garden and loved them! looked them up to identify them and bought them from crocus
gill
norfolk/suffolk border
These plants are stunning in the garden and flower for a reasonably long time later in the year. Hoping my few will spread.
Jojo
Sussex
Beautiful Crocosmia Lucifer
Beautiful vibrant flowers on long green stems - I have a lot of greenery in the garden and these really add lovely colour.
annie
Devon
ten out of ten
Madbutcher
Leek and Moorlands
This is one of my favourite plants. It makes a real statement with the striking red flowers and the graceful shape. As it matures and grows bigger, it gets better and better.
Esmecaitlin
Scotland
I used these bulbs for under hedging planting. They look beautiful as a flash of bright red against the green. I also bought the orange ones which are slightly smaller but also such a vibrant colour. Packaging & instructions were very good.
New gardener
Buckingham
This is a real splash of colour for the back border!
RJ
Lincolnshire
Hi I have these in my garden for about 5 years but have had no flowers ever what am I doing wrong. They are planted in full sun on well drain soil, I have got plenty of green leaves that multiply every year. I live on the south coast.

Owl52

Hello, If they are getting lots of sun, then perhaps they are not getting the right nutrients. You could try feeding them with a fertiliser that is high in potash (ie. Sulphate of Potash or Tomorite) as this encourages plants to develop fruit and flowers rather than foliage.
Hello! May I ask more generally: when is the latest you would plant these, so to make sure they still prosper? Thank you!

Flowerkid

Hello, Ideally they should go in the ground by the end of April, however it is possible to plant them a little later than that - but they will flower later too.
I have one of these in my garden. At the end of the year there are a lot of big brown leaves. At any time can i cut these? It doesnt look like they will naturally rot.

forest6

Hello there I wouldn't cut the back the foliage now as it will offer the crown of the plant some protection from the cold and frosts. In March or when the worst of the weather is over you can cut it back. Hope it helps
Help with plants for N/East facing garden Hi, I have a little problem choosing some plants....... I really like the look and size of the 'Shady Pink' pre-designed corner planting plan, but our problem is that we have a north east facing garden, so we get no sun at all in the winter, and direct sun for only half a day on either side of the garden during the summer. Would this planting plan be suitable for that level of shade? We are actually are buying plants for the entire garden, so we'd need about 6 new shrubs, and maybe a small tree (we were thinking about the Prunus Amanogawa). Could you please help us with a few shrubs that would do well in these conditions? For perennials, we have been recommended; - Geranium Johnson's Blue, Kniphofia, Crocosmia, and Helleborus foetidus. Are these suitable? Many many thanks! Regards, Josee

Josee Mallet

Hello Josee, It is always difficult to give a definitive answer to the shade issue, but looking at the Shady Pink border, the most shade tolerant plants include Anemone hupehensis Hadspen Abundance, Thalictrum aquilegiifolium and Dryopteris erythrosora. If you click on the following link it will take you to all our shade-loving shrubs http://www.crocus.co.uk/plants/_/shrubs/plcid.1/vid.11/ and for the shade -loving perennials http://www.crocus.co.uk/plants/_/perennials/plcid.2/vid.11/ Of the plants you have listed, the Prunus, Helleborus foetidus, Kniphofia and Crocosmia will be OK as long as there is more sun than shade. I hope this helps. Helen Plant Doctor

Crocus Helpdesk
Crocosmia when can I plant? Hello, Can I still plant out Crocosmia - or am I too late to plant in February? If so, can I order from you? Irene

Irene

Hello Irene, It is not too late to plant these, and we still have a few currently available on our site - just click on the following link to go straight to them. http://www.crocus.co.uk/search/_/search.crocosmia/ I hope this helps. Helen Plant Doctor

Crocus Helpdesk