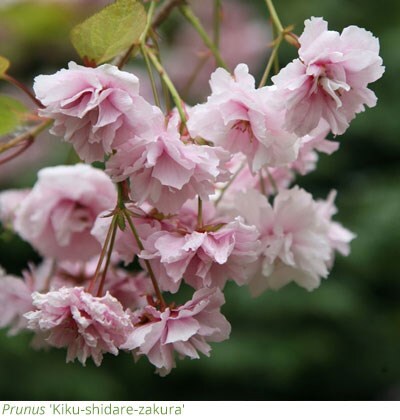 Trees are a vital part of every garden, but these days most of us have relatively small gardens and that means that every tree we plant has to slot into a small space and offer value throughout the year. It might be spring blossom, wonderful summer foliage or autumn fruit or colour. It could even be a textured trunk that catches the light on a winter's day when the low sun slants through the garden and picks up every detail.
Trees are far more than just a focal point though. The overhead canopy of bare branches stops the worst of the wintry weather penetrating the soil and creates a sheltered niche that helps plants thrive. The network of roots also drains the soil, so woodlanders and spring bulbs always flower earlier under the benign presence of a small tree.
Trees are important from a design perspective too, because they provide scale to the lower understory of plants. These would be a monotonous carpet on their own, so the occasional tree interrupts the boring beat and links earth to sky. Perhaps their greatest attribute though, is the way that sunlight comes through the branches to create patches of light and shade on the ground. As the sun moves round the sky there is a magic-lantern pattern cast on the ground and this flatters lower level planting.
One vital thing when planting your chosen tree, is to put it in a prominent position so that it can shine. It shouldn't be tucked away in a corner of the garden, or on a boundary edge, for trees are the garden's showmen. Without them, they are soulless affairs, rather like the rock group Queen without Freddie Mercury strutting his stuff at the front.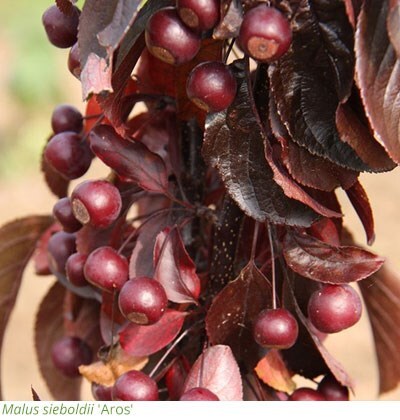 One of the great sights of the gardening year is a bough of blossom silhouetted against the duck-egg blue sky. Crab apples (Malus) are amongst the most useful small trees. They have attractive spring blossom that's able to cross-pollinate domestic apple varieties. An abundant crop of small, colourful fruits follow and these often persist throughout winter. Many make good crab apple jelly too.
In recent years some new, disease-resistant crab apples have emerged from Denmark. They're hardy and slow-growing. These have been bred by Karsten Jensen who raised and selected wild-collected crab apples, a process that took him thirty years. 'Aros' has almost black foliage and raspberry-pink flowers with a hint of white. Small, deep red fruits follow in abundance on a narrow columnar tree. 'Scarlett' has deep purple spring foliage and lots of rich pink blossom followed by purple fruits. Both make fine, small specimen trees in a garden.
Malus 'Cinderella' will provide you with yellow fruits and golden autumnal foliage on a tree that barely reaches head height. 'Laura' has crimson to purple blossom followed by masses of dark-purple fruits and these make a fine crab apple jelly. Coralburst, has coral pink buds that open to rose-pink flowers and small bronze fruits follow on.
If you want a larger crab apple tree opt for Malus x robusta 'Red Sentinel'. This will eventually reach 20 feet. It's pink-tinged, white flowers appear in late spring, and then there's a glorious crop of high-gloss, red crab apples. These persist into the second half of winter because they're shunned by most birds until late January or February. This is one of the most spectacular trees for winter interest and, like all crab apples, this tree is pollution-tolerant so it can be grown in town and city.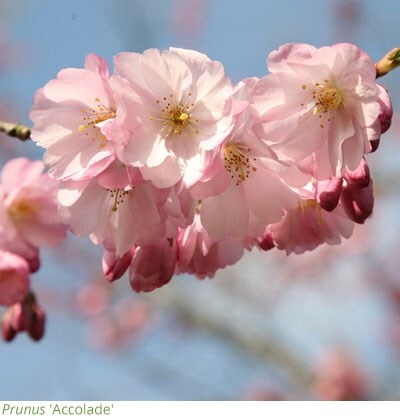 Ornamental cherries (Prunus) don't usually produce any fruit, but they do have spring blossom and many also colour up beautifully in autumn.
'Accolade' is an outstanding cherry with spreading, pendulous branches that carry masses of semi-double, light-pink flowers during April. These flowers aren't heavy headed, they are delicately crimped around the edges and there are touches of darker pink too. In autumn the foliage is a vivid orange-red. If you want paler flowers in soft apple-white, Prunus 'Spire' forms a vase-shaped tree and the branches are smothered in pink buds that open to a paler colour. It's like having confetti on tap.
'The Bride' is another splendid flowering cherry and the white buds are tipped in carmine-pink before they open to palest pink. Each flower has a darker smudge and red anthers so this compact cherry produces the cloud of soft pink and white flowers without any hint of glacial white. 'Amanogawa', often known as the Flagpole cherry because it's so slender, is a columnar tree that bears fragrant semi-double, light-pink flowers in the second half of April. If you want an ornamental cherry to cascade towards the ground 'Shogetsu', also known as 'Blushing Bride', has a graceful spreading habit. The pink-tinted buds open to produce warm-white flowers and these are held in clusters so this is one of the most attractive ornamental cherries.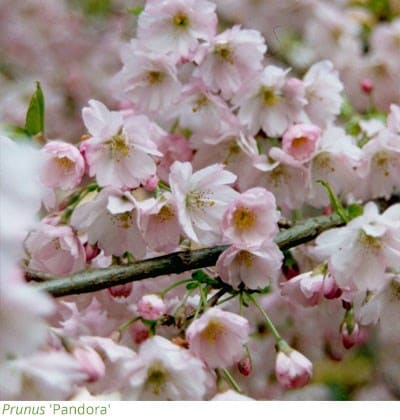 If you want a compact, ornamental cherry that colours up really well in autumn, 'Pandora' is an option. The foliage hovers between purplish red and orange as the temperatures drop. In late March there are masses of pale, shell-pink flowers. If space is even tighter opt for the compact Fuji cherry, Prunus incisa 'Kojo-no-mai'. This is more shrub than tree, with divaricate bare branches covered in small white flowers held in pink calices. This is slow growing.
If you want to cast a gentle shade over a woodland garden Prunus serrula, the Tibetan cherry, has dainty white flowers in spring. In winter the bark looks like polished mahogany so this is often grown in winter gardens. Or you could try the paper-bark maple, Acer griseum, because it shines in winter when the sun catches the ragged edges on the cinnamon-brown trunk. They both provide a light canopy so woodlanders can be planted underneath.
Betula albosinensis 'Red Panda' sheds it shaggy bark and the edges are almost translucent in winter sunlight. The bumpy parts, or lenticels, running round the trunk look like Morse code messages. Many birches come into their own in winter and the silver-trunked Himalayan birch, 'Grayswood Ghost' has especially good green glossy foliage. Don't be afraid to sponge down the bark with plain warm water as winter approaches to reveal the sheen.
Another tree that shines in winter is the mountain ash, or Sorbus. Most have clusters of berries and delicate pinnate leaves, with more leaflets than a normal ash tree leaf. They grow in well-drained places, often on mountain slopes, so they need careful siting and some aren't easily grown. One of the most robust is Sorbus pseudohupehensis 'Pink Pagoda' and this has clusters of pink berries and grey-blue foliage. It's particularly good surrounded by pale-pink hellebores, such as 'Penny's Pink', in spring.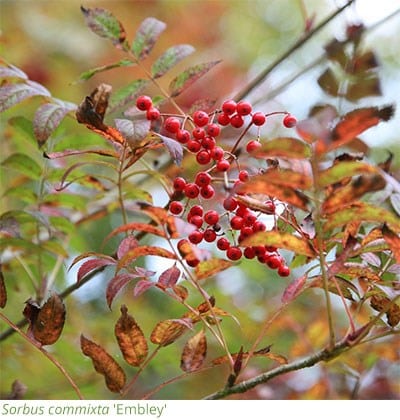 Mountain ashes have a delicate arrangement of airy branches, so the light always catches the fruit. Sorbus commixta 'Embley' is one of the most stunning, with clusters of bright-red berries held above fiery foliage in autumn. If you're looking for another splash of red try the weeping branches of Cotoneaster 'Hybridus Pendulus'. They cascade down to the ground, and this small pendulous tree is almost evergreen. In spring it's covered with white flowers and these are adored by honeybees.
The weeping pear, Pyrus salicifolia 'Pendula', is a fine twiggy tree with silver-green foliage. It can be clipped and shaped into roundels and umbrellas, or left to throw out stems. You can leave it to form a dense tree, or thin out the branches so that they look like the spokes of an umbrella. It slots into sunnier borders with plenty of silvery foliage.
There's a tree for every position and planting them now, will give them a chance to get going before next spring - when they'll be glorious!