We all want a lovely garden but sometimes we are too busy with work and family, or we simply don't have the inclination to garden incessantly, so the trick is to choose low maintenance plants such as easy shrubs and then to underplant them with ground cover plants suited to the site. These will get by without much help at all, and they are also excellent for those difficult to manage areas such as the slope that's tricky to mow, or the outer reaches of a large garden. The fact that these areas will be relatively undisturbed will also help wildlife to thrive.

How to Plant
When planting up a low-maintenance area, avoid using just one of something, because it makes maintenance far easier (when it comes to cutting back etc) if you're dealing with lots of the the same plant. Planting in odd numbers always looks better than even numbers, so plant in threes, fives, sevens and nines (depending on the size of your garden) and avoid making blocks and blobs. Create ribbons and, if you can, aim for five or seven of the same thing and then place one lone plant away from all the main group - but following the same contour. This looks natural and extends the eye, making the area look larger.
Understanding Foliage
Really shady places are going to rely mainly on green foliage (as most flowering plants prefer a sunnier spot), but you can also add some variegated plants to create patterns, as well as some dapple-leaved plants such as pulmonarias. Green is never boring, because there are so many shades and the foliage comes in so many shapes and textures, but shadier areas like this tend to peak in spring before the overhead canopy becomes too well established and dense. The golden rule is to use variegation wisely. A green and gold blend is normally best, but only in small measures.
Sunny places will feature lots of silver foliage because this pale leaf colour discourages heat absorption. Most flowers will appear in summer and there will be lots of blue and purple bee and butterfly flowers. Try to use some non-running, non-seeding grasses such as Miscanthus sinensis and add some leafy highlights using darker foliage. Cotinus coggygria 'Royal Purple' for example will add an ornate splash of wine red.
Partial shade is versatile and you'll get away with most things here. You'll be able to grow flowering shrubs and many will be deciduous, forming a perfect overhead canopy for spring-flowering plants.
Sunny Situations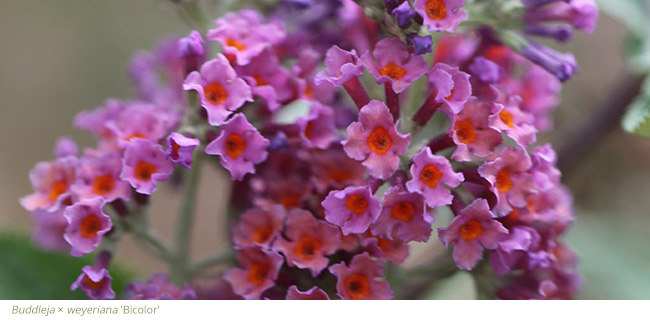 Buddleja should feature here, because it will attract droves of butterflies in July, August and September. It isn't completely maintenance free however, because it really should be deadheaded as the flowers fade to encourage more flower and no seedlings. It will also need cutting back in March or April, by two-thirds, to keep it more compact. This will lengthen its lifespan too. Good, award winning forms of Buddleja davidii include 'Pink Delight', and the old favourites 'Black Knight' and 'Royal Red'. These make large shrubs (3m x 5m) and they will flower for weeks. A smaller alternative called 'Lochinch' (2.5m x 3m) needs lighter pruning and it's far more delicate in form, with fragrant, lavender-purple flowers each with an orange eye. The foliage is smaller too and much of it stays on in winter. Along with the traditional favorites, it is worth mentioning the stunning new bicoloured forms which are certainly eye catching. B. davidii 'Berries and Cream' is an upright form with masses of purple and white flowers on long racemes, or the unusual Buddleja × weyeriana 'Bicolor', which starts off with clusters of purple buds opening to reveal bicoloured blooms in variable shades of pink and orange, fading to bronze as the flowers mature and the summer progresses.
If these plants are going to be too big for your garden but you want to attract the bees and butterflies, then now there is a highly popular new range called Free Petite. These compact colourful floriferous buddlejas are perfect for a pot or in a small border growing to about 60cm tall, still having the benefits of their larger cousins but they won't self seed or outgrow the space.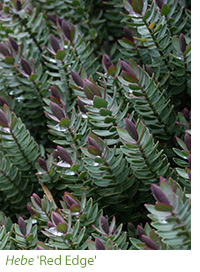 Good front of the border, sun-loving candidates are hebes and these have attractive evergreen foliage that shines in winter. They are bred from New Zealand species so need a warm position and good light to thrive. 'Heartbreaker', a relatively new hebe with variegated green and cream narrow leaves, has pink growth so it's very colourful. 'Red Edge', a neat and crisp hebe, has glaucous leaves with red edges and tips. Both will make a dome about 60cm in height. These are deliberately bred for foliage, and if you like the box ball effect, H. rakaiensis forms a tight rounded evergreen shrub with light green foliage.
Others hebes produce lots of flower throughout summer and the variegated cream and white 'Silver Queen' has large purple flowers. Given time, it will make a largish, rounded bush about one metre in height. 'Pascal' is half the size, with lavender flowers and grey foliage that turns to burnished burgundy in winter. ''Garden Beauty Purple'' is a similar height, but the green foliage is topped by masses of purple flowers and it's said to be hardier than many. If you like this then you will surely love the others in this range 'Garden Beauty Blue' and 'Midnight Sky', both with a profusion of early summer flowers smothering the evergreen foliage, however with the latter, 'Midnight Sky' this has the added interest of the green foliage turning a deep purple colour when the temperatures drop through the winter. For a new hebe that is quite different from the norm, 'Leopard Spot' is a variegated compact form with dense green and cream spotted foliage - fabulous for a pot or front of border where this cute hebe can be appreciated along with it's purple-blue flowers from mid-summer.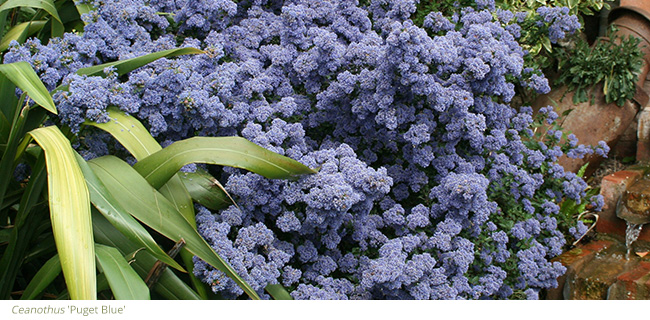 If you've got more space and a sheltered spot in sun, away from winds, Californian lilac or ceanothus, will flourish for you. The dark, crinkled, evergreen foliage looks good in winter and in summer deep blue flowers appear. 'Puget Blue' gets so smothered in flower that it's impossible to see the leaves sometimes. It will reach 3m in height. 'Skylark' is half the height and equally good. 'Tuxedo' is a later flowering variety being a sport of 'Autumnal Blue', with masses of powder blue flowers from late summer to early autumn, complementing the unusual purple-bronze evergreen foliage beautifully.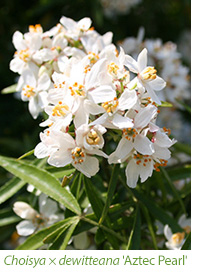 Choisyas are also sun-tolerant and 'Aztec Pearl' will provide you with divided foliage and fragrant orange-blossom flowers in late spring. 'White Dazzler' is a fabulous introduction already awarded an RHS AGM. Pretty, almost filigree evergreen foliage creates a compact plant that is covered with sweetly scented white blooms in the spring, and then can give you another flush in the autumn. Great for the border or a container, but also as an informal flowering hedge. There's also now a pink-flowering form, 'Apple Blossom', with pink and white flowers which is smaller reaching, just over a metre in height. Choisyas need good light to flower well, but can be grown in partial shade for their foliage.
You could also use low growing Mediterranean subshrubs such as Artemesia 'Powis Castle', lavenders, perovskias and culinary sages. The purple-leafed form, Salvia officinalis 'Purpurascens' and the dark-leaved Sedum 'Purple Emperor' would add smoky highlights among the silvers and these could be punctuated by Geum 'Totally Tangerine'. This flowers from May until late, sending up wiry wands of apricot flowers.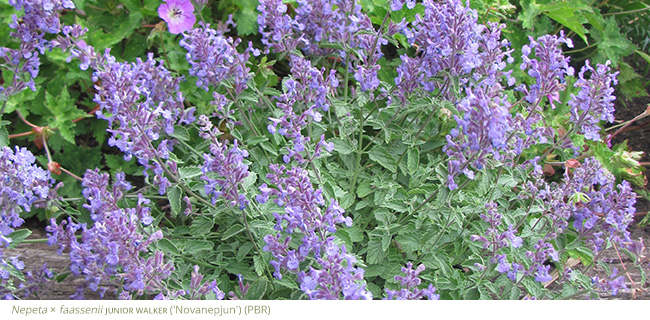 Weed-smothering silvery perennials include nepetas and 'Six Hill's Giant' will cover a square yard of ground once the stems flop. Cut 'Six Hills' back to nothing in July and it will do it all again, so it's a very useful plant. The much smaller Nepeta × faassenii 'Junior Walker' is better where space is limited, or even smaller is 'Neptune' at about 30cm tall, with aromatic foliage and an abundance of rich blue flowers on upright spikes. Like their bigger cousins, cut them back after flowering and they will usually reward you with another flush of foliage and flower. Stachys byzantina 'Silver Carpet' forms a dense mat of foliage and should not flower, or there's the larger-leaved 'Big Ears'. Lamium maculatum 'Beacon Silver' will take full sun, but looks best in partial sun because the leaves stay fresher. And this is a good bee plant.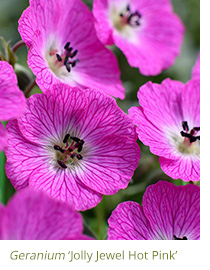 Ground cover hardy geraniums for full sun include Geranium 'Rozanne', a mid-blue that makes late summer and autumn very special. 'Dreamland' is a lavender-pink that also sprawls. Both are sterile so there are no seedlings, just lots of flowers. 'Light Dilys' a clear pink, will do the same job but cover less ground. 'Jolly Jewel' is a vibrant new range, creating low mounds of pretty deep green foliage and masses of brightly coloured saucer shaped blooms. Like 'Light Dilys' they are compact and not invasive, so also great for ground cover.
Shade
Shade can be difficult, particularly if overhead trees dry up the soil. If this is the case, plant smaller plants and try to do this in September, when the new plants can benefit from winter rains, rather than suffering spring drought. Daffodil bulbs can be planted then, and they will cope with shade well - provided it's not too dense.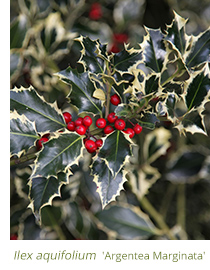 The backbone planting will tend to be evergreen and aucubas, known as Japanese laurels, are excellent because they establish themselves quickly but don't become ugly in later years. They can be cut back hard and survive. 'Rozannie' has luscious mid-green leaves sharply toothed round the edges. The most commonly grown one, 'Crotonifolia', has yellow-spotted green leaves that will light up dark shade. You could also use the Highclere holly, Ilex x altaclerensis 'Golden King', which has variegated green and yellow foliage. It's faster growing and less prickly-leafed than English holly (I. aquifolium), or the self-fertile almost spineless female form, Ilex aquifolium 'J.C. van Tol' which will produce bright red berries from autumn through the winter, if they are not devoured by the birds! Ilex aquifolium 'Argentea Marginata' is a prickly beauty, with glossy silver margined deep green leaves and bright red berries, although you will need a male holly nearby for pollination to have berries. For a more formal look you can train and clip these plants to create lollipops.
Underplant your shady areas with hardy ferns such as polypodiums, polystichums and dryopteris. Of these Dryopteris filix-mas is the most shade tolerant, and there's a crested form called 'Cristata'. The new crosiers of dryopteris unfurl in late April, coinciding with our native bluebell (Hyacinthoides non-scripta). Add small periwinkles, named forms of Vinca minor, because they create a tight mesh of roots. 'Bowles Variety (syn.' 'La Grave') has green foliage and purple-blue flowers. Vinca minor f. alba 'Gertrude Jekyll' is a delight in shade with its pure white flowers and green foliage. 'Ralph Shugert' has violet flowers and yellow-margined green leaves.
Euphorbia amygdaloides var. robbiae, a creeping substantial spring-flowering euphorbia with rounded heads of yellow flower, pachysandra and Pulmonaria 'Sissinghurst White' will also all tolerate shade and thrive once established.
Partial Shade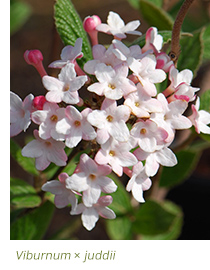 Most plants tolerate partial shade, and many deciduous spring-flowering shrubs enjoy it. Some of the easiest viburnums are early flowering and scented. They include the deciduous V. x juddii, a smaller rounded shrub with dark green leaves and rounded heads of pink-budded white flowers that typically appear in April and May. V. x burkwoodii is more evergreen with glossier foliage, and it's larger, and it flowers earlier. Sometimes the flowers appear by January.
You could also use Ribes sanguineum, the flowering currant. 'Elkington's White' is a newer introduction, with an irresistible hint of green to the flowers, and 'Pulborough Scarlet' is a strident pink-red with fresh green leaves that join in once the flowers begin. Forsythia is often maligned but don't write it off as it is tough, low maintenance and can lift you spirits on a dark dank day like nothing else.'Lynwood Variety' is probably the most popular variety with masses of bright yellow open flowers smothering the bare branches between February to April, brightening up a shadier spot. F.× intermedia 'Week End' and Forsythia × intermedia 'Goldrausch' are equally reliable and striking, with glorious buttercup yellow blooms for the spring garden. Perfect for the shrub border or why not grow it as a hedge.
Flowering quince or chaenomeles is a spiky spreading deciduous shrub that has a profusion of beautiful blooms in early spring, before the glossy dark green leaves appear. 'Geisha Girl' has semi double salmon-pink flowers, and 'Crimson and Gold' has striking cup-shaped, bright red flowers with conspicuous yellow centres followed by aromatic, greenish-yellow fruit which can be eaten once cooked. Happy in the middle of a shrub border but often trained along a wall to really be appreciated. Spring woodlanders, low-growing plants that flower in April, and spring bulbs that naturalise, will all thrive under deciduous shrubs.
Slopes
These are difficult areas to garden on, but if the slope gets a reasonable amount of sunshine, ground cover roses can work really well - and they are healthy and floriferous. They need trimming back once a year but many use a hedge trimmer. The Flower Carpet roses are all excellent and there are pink and white forms. The County Series, including the white 'Kent' and the pink semi-double 'Surrey' are equally good. No deadheading, feeding or spraying is required because all these roses are bombproof.