in stock

(shipped within 1-2 working days)
in stock

(shipped within 1-2 working days)
Position: deep or partial shade
Soil: humus-rich, moist, well-drained soil
Rate of growth: average
Flowering period: April
Hardiness: fully hardy

Spring-flowering plants with broadly ovate, mid-green leaves, that are attractively mottled with a paler shade of green. Long-lasting, lemon-scented flowers, with green sepals and narrow yellow petals, sit immediately above the rosette of foliage, forming slender, upright, flame-like silhouettes before becoming slightly more open.

These plants are quite hard to grow and will take some time to establish large clumps, so they are better suited to the more experienced gardener.


Garden care: Plant rhizomes 5cm deep and 5cm apart in autumn. Once planted they are best left undisturbed so they can build up their numbers. Mulch in the autumn with a generous layer of leaf mould.
CAUTION do not eat ornamental bulbs
Eventual height & spread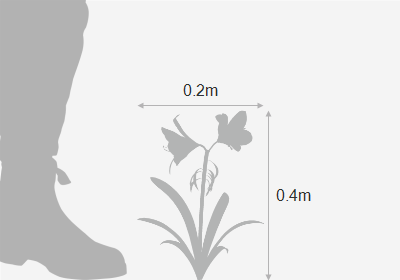 Delivered to wrong address, dry when I received them, soaked then planted, failed to show.
Cool Cat
Dundee
I already have one or two trilliums in my garden, grandiflorum and erectum , white and red flowers respectively so I thought this would be a lovely addition. I duly planted it and foolishly didn't label it and then forgot all about it until it came up this Spring...no flowers but unmistakable trillium leaves! Very happy with that...next Spring it will be even better!
Lyndow
Manchester
I didn't seem to get on well with these , I had a No show last year but not giving up just yet . You have to give things a chance .
The Gardener
Littleport Cambridgeshire
If rabbits, deer, squirrels or cats devour or scratch up your plants these wire mesh protectors will give them time to get established. The pyramid-shaped 'Rabbit Proof Cloche' and dome-shaped 'Squirrel Proof Cloche'
Read full article