10 + 5 FREE bulbs
£17.97
£11.98
in stock

(shipped within 2-4 working days)
in stock

(shipped within 2-4 working days)
Position: partial shade
Soil: fertile, humus-rich, freely draining soil that does not dry out
Rate of growth: fast
Flowering period: March to April
Hardiness: fully hardy
Bulb size: 1

Each stem of this plant will carry up to 10 nodding, sulphur yellow flowers with a brown central ring and deep yellow anthers. The foliage can be equally showy as it has either bronze-mottled, or fainter white marbling on the deep green, glossy leaves. In early spring this combination makes a very colourful display in woodlands and meadows. This is a vigorous plant which will form clumps and spread.


Garden care: Plant bulbs 15-20cm deep and 15cm apart in naturalistic drifts where they can be left undisturbed for several years. Try to avoid planting under shrubs or trees that will soak up all the soil moisture in the summer.
CAUTION do not eat ornamental bulbs
Eventual height & spread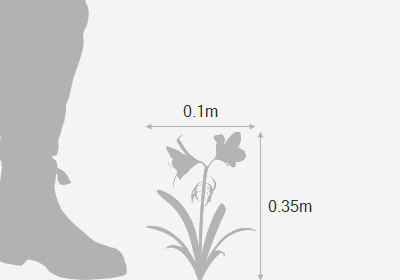 Notes on Erythronium 'Pagoda'
"Lightly mottled green leaves with chestnut marbling set off the buttercup-yellow tiffany lamps on this free-flowering bulb."
Real stand-out in the spring border
Lovely unusual plant. Exotic-looking. Stands out well in the spring border.
MH
Sheffield
These bulbs grow and flower well in my garden. They need to be left undisturbed and need little care.
Sally
Devon
Ordered these dog tooth violets having seen them on gardening programmes. I know I can rely on Crocus for good packing, quality and instructions.
Violet
Glasgow
I have already bought this plant again
I love this beautiful plant, it grows in clay/shade and multiplies quickly - just what I needed!
Cis
Durham
I would buy this product again
I use it in a shaded woody area
Dee
Herefordshire
Be warned you may develop a passion
I've developed a bit of a passion for Erythronium since planting this one, and am now hunting for more varieties. Their nodding bright heads, and lush, but small foliage are an attractive addition to a shady or dappled light area. The one issue is slugs. Not quite to the Hosta level, but they do like the leaves. I started using Nematodes last year and they worked well, so have drenched the area again this year
LindaH
Derbyshire
Beautiful delicate yellow flowers which catch the light during spring sun
Aly
Midlands
planted in garden in a week only leaf left bulbs gone . What likes to eat these.Poss better to plant in patio pots.
plant lover
Devon
When should i plant Erythronium Pagoda ?

irisfanatical

Hello, Thesebulbs should be planted in autumn, so can go in the ground as soon as they arrive.

Helen

Hello, These bulbs should be planted in autumn, so should go in the ground as soon as possible after they arrive.

Helen
in the third picture there is a very dark flower growing with this, can you tell me what it is please as I would like to pair them. Not the pale blue the almost purple/black.

eagerbeaver

Hello, This looks like one of the dark-flowered hellebores such as Helleborus × hybridus 'Harvington Shades of the Night' - please click on the following link to go straight to it. http://www.crocus.co.uk/plants/_/helleborus--hybridus-harvington-shades-of-the-night/classid.2000003491/

Helen
When should I plant erythronium pagoda?

Eartha

Hello there These bulbs are planted in the autumn. Hope this helps