Position: full sun
Soil: fertile, humus-rich soil
Rate of growth: average
Flowering period: July to October
Hardiness: half hardy

This rich purple, cactus-shaped dahlia will flower from midsummer to mid-autumn, particularly if the spent flowers are removed promptly - or you cut them fresh for the vase. The magnificent flowerheads look incredible when mixed with rich plums, deep purples and near-black.


Garden care: Dahlia tubers can be planted outside after frost, or started off in pots under glass in late winter to early spring. Plant them horizontally approximately 12cm deep, making sure the 'eyes' are uppermost. Allow enough room between each tuber so the plants can grow and spread to their full size without being overcrowded. While in growth, provide a high-nitrogen liquid feed each week in June, then a high-potash fertiliser each week from July to September. Stake with canes or brushwood if it becomes necessary. In mild areas, leave them in situ over winter, but protect the crown with a generous layer of dry mulch. In colder areas, carefully lift and clean the tubers once the first frosts have blackened the foliage and allow them to dry naturally indoors. Then place the dry tubers in a shallow tray, just covered with slightly moist potting compost, sand or vermiculite and store in a frost-free place until planting out again.
CAUTION do not eat ornamental bulbs
Delivery options
Bulb orders (dispatched separately)
more info
Eventual height & spread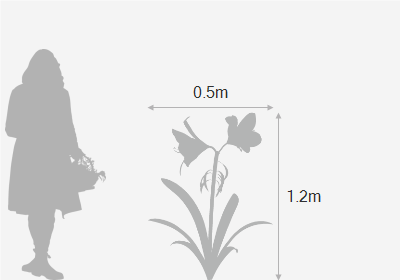 Notes on Dahlia 'Purple Gem'
"Start Dahlia tubers in pots and keep them in a light frost-free place until planting out time in early June. Try to get them up to a foot in height, because then they will be less attractive to the slugs."
Planted in a mixed border has flowered continuously all summer. Lots of beautiful flowers.
Chazzer
Cornwall
Failed to grow even after being potted up and kept in greenhouse. One of two dahlias out of 12 that failed to do well so difficult to explain. Looked healthy when delivered . I have grown this before and it is a splendid large, blousy bloom.
Iain
Scottish Borders
Beautiful long flowering Dahlia
I bought this Dahlia to fill a gap in a border and I'm so so happy I did - its absolutely beautiful.
Green Steph
Surrey
Great , tons of flowers all summer
Planted tuber and plant grew well. Semi cactus variety, flowered great all year. Tubers are now lifted in storage for next year.
Paul
North west
I would recommend this one.
Used in a display of 20.
Peter
West Yorks