December Musings | A touch of red
Winter reduces the garden to a charcoal sketch of fine lines and sombre pastels, but adding a touch of fiery red brings it all back to life immediately. This technique was employed by artists such as William Turner, who was famous for his moody seascapes, stormy clouds and city skylines. Turner always added a red buoy to a ship, or gave a sailor or two red breeches, or added a red flag to brighten up his subdued palette. The 'red torch' technique works equally well in a garden and red berries, which look so jaunty, are a lifeline to marauding birds famished by wintry weather.
Holly - a must for winter berries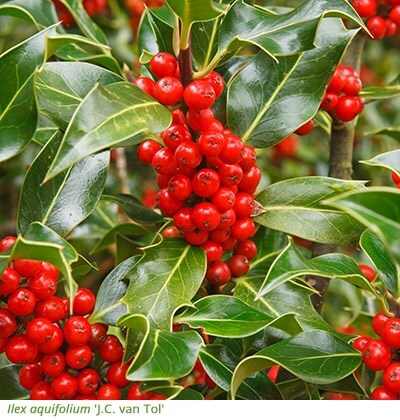 The holly is an iconic plant that likes to share the forest floor with the mighty oak, so this slow-grower prefers good drainage. Our prickly native form, Ilex aquifolium, takes its species name from Aquila the eagle indicating the talon-like sharpness of the tips on each leaf. Although evergreen, some leaves are shed throughout the year, so this is best planted away from borders you weed by hand. Unless you have masochistic tendencies!
The Downton Effect
Thankfully a less-prickly holly occurred and was first identified at Highclere Castle in Berkshire, now famous as the setting for Downton Abbey. These rounder-leaved hybrids are named Highclere hollies, or Ilex x altaclerensis, and they form curved bushes far more quickly than the slower growing Ilex aquifolium. Better still their leaves are almost spineless, so kinder on the hands. There are several varieties and they can be trained as a hedge, topiarised into mop-headed standards, or just left to their own devices.

Berries Galore
The prickly Ilex aquifolium can produce lots of small berries in abundance. However the larger leaved Highclere hollies (I. x altaclerensis) produce much larger berries but not in such great numbers. Most named hollies are dioecious: they either have female flowers that turn into berries, or male flowers that produce lots of necessary pollen to fertilise the female flowers.
It Takes Two to Tango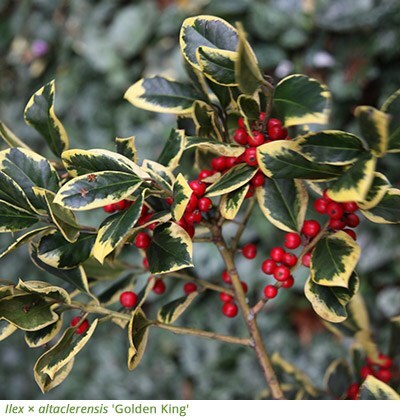 The males and females generally need to interact together and be cross-pollinated by the bees. In built up areas, or places where wild hollies abound, there will be plenty of male and female hollies already rubbing shoulders. If you decide you need both however, take care when choosing as their plant names do not always reflect their true gender. Ilex x altaclerensis 'Golden King' is a female and not a male as its name suggests. The dark-green leaves, roughly margined in yellow, are bright and lively and add even more colour.

Or you might consider the pyramidal prickly holly Ilex aquifolium 'Argentea Marginata', with its crisp combination of ivory-white and rich-green quilled foliage. The red berries, lavishly produced, show up well against the silvery foliage. Variegated hollies are extremely useful for brightening up a garden, whether you go for cool and silvery, or brash gold and green.
An Exception to the Rule
Green-leaved hollies are also worth growing, because rich-green foliage is the best winter warmer of all. One self-fertile holly, Ilex aquifolium 'J.C. van Tol', will berry on its own and produce heavy clusters all along the stems. It's vigorous, fast-growing and the rich-green leaves are not as spiny as many, so it's often used for holly wreaths. It's also the provider of the perfect touch of red for the winter garden.
Other Shrubs with Red Berries
There is also a self-fertile Aucuba japonica called 'Rozannie' which is said to berry heavily on its own. These Victorian favourites are underrated as they are long-lived and capable of growing back after pruning. They are much faster growing than hollies and capable of surviving deep shade. The much smaller evergreen Skimmia japonica 'Nymans' will also provide bright-red berries set above rich-green foliage if a male such as S. japonica 'Rubella' is grown nearby. Both are highly suitable for winter containers.
Small Trees with Red Fruit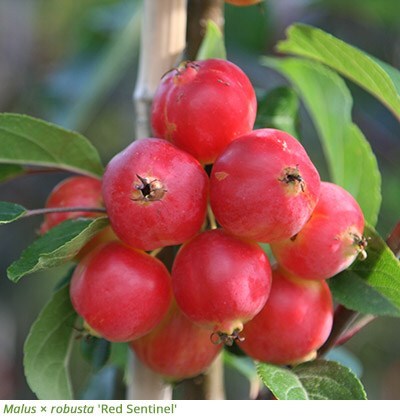 Red-fruit, seen against an opalescent winter sky, is always stunning and the hybrid crab apple Malus x robusta 'Red Sentinel' cannot be beaten for winter spectacle. It will scatter small red crab apples on the green grass in autumn and perforate the snow in winter, but there's always plenty of fruit on its bare branches until winter ends. Scented apple-white blossom appears in spring, as the green leaves emerge, and this small, rather upright slowly-developing tree (up to 6m when fully grown) is healthier than most other crabs.
The smallest tree of all is the weeping standard Cotoneaster 'Hybridus Pendulus' and this is one of the most ornamental of all. The semi-evergreen leaves redden and partly drop in winter to reveal jewelled branches that form a delicate parasol of leaf and red berry. This small tree can also be grown in containers, although trimming reduces the number of berries.
...and Coloured Stems
Stems can also add the same hint of winter warmth and the lipstick branches of Cornus alba 'Sibirica' stand out splendidly against the low winter sunshine. This dogwood can also thrive in waterlogged ground so it's particularly useful by a natural pond and the still surface will mirror the stems to great effect. Or drift it up a slope, under-planting white-stemmed birches, the bark of which will also look dazzling in mid-winter. Keeping the stems bright is easy for 'Sibirica', and for any suckering cornus that pushes pencil-thick stems through the ground. These are strong enough to cut back every April, once established, to promote fresh, young growth that will provide vivid new stems next winter. If the stems are twiggier, like the flame-coloured Cornus sanguinea 'Midwinter Fire', aim to trim a third to half of the upper stems every year to promote new tips to the branches.
Edible Berries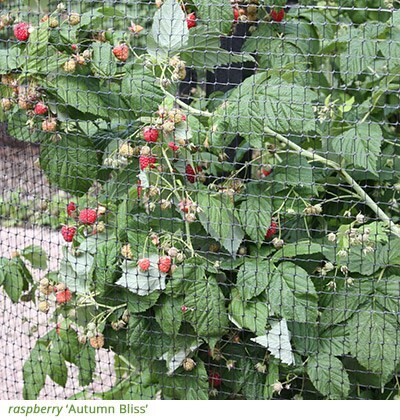 It's also a good time to start thinking about planting edible berries (for us, rather than the hungry birds), as growing and picking your own summer fruit is good for your purse and your health. The darker the fruit, generally the more antioxidants, and the trick is to get a succession. If you're taking up fruit seriously, invest in a fruit cage to keep the birds off your crop. It will soon repay your investment!
The Easiest Starting Point
The easiest fruit to grow is definitely the autumn raspberry, because you can adopt a simple low maintenance system of cutting all the canes back every February, negating the need for any supports. The fruit forms on first-year canes, or primocanes. You can adopt a more-complicated system of cutting only half the canes back in February, leaving the other half, and this will give you two crops - summer fruit on the overwintering canes and autumn fruit on the canes cut back in February.
The classic variety 'Autumn Bliss' produces large fruit from late-August until almost winter and generally avoids raspberry beetle if cut back every year. 'Autumn Bliss' also crops when soft fruit is in short supply and expensive. Other varieties include 'Tadmor', a new New Zealand variety with very large, firm fruit that appears after the summer varieties, but before the autumn ones. 'Erika' is a new, high-yielding autumn variety already winning plaudits. 'Polka' is also excellent, fruiting just before 'Autumn Bliss'.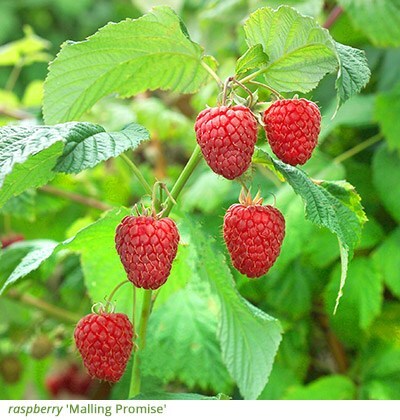 Planting Raspberries
Dig a wide, shallow trench, sprinkle with bonemeal and plant the canes at 45cm intervals, (subsequent rows should be 1.8m apart), carefully spreading out the roots and back-filling with soil. You should be able to see the old soil mark on the stems, so aim to replant at the same depth. After planting cut the canes back to around 15cm from their base and apply a generous layer of mulch in spring. Raspberries enjoy summer rain, so water well in dry summers and feed during the growing season with a general purpose fertiliser such as Vitax Q4.
Currants
It's also a good time to plant currants and your soil may dictate whether it's a blackcurrant, whitecurrant or a redcurrant. Blackcurrants do best in fertile soil in areas where summer rainfall is higher. They do not crop well on dry, poor ground. Perversely whitecurrant and redcurrants prefer drier conditions on lighter soil. They will also tolerate some shade. Neither enjoys winter-wet soil though.
Varieties and Pruning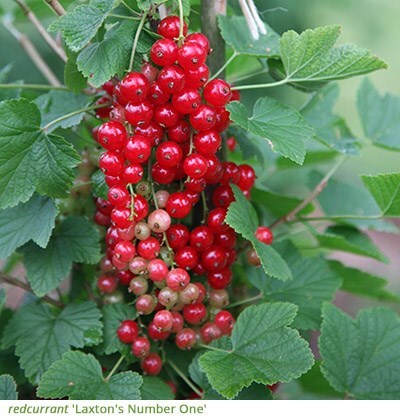 Redcurrant bushes produce a heavier crop than blackcurrants, on older wood. 'Laxton's Number One' is the standard redcurrant variety and should produce over 10lb (4.5kg) of glistening, glassy fruit rich in vitamin C. Bushes are pruned sympathetically when dormant. Tip the leaders and reduce the side shoots back to one or two buds. Cut out low branches that reach the ground and any damaged or weak shoots, to create a goblet of roughly ten stems. Gooseberries are also pruned in a similar way.
The Scottish-bred blackcurrant 'Ben Connan' is frost-resistant because it flowers later so it's a good choice, producing large fruit in mid-July. Each bush should yield 8lb of fruit (3 - 4kg) and this can be eaten fresh, stewed, jammed or frozen. These greedy plants demand extra nitrogen, but pruning is easy. In the first year of planting cut the stems back to one bud above the ground, making sure it's an outfacing bud though. In subsequent years remove the weaker stems, conserving the best new, lighter-coloured stems each year. Aim to create an open shape. Many gardeners cut out the oldest stems as they harvest and then pick the blackcurrants at the kitchen table, without breaking their backs.
Equally vitamin-packed fruits are blueberries and they fill the gap between strawberries and raspberries. These acid-lovers need to be grown in ericaceous compost in most areas of the country. The Extend the season blueberry collection contains 'Duke' (which has one of the most productive blueberries), 'Bluecrop' (a mid-season heavy cropper that also shows good resistance to disease) and Darrow (a large-berried late variety). 
Blackberries and cherries can also be planted now. The almost-black dessert cherry 'Sunburst', when grafted on to modern Gisela 5 rootstock, will fruit after two years on trees that will reach 3 metres tall. The very hardy blackberry 'Loch Ness' (PBR) is thankfully almost thornless, with an abundance of glossy black fruit.