As midwinter approaches it's the sheltered areas under deciduous trees and shrubs that manage to shine. The overhead canopy of bare branches shields the understorey planting from the worst of the wintry weather, while the roots in the ground reduce moisture, but add nutrients and warmth. This relationship between woody plant and perennial woodlander is important because most woodlanders rely on reasonable drainage in winter. That's because they're mostly rhizomatous plants that spread by creeping at surface level.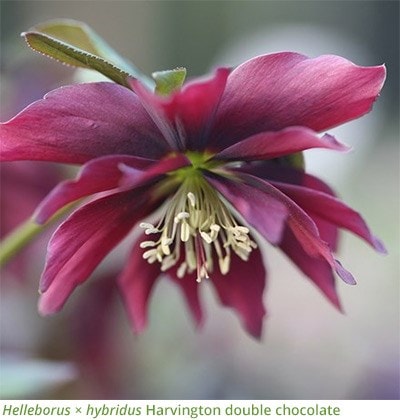 Smaller spring bulbs also need good drainage, so, if you have deciduous shrubs and trees make sure that the areas underneath are planted up. Lift the skirts of shrubs by removing the lower branches to create more planting opportunities for early flowering plants and bulbs.
Hellebores are key plants in winter and they enjoy winter sun and dappled shade. Most colourful garden forms are a mixture of species and therefore known as hybrid hellebores or Helleborus × hybridus. Hybrid hellebores are robust plants in reasonably drained garden soil. They have leathery green foliage and colourful long lasting flowers that resist the weather. In milder winters they may flower by early January, but generally they light up March and April.
Flowers vary in colour and form, but the sootier shades need lighting up with a green evergreen shrub (like a Sarcococca) or a wintergreen fern to prevent the flowers from merging into the dark soil. Hardy ferns, including polypodiums and polystichums, provide good winter leaf. Polypodiums have leathery leaves in vivid green and their name, many-footed, indicates that they spread into wider clump - but not aggressively so. Polystichums, their name meaning many-bristled, have fuller foliage and very bristled stems. New fronds unfurl in spring, usually April, so the foliage can be tidied during winter. You could also use a pale Himalayan birch trunk with dark hellebores like 'Harvington Black', or Harvington Shades of Night,' as well. Both have dark, rounded single flowers highlighted by a boss of pale gold stamens.
Dark hellebores often have attractive dark seed pods and these can be left as long as possible, although you should always remove any seedpods from your hellebores before they scatter their seed. Seedlings may not be as good as the mother plant and producing seeds year after year diminishes your original hellebore.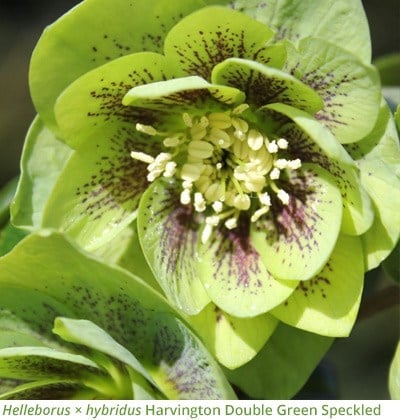 The colours that really stand out in the garden, when it comes to hellebores, are strong greens, vivid whites and clear yellows. The greens are particularly attractive in winter light and Harvington Double Green Speckled has petals that have replaced the nectaries although there are still pollen-bearing stamens to please the bees. There are also plain double greens and single greens.
Harvington hellebores are generally grown from seed using colour strains developed over many years by a gentleman called Hugh Nunn. He also developed single and double yellows, reds and pinks. White hellebores look very effective in the garden and their flowers, which come in single and double forms, often fade to green. Other hellebores are attractively veined and some have a fine margin round the petal - known as a picotee edge. Hellebores do not divide well, unless you cut them into large chunks, because small pieces rarely survive. If you do divide them, September or late April (after flowering) is best.
One of the most famous hellebores is the Christmas Rose, Helleborus niger. However this is difficult to grow well in the ground, so it's best grown in pots elevated on pot feet to aid drainage. It has simple, single white flowers and rich green foliage and it flowers close to Christmas, hence the name. Harvington have produced a double form of the Christmas rose, but again this is better in pots.
The Christmas Rose has been used as a pollen parent in the production of hybrids. Many of these hybrids are sterile and therefore don't produce any seeds. When a plant is sterile it compensates by flowering for far longer, and this is a great advantage to the gardener. These sterile hybrids are micro propagated instead, and H. × sahinii 'Winter Bells' is a recent one. It bears lots of smaller greenish white flowers with pink backs. H. × ericsmithii , an older hybrid, has large creamy white flowers and 'Pirouette' has dusky pink flowers. Often the foliage is bloomed in silver, or marbled.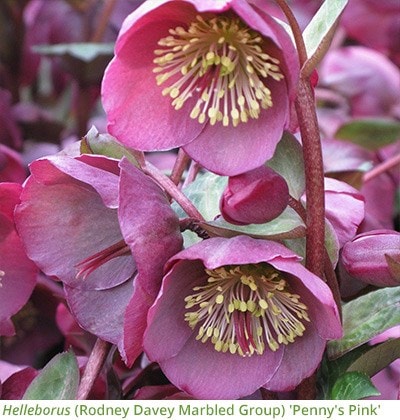 Probably the best pink hybrid hellebore is 'Penny's Pink', named after the garden designer Penelope Hobhouse by its raiser Rodney Davey. These hellebores have large flowers in clear colours and frosted foliage and they are collectively known as the Rodney Davey Marbled Group. They are all named after keen gardening ladies. 'Penny's Pink' has very long lasting flowers that fade from candy pink through to aster-violet and it's extremely good in a pot.
'Anna's Red', named after garden writer Anna Pavord, has sumptuous burgundy-red flowers and green foliage with hints of pink and silver. If you buy a hellebore with beautiful foliage, which is one of the things Rodney Davey has selected for, leave as much of the foliage intact overwinter as you can because it's a real winter feature.
Some species hellebores can be left to self-seed and naturalise in wilder areas of the garden. Helleborus foetidus is much nicer than its common name of stinking hellebore suggests. Admittedly, the green flowers do emit a meaty smell, designed to attract flies, but the dark green divided foliage flatters the cluster of pendent maroon rimmed green bells. This compact British native tolerates deep shade whereas most hellebores prefer brighter shade and good soil.
If you've got lots of room in a woodland patch there is a particularly handsome species commonly called the Corsican hellebore. Helleborus argutifolius has glossy olive green foliage edged in teeth-like growths. The clusters of ample flowers are a pale green, but this species hellebore has one bad habit. It spreads out its stems like the spokes of a wagon wheel and takes up lots of ground room, while handsome, this hellebore is not suitable for a small garden.
Foliage really stands out in the winter garden and bergenias, known as elephant's ears due to their rounded foliage, make great winter additions. They prefer good drainage, because they have fleshy stems. The also like a sheltered position because hard weather that can set them back. 'Overture' is a compact form with red winter foliage followed by lots of pink flowers.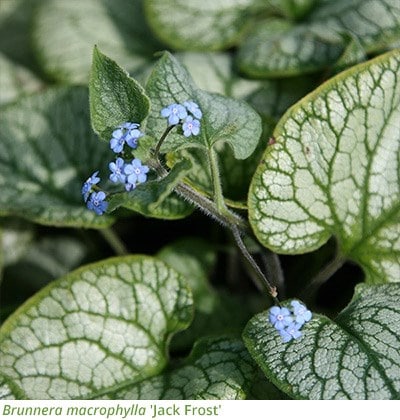 'Abendglut', a favourite of the late Beth Chatto, combines neatly crimped, warm red wrinkle-textured leaves in winter and semi-double rose-red flowers follow from April to June. 'Silberlicht' has early, silver-pink flowers in March set against dark green foliage and the flowers and leaves redden in cool weather. 'Bressingham White' has blush-white flowers on rhubarb-pink stems held above handsome green foliage.
Silvered foliage always looks good in winter and Brunnera macrophylla 'Jack Frost' has almost heart shaped silvered leaves that display green veins and a fine green edge. The flowers are rather like blue forget-me-nots. 'Looking Glass' has completely silver foliage, with blue flowers. 'Sea Heart' has paler blue flowers and marbled foliage. Brunnera foliage looks like melted snowflakes in late winter light.
Pulmonarias can look equally good in leaf and Opal combines cool ice-blue flowers with foliage dotted in silver. 'Silver Bouquet' has heavily silvered foliage randomly spotted and splashed, with flowers that open pink and then turn blue once a pollinator has visited. This earnt the common names of soldiers and sailors and Mary and Joseph. Pulmonarias are members of the borage family and these are highly attractive to pollinators because the flowers have the ability to produce more nectar very quickly, should it get depleted. It's a reminder that early flowers are a vital part of a garden for they sustain bumblebee queens, fresh out of hibernation, and a whole range of other pollinators.