It's time to add some extra flower power to your garden with a climber. They take up little space on the ground, whilst adding an all-important vertical presence to your planting. They can be allowed to scramble through trees, some will cover an unsightly fence or wall. Others will clothe a wooden tripod that rises above herbaceous planting. They're indispensable, but particularly useful in smaller gardens - where space is at a premium.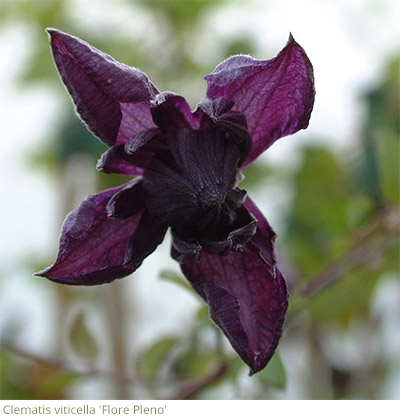 The Queen of the climbers is undoubtedly the summer-flowering clematis. They produce lots of smaller flowers in July and August and, like all clematis that flower after midsummer's day, pruning is simple. They are cut back to the lowest buds in spring and this prompts vigorous new shoots. These hardy souls never suffer from clematis wilt, the scourge of large-flowered clematis, because they have C. viticella in their breeding line, a tough species from southern Europe and parts of Asia. Their name means 'little vine'.
Clematis viticella was introduced from Spain in 1569, during the reign of Queen Elizabeth 1, so it became known as the Virgin's bower. The true species has nodding dark-blue flowers that tremble on six inch stems, however it's rarely available. Closest to type is 'Blue Boy', and clematis breeders have used this to produce a range of different colours, including white, pink, purple-blue and white.
Flower forms vary with viticellas, although they all retain that slightly wild, windswept look that says I'm really a wilding. It's not surprising that one of their earliest champions was the king of wild gardening, one William Robinson of Gravetye Manor in East Sussex. He let them climb and flop and even recommended them for rock gardens. He also sowed seeds along the hedgerows.
Some forms have an even older heritage and they include two good double forms. From a distance, these resemble small roses and being double means that the flowers endure into autumn. 'Purpurea Plena Elegans' (or PPE as it's known to many) has wine-red flowers that avoid being over neat. On sunny days the greyish centres add another dimension. There is also a deep-blue double, known as 'Flore Pleno' or 'Mary Rose'. This plant was known in the 16th century, but was thought lost until it was rediscovered in 1981-2. Barry Fretwell of Peverill Clematis spotted it in a Devon garden, just when the Mary Rose was being raised. The sultry deep-blue flowers need a pale background and it's happiest in a warm spot.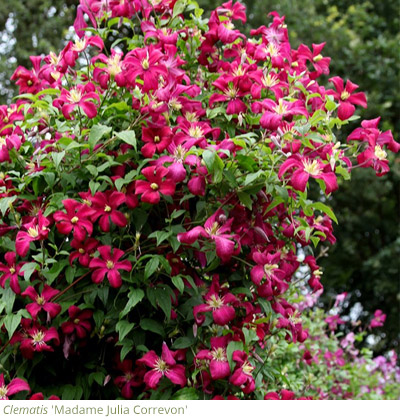 When it comes to singles, the most widely grown viticella type of all is 'Etoile Violette', a French variety raised by Morel in 1885. Once voted the British Clematis Society's Number One clematis, it should grace every garden. The always amusing Christopher Lloyd, writing in his book on clematis, was once asked about twelve-year let! 'Etoile Violette' always flowers by July, so the earliest of all. It produces lots of gappy purple flowers, each with a light-golden boss of stamens. This clematis makes a great partner to a June-flowering rambling rose, such as the warm-yellow 'Goldfinch'. As the rose fades, the clematis comes into its own, and sometimes there is a lovely overlap. Morel also raised 'Madame Julia Correvon', a robust rich-red that will tolerate some shade, and the black-tinted velvety-red 'Royal Velours'. What a trio!
When Morel gave up breeding clematis he handed his nursery stock to William Robinson and Ernest Markham, just before the first World War. Morel also raised 'Abundance' and this can reach 20ft in height, with masses of pinkish red blooms that are ruffled and barred like puckered taffeta. This one is often seen growing up a mature tree. Always plant a clematis a metre away from a trunk, at the very least, and water in the first growing season if you want your clematis to climb into a tree. Another vigorous viticella, from the same sort of era, is 'Alba Luxurians' an oh-so-pretty white- flowered clematis with green tints to the earliest asymmetrical flowers. This cool blend of colour is prompted by lower temperatures so later flowers are often pure-white. It's lovely and fresh in dappled shade and perfect on a trellis and it this one lasts into autumn.
Modern breeders have carried on the good work and some of Polish varieties are excellent. 'Polish Spirit' is always the latest viticella to flower, so it's velvety dark flowers slightly barred in pink as the flowers age, extend the season. 'Niobe', a less-vigorous rich-red, and 'Warszawska Nike', a velvety moderately vigorous reddish-purple, are also Polish varieties well worth growing.
Less vigorous varieties are useful on tripods, or scrambling over low walls, and the well-named 'Black Prince' has neat flowers that hover between red and purple. The neat green eye sets the flowers off. Keep the royal theme going with 'Prince Charles', a satin-sheened violet-blue with silver-grey overtones. Although less vigorous, it's smothered in star-shaped open flowers that create a soft summer haze. The much newer 'Meghan' is not a viticella type, it's a large-flowered magenta-purple clematis best suited to a tripod. This one will need a gently prune after the first flush of flowering.
If you want a fragrant climber-cum-twiner, forms of our native honeysuckle Lonicera periclymenum can be planted in shade as long as they can scramble into the light. They can be lightly trimmed into a roundel in autumn, or be allowed to flop over a low wall, or they can scramble among large shrub roses such as 'Buff Beauty'. Fragrant honeysuckles all produce summer flowers in rhubarb and custard tones and their sweet fragrance deepens in evening light because their long-tubed flowers are moth-pollinated. Red berries follow and these are devoured by birds in autumn and winter. Brighter-coloured honeysuckles in reds, oranges and deep yellows (such as 'Mandarin' and L. x tellmanniana) tend to be humming-bird pollinated so their flowers don't need to be scented, just colourful.
It is worth planting the early Dutch honeysuckle, Lonicera periclymenum 'Belgica', with the later-flowering and more-colourful 'Serotina' to get a longer blast of fragrance, between June and September. If you've only got room for one, opt for the larger clusters of flower on 'Serotina'. The new 'Celestial' has attractively shaped flowers with a wider lip and this one is compact enough for a large pot, as is the very compact 'Strawberries and Cream'.
If you want the sort of scent that takes you to far flung places, find a sheltered spot for the highly-fragrant star jasmine, the white-flowered Trachelospermum jasminoides. This evergreen climber needs a warm wall to flourish, and reasonable soil, but it will also thrive in a cool conservatory if you're in a colder part of England. The fiery peachy orange trumpets of Campsis 'Indian Summer' can also take the heat outside, because this trumpet vine hails from warmer places in China. Team it with a blue Ceanothus, such as 'Concha', because this evergreen wall shrub will like the same conditions on a warm, sunny wall. Or go for 'Puget Blue' because the blue flowers almost smother the foliage in summer.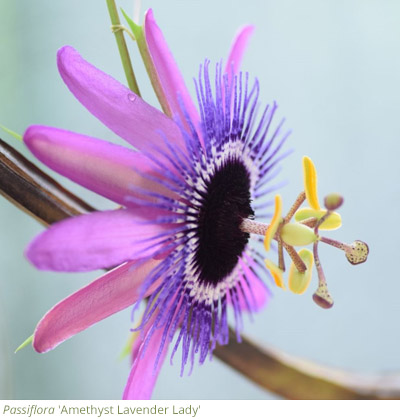 I'd also go for a passion flower and, if you're lucky, you'll get attractive orange fruit as well. Edible, although not pleasant to eat. Passiflora caerulea, the blue passion flower will produce large white flowers attractively centred in lime-green and purple and fringed in purple. The all purple version, Passiflora 'Amethyst Lavender Lady' is an all-purple version. The trick is to trim them back after flowering - unless you want fruit.
If you want to soften a stark fence or wall in shade climbing hydrangeas and schizophragmas both produce lacecap flowers. Hydrangea anomala subsp. petiolaris provides a wispy lacecap of tiny white flowers surrounded by the occasional full floret, on a self-supporting deciduous framework. The similar Schizophragma hydrangeoides, the Japanese hydrangea vine, surrounds its mophead of tiny flowers with pinkish white bracts. Both are slow to get going, but once they are up and running they're good at clothing bare walls and fences with their adventitious roots. Lovely with green foliage, whether it's a hardy fern or a green-leaved hosta such as 'Devon Green'.