This fern is deciduous so all its fronds will die back in autumn, then fresh new growth appears again each spring.
Position: partial shade
Soil: moist, humus-rich soil
Rate of growth: slow-growing
Hardiness: fully hardy

This striking deciduous fern has triangular-shaped fronds, which are coppery-red when young and slowly mature to dark green. One of our recommended plants, it needs plenty of moisture and contrasts beautifully with evergreen ferns and other woodland plants.


Garden care: Incorporate lots of well-rotted leaf mould, composted pine needles or garden compost into the planting hole. Cut back decayed fronds in winter to allow new growth to emerge.
Delivery options
Standard £4.99
Next / named day £6.99
Click & collect FREE
more info
Eventual height & spread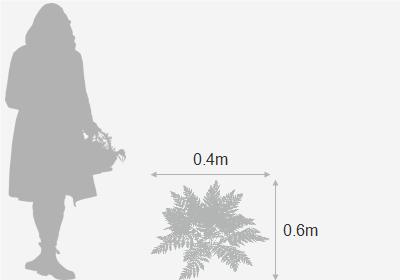 Notes on Dryopteris erythrosora
"The autumn fern has a russet-red underside to its leaves but it's still pristine enough to flatter snowdrops in early winter- before its new red-backed fronds appear"
I would recommend this plant
Frond colouration makes a handsome contrast to other ferns.
Cobweb
London and Wales
Hi, I have a fern in my garden which has grown well, but this year my fence blew down and landed on it crushing it. The plant is still alive, but it is flat to the ground. I've put some twine to lift it up and hold it in place, but is there anything that i can do to revive it the way it was?

paul

These plants will lose their foliage in winter, so if yours still has any of the previous years foliage, then this can be cut back. Then all you need to do is keep it well fed and watered (and keep the fence off it), and it should bounce back.

Helen
Can you recommend a fern that will tolerate the dry soil under a mature silver birch?

Head gardener

Hello, There are a few that can grow in reasonably dry soil (see below), but even these will need to be kept really well watered until they have become well established. Polypodium vulgare http://www.crocus.co.uk/plants/_/polypodium-vulgare/classid.1835/ Polystichum http://www.crocus.co.uk/search/_/search.polystichum/sort.0/

Helen
Hi, I have cut back hard an inch from of my Dryopteris erythrosora in 15th March, I am still waiting for new growth, I just want to know is it slow to growth or is it wrong to prune hard in early spring. I really like this Autumn Fern, Is there anyway I can expect new growth anytime soon. Its almost end of April, I cant see new growth coming now. Is there any hope I can see new growth soon

shadegardenerRY

Hello, These are not particularly early into growth in spring, so I suspect you just need to make sure they are kept well watered and you will start to see the new growth quite soon.

Helen
Hanging baskets for shade please Hello There, I want to plant up some hanging baskets with interesting foliage plants like ferns. They will then stay in a shady spot. Can you help with a few suggestions?

Mike Simpson

Hi Helen To let you know I have just ordered all of your suggestions below. Thanks again for taking the time to help

Crocus Helpdesk

Hello There, You could use any of the following plants, but as they are reasonably mature they will really fill the baskets.Hosta Devon Green http://www.crocus.co.uk/plants/_/perennials/hosta-devon-green/classid.2000009302/ Carex oshimensis Evergold http://www.crocus.co.uk/plants/_/grasses/carex-oshimensis-evergold/classid.680/ Dryopteris erythosora http://www.crocus.co.uk/plants/_/ferns/dryopteris-erythrosora-/classid.1823/ Hosta undulata var. albomarginata http://www.crocus.co.uk/plants/_/perennials/hosta-undulata-var.-albomarginata/classid.3032/ Asplenium http://www.crocus.co.uk/plants/_/ferns/asplenium-scolopendrium-/classid.1808/ Blechnum http://www.crocus.co.uk/plants/_/ferns/blechnum-spicant-/classid.1816/

Mike Simpson
Which plants are Deer proof? I want a list of Deer proof plants please. It`s either a change in habitat or environment, but I get total devastation now and in the last two years they come up the drive.

david

Deer can be a real problem and deer proof plants are usually thorny, poisonous or simply taste awful, but it is hard to give a definitive list as you might get the odd deer with unusual tastes which might like the bitter taste! Below is a list of good plants that generally are quite successful though. Cornus varieties, Rhus, Sophora, Solanum, Berberis, Rosemary, Buxus, Cotoneaster, Ilex, Pyracantha, Garrya, Juniperus, Nandina, Elaeagnus, Aralia, Aucuba, Cortaderia, Yucca, Santolina, Hypericum, Myrtle, Vinca, Achillea, Digitalis, Echinacea and Dryopteris. Finally, fencing is one method to protect garden crops from deer. Since deer jump, you need an 8-foot fence for best results or stout chicken-wire fencing securely around smaller garden plots. Alternatively, fence the area with a thorny shrub, preferably something that will grow to at least 6 feet. Deer eat roses and some thorns but hawthorn, boxwood and holly will exclude them. Deer are also deterred by dogs, hanging aluminum foil, mirrors, wood that hits objects in the wind and other noise-makers. Some old-fashioned repellents are human hair and blood and bonemeal. Hanging bars of fragrant deodorant soap from branches may work. Other well-known deer repellents are mothballs or moth flakes spread on the ground or put in mesh bags for hanging in a tree. Unfortunately though, no repellent is 100 percent effective, especially if the deer population is high and deer are starving.

Crocus
What can I plant that the deers won't eat? What types of plants do deer not like? If you could help me out I could greatly appreciate it.

Kelly L. Sliker

Deer can be a real problem and deer proof plants are usually thorny, poisonous or simply taste awful. It is hard to give a definitive list as you might get the odd deer with unusual taste which might like a bitter taste, but the following is a list of plants that generally are quite successful. Cornus varieties, Rhus, Sophora, Solanum, Berberis, Rosemary, Buxus, Cotoneaster, Ilex, Pyracantha, Garrya, Juniperus, Nandina, Eleagnus, Aralia, Aucuba, Cortaderia, Yucca, Santolina, Hypericum, Myrtle, Vinca, Achillea, Digitalis, Echinacea and Dryopteris. Finally fencing is one method to protect garden crops from deer. Since deer jump, you need an 8-foot fence for best results or stout chicken-wire fencing securely around smaller garden plots. Alternatively, fence the area with a thorny shrub, preferably something that will grow to at least 6 feet. Deer do eat roses and some other thorns but hawthorn, boxwood and holly tend to keep them out. Deer are also deterred by dogs, hanging aluminum foil, mirrors, wood that hits objects in the wind and other noise-makers. Some old-fashioned repellents are human hair and blood and bonemeal. Hanging bars of fragrant deodorant soap from branches may work. Other well-known deer repellents are mothballs or moth flakes spread on the ground or put in mesh bags for hanging in a tree. Unfortunately though, no repellent is 100 percent effective, especially if the deer population is high and deer are starving.

Crocus
The trick to achieving the tropical effect is good preparation and dense planting, vivid foliage, fiery flowers and striking contrasts. The jungle garden is a place for theatrical planning and planting. If you don't have room or the inclination to turn y
Read full article
Who can resist the allure of water in the garden? The gentle gurgle of a running stream creates a sense of calm and tranquillity, while a simple pond makes a focal point with magnetic appeal. You can create lush and natural-looking planting to show off th
Read full article