Ornamental grassses
Ornamental grasses come into their own later in the season, when the sun is low in the sky the colours look much richer in the autumn light. Most are tall and graceful, swaying with a gossamer presence, adding movement and texture to the garden. As autumn continues, the texture of the awns, be it soft and fluffy or shiny and beaded, become even more pronounced, adding drama and structure well into the winter. Stance varies between a rocket-like stand of upright fine stems, to graceful long-stemmed feathers that fan outwards and upwards, to a curtseying sheath that nudges over the front of the border or lawn. Whichever variety you choose they will add another dimension to your garden.
The King of the Autumn Grasses

Miscanthus sinensis stands supreme in the late-summer and autumn border, reaching somewhere between one and two metres. However some are grown for foliage alone and these include a subtle, yellow-banded, green-leaved miscanthus aptly named 'Zebrinus', or Zebra grass, because of its striped appearance. The stripes, which appear in late summer, run across the leaf horizontally and are good at casting a light and shade pattern - and this is precisely why Gertrude Jekyll (1843 - 1932) and William Robinson (1838- 1935) grew it under its old name of Eulalia japonica. A Japanese variety, that's been around a long time, it rarely flowers but creates a good sheath of graceful, subtly banded foliage picking up the colour of tall yellow daisies, or acting as a foil for tall, late herbaceous.
William Robinson championed wild gardening and grasses, an antidote to colourful and ordered bedding schemes so beloved by his fellow Victorians. He's thought to have been the first man to grow Pampas grass (Cortaderia selloana) in England, having planted it in Regent's Park in London after seeing it at the National Botanic Gardens at Glasnevin near Dublin as a young gardener. These can be enormously tall, but Cortaderia selloana 'Pumila' is a compact form rising to five or six feet only. The plumes appear in autumn and last through winter, forming exclamation marks in the border.
The craze for grasses took hold in Germany and their use was pioneered by a German landscape architect and nurseryman called Karl Foerster. He referred to grasses as nature's hair and popularised them, but it was Ernst Pagels who began breeding them after working at Foerster's nursery as a young man.

Miscanthus sinensis was difficult to succeed with in the cold climate of northern Germany, much more so than in Britain, so Pagels set himself the task of raising earlier flowering ones that would perform. He persuaded 'Gracillimus', a refined miscanthus with a fountain of fine foliage that underpins airy flowers, to flower much earlier by growing it under glass. He collected and grew the seeds on. 'Gracillimus' was an inspired choice because this miscanthus develops a golden aura which flatters the thickly textured beige tassels.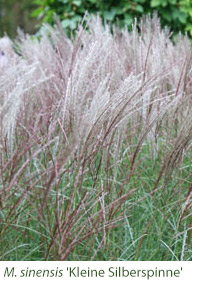 Pagels, who deliberately selected earlier flowering plants, produced some stunners. 'Maleparetus' is very similar to 'Gracillimus', but it will produce awns up to a month earlier. The finely banded foliage is topped with maroon-red upright awns by late summer. These age to pink, etched with silver. 'Kleine Silberspinne' (literally little silver spider) and 'Kleine Fontäne' (little fountain) were both bred by him. Both reach 1.5m and 'Kleine Silberspinne' has needle-like foliage and fine cockades in pink-red. 'Kleine Fontäne' is named because it produces a succession of slender, upright, red-toned silver flowers over several weeks. These red flowers, which look at their best in September light, quickly fade to snuff-brown and then to silver and gold.
Growing tips and partners
Miscanthus make tight clumps and start into growth early on, and the easiest way to ensure a fresh stand of foliage is to cut them back hard in late winter, before any of the new foliage appears.Some gardeners use tulips amongst miscanthus because by the time the tulips flower in April and May, the foliage has developed into a lush, bright green mound. Miscanthus are undemanding, just make sure that they are grown in full sun with a moist, well-drained fertile soil.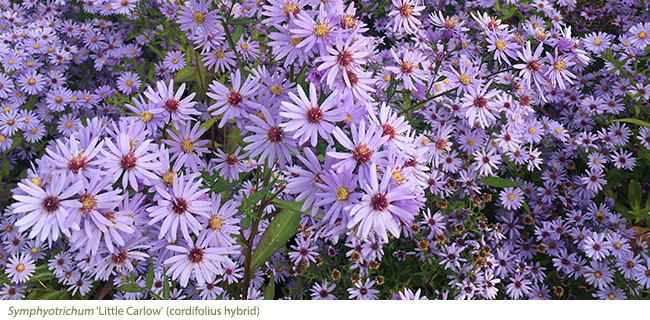 All taller grasses need equally tall perennials as partners to avoid the 'Little and Large' look, so the flowering ones, often called Prince of Wales feathers, associate well with taller perennials such as Veronicastrums, Sanguisorba 'Red Thunder', Helianthus 'Lemon Queen' and Symphyotrichum 'Little Carlow'. This type of combination of tall grasses and tall, late-season perennials, will often have winter presence for many months before they are cut back in February.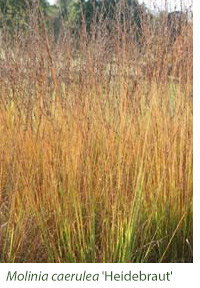 Molinias are very different, because they have a ruff of foliage at the base and long stems topped in heads that vary enormously. Molinia caerulea subsp. caerulea 'Heidebraut' (heather bride) is valued for it's see-through stems and golden autumn colour.
Growing tips
These native grasses originate from heathlands and moors hence their common name 'Moor grass' which indicates rightly that they are tough and hardy preferring sunny open spaces, but they will tolerate partial shade with a moist well-drained soil, preferable with a neutral to acid PH. Again cut back hard in late winter before the new foliage starts to come through.
The American Switch grass, Panicum virgatum is a splendid deciduous grass which is generally grown for it's colourful autumn foliage and light airy flowerheads, which shake at the slightest movement hence the name 'Panic grass'. But even before the leaf colour develops and the shimmering flowerheads appear, these are worthy plants with upright linear leaves that works well as a foil for summer perennials. Foliage colours vary with the different varieties from the grey-leaved sheath of 'Heavy Metal' to the redder foliage of 'Shenandoah'. Arguably the most attractive is 'Rehbraun' which has green foliage topped by purple and green spikelets from August through to September.
Growing tips
Sun and warmth are important, plus a well-drained moderately fertile soil, with good drainage. Cut back the old foliage in late winter before the new growth appears.
Pennisetums love a well-drained hot spot too, but there are cold-tolerant varieties on offer such as P. alopecuroides 'Hameln' that still provide pale green caterpillars. P. villosum, which produces a short stubby caterpillar with a fluffed-up presence, will come through winter in well-drained gardens. However treating it as an annual in colder, wetter gardens is an option because few grasses curtsey as attractively or look so good in sunny position.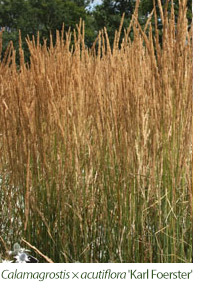 Calamagrostis x acutiflora 'Karl Foerster' known as the feather reed grass must be the world's best architectural grass because the green foliage and dark awns, which appear in mid-June normally, age to a ramrod straight sheath of russet and gold. No other grass provides the same vertical presence and it forms the basis of many a prairie-style Piet Oudolf inspired border. It's sterile, forms a tight clump and by September the awns begin to resemble narrow tapers.
Calamagrostis bracytricha, the Korean feather reed grass, is an option for shade, with heather-pink, knee-high, silky awns that appear in late-August or September.
Growing tips
Grow in sun or partial shade with a humus-rich moist soil with good drainage. Cut the stems back to the ground in late winter/early spring before the new foliage starts to come through. Don't be tempted to cut back in the autumn, as the fading stems are beautiful adding structure and form to the winter garden. Regular division every four or so years in the spring is needed to keep these plants vigorous.
At the other end of the scale there's the graceful Hakon grass (Hakonechloa) which flows over the edges like water so it can be used in containers, or close to steps, or in borders that retain moisture, or to soften a hard edge. It disappears underground in winter, although it's very hardy, and reappears in spring. There are golden forms of Hakonechloa macra, such as 'All Gold' and garishly variegated ones such as 'Alboaurea' and a cooler green and white named 'Albovariegata' and they're all good in shade as long as the soil stays moist.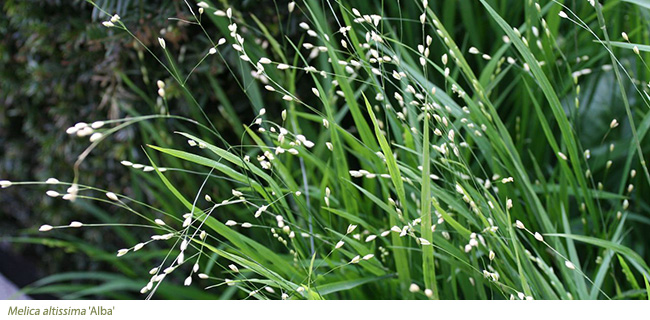 If you've a wild garden, or a William Robinson streak for nature, a form of our native wood millet, Melica altissima 'Alba', is the prettiest thing among ferns in shade. The white beads of the flowers, no larger than a grain of rice, tremble and shake as daintily as a ballerina on points. Quite beguiling and completely different from any other grass.