'Lilies of the Nile' in pots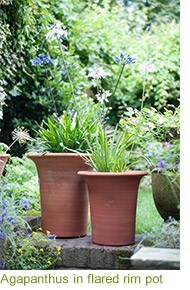 If there's one plant that's made for a round pot it's the agapanthus. Many will grow in the ground, but in a pot they're raised up to greater levels and they make much more impact on the eye. There are some wonderful pots that complement the strap-like foliage and trumpet flowers, like the Terracotta flared rim pots. Pot them up with a John Innes No 2 or 3 potting compost and raise the pots up onto pot feet, or wooden blocks to allow the water to freely drain away. Drainage is really important so make sure the drainage holes are kept open. The other benefit from growing agapanthus in pots is that they can be moved to a sheltered place in the winter to protect them from the cold and frosts, down by the side of the house or into an frost free greenhouse is ideal. There are some wonderful varieties but good forms for pots include 'Brilliant Blue', a newly-bred compact agapanthus that reaches only 60cm, but is packed with lots of blue flowers. Give this a shorter pot. The taller mid-blue 'Taw Valley' 80cm, has roundels of flower, with each individual petals lined in navy-blue.
'Black Magic', is a dark purple agapanthus, one of the blackest on offer, or if you want to go for pastel go for 'Megan's Mauve' or the steely, almost metallic 'Windsor Grey'. Don't starve them as some people suggest, but feed them at regular intervals with tomato food between April and August - and do deadhead them after flowering. Be prepared to divide and repot them every three to four years, ideally as they begin to grow in spring. For some you will need a saw to separate them.