Fresh food that goes from pot to plate in seconds is vitamin packed and much tastier. One of the easiest vegetables to grow is the potato and there is no contest when it comes to homegrown versus shop bought. The homegrown potato is a delicious affair and one of the sweetest sounds of summer is a freshly dug root of new potatoes landing in a bucket. You can grow them in a small plot or you can grow them in bags on the patio - and they're one of the vegetables that will really perform for you, for they crop abundantly and willingly. They're perfect for the beginner of any age and large enough for small children to handle.
If you want to have tasty new potatoes in summer you have to select first or second early varieties, because these will produce a crop roughly 15 weeks after planting. Potatoes are bred from wild species found at high altitude in parts of America, from Utah to Argentina, and they are very susceptible to frosts and this dictates your planting date. If you live in a warmer area of the country you may get away with planting at the end of March. If you live in a colder area then you're far safer to wait until mid-April. If a late frost is forecast, you must protect them. You can earth them up, by covering them with soil, or you can fleece them.
There is a gardening myth that potatoes should always be planted on Good Friday, but this is religious superstition. Potatoes weren't mentioned in the Bible because they came from the Americas, which had yet to be discovered. They were introduced into Britain in 1584 by Sir Walter Raleigh during the reign of Elizabeth 1st, an era of religious unrest. Devout Christians were afraid that they were the devil's food and the tradition began of planting them on the holiest day of all - Good Friday. In Ireland they used to sprinkle the potatoes with holy water. This was passed down the generations like a Chinese whisper, but it's completely wrong and, if Easter is early, your potatoes will get frosted.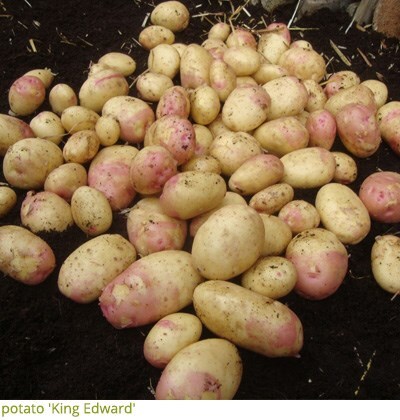 There's great variety because there are 151 known species of wild potato (Solanum tuberosum). They have different colour skins that can vary from white, pink, blue and pinkish red and the flesh also varies. The consistency of the potato also differs from waxy to floury. Floury potatoes, such as King Edward, tend to disintegrate on boiling but make excellent roast potatoes. Waxy potatoes keep their shape and they are delicious eaten cold so they are often referred to as salad potatoes. Flavour also varies and it's a very personal choice.
Whichever first early or second early variety you choose, it will only be in the ground between April and the end of July, so it's very unlikely to suffer from potato blight, which usually doesn't occur until August. For this reason most gardeners stick to earlier varieties. Once lifted you can then plant another crop in the gap. Dwarf French beans often make a good follow-on crop.
It's important to buy certified seed potatoes and most are grown in Scotland where temperatures are cool enough to keep aphid numbers low. Aphids spread viruses so seed potato merchants need to keep them away. They are carefully selected for health and vigour and any 'rogues' that look different in the field are removed.
It isn't a great idea to keep your own potatoes to plant, because they may well be carrying diseases and pests. If you see some potatoes coming up from last year's crop, known as self setters, it's best to remove them because they may also be harbouring pests and diseases.
If you like waxy potatoes one of the best varieties to grow is 'Charlotte', a second early with delicious creamy yellow flesh. This is a supermarket standby and widely grown commercially and that's always a good indicator of a good variety. This reliable, high yielding potato was introduced in 1981. It is a benchmark variety that is used to judge taste in other varieties, and should blight strike early, this one shows resistance.
'Lady Christl' (1996) is another waxy variety. It isn't as easily grown as 'Charlotte' because it needs milder conditions and fertile soil, so a cool spring can really set it back. It produces white, waxy small tubers that stay small. If you're growing a bed of potatoes this is an advantage because you can lift them as you need them. You don't want the potatoes to get too large.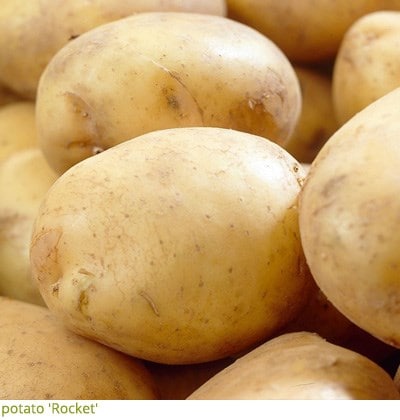 Faster growing varieties, such as 'Rocket' (1987), mature quickly and this can be useful if you're planning a family party and want an early crop all at once. However, left in the ground for longer than 12 weeks, 'Rocket' carries on growing and loses flavour and often splits inside.
'Swift' (1994) is a better fast maturing variety, and this is often chosen by people who want to grow in pots or in tunnels, because you do get an early crop. 'Swift' is also popular on the show bench, so if you fancy winning the village show trophy this may be for you. 'Kestrel' is another show bench favourite, a creamy oval potato with smooth skin and pink eyes.
Flavour is a very objective thing, but 'Casablanca' (2009) is the potato to grow if you like chips and wedges, because the dry flesh crisps up well. It's often supplied commercially to the chip shops and this vigorous, healthy potato yields well.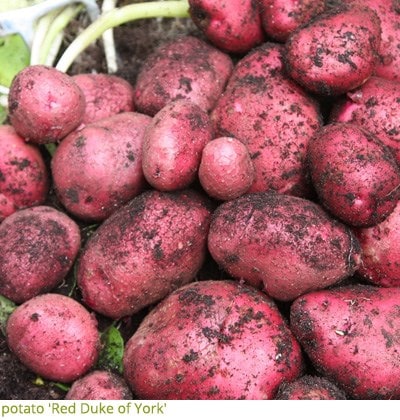 If you like a red potato with good flavour 'Red Duke of York' (1942) is a first early with a floury texture. It's reputedly Raymond Blanc's favourite variety. You can leave the tubers to become larger and these can be stored and used as baking potatoes. You can also make a tolerable mash. This is a handsome, tasty potato with lavish foliage.
A lot of gardeners wouldn't grow anything other than the tried and tested 'Pentland Javelin' (1968), a first early that regularly produces a good crop. It's a good all-round potato that you can do all sorts of things with, from roasting to boiling, and the flavour's good. It isn't one of the earliest to mature, but it's consistently good and the fact that it's been around for 50 years says a lot. I'm looking forward to trying 'British Queen', a heritage second early variety from 1894 that just scooped an AGM award from the RHS. This high-yielding, floury variety was widely grown in the 1920's and 30's and it's obviously making a revival.
'Pink Fir Apple' (1850) is thought to be a heritage French variety, although there is some doubt because it may be German. This potato produces long, pink knobbly tubers and its generally lifted in September or even later. It's a delicious salad potato and you just scrub the tubers before cooking. The flesh is very firm and it's a real gourmet's delight. The tubers are formed very close to the surface so you may have to cover them with soil to prevent them greening in sunlight. If you've got space this late maincrop potato is a brilliant addition.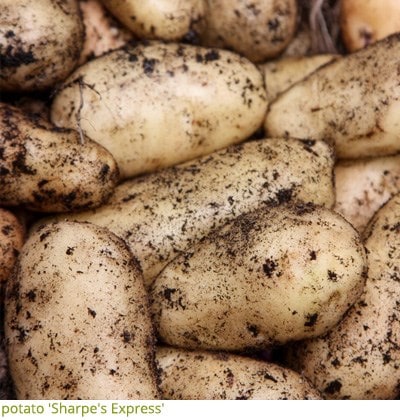 'Belle de Fontenay' (1885) is definitely a French classic variety grown for the kitchen. It's an early main crop and it produces slightly L-shaped, yellow tubers with a smooth skin. For many years it was grown by organic gardeners because it was very willing to produce a crop. It can be lifted earlier than September, but it's better lifted in early autumn because the tubers are more flavourful. A little later in date is Sharpe's Express (1900), a first early variety dry potato but needs careful boiling. Many gardeners still like it because the flavour is excellent.
It's important to buy your seed potatoes early, because the most popular varieties sell out. It also gives you plenty of time to 'chit' your potatoes. Cardboard egg trays or boxes are ideal and you place the potatoes so that there is an upward facing eye and keep them somewhere cool and light. This will give them time to develop strong shoots so that when they're planted you'll get potatoes sooner. You only need to do this with first and second early varieties. Main crops, normally planted in April, have more time to mature and grow.
There are early and late main crop varieties and these are left in the ground until September. If the weather is mild and wet in August light can affect the foliage. The first sign is slight yellowing of the leaves, followed by brownish black lesions. If you see blight it's best to cut the potato haulms (or stems) off and dispose of them in a green waste bin. Don't put them on the compost heap. You will spread disease and keep the blight in your garden.
Blight is a terrific problem in commercial crops and the average field grown potato supplied to the supermarkets is sprayed twenty times on average. This is why growing your own potatoes makes a real sense. Main crop potatoes store very well but it's important to select the right variety. If you have an allotment the best variety is still probably 'Cara', because it still shows a lot of resistance to potato blight. The rounded creamy tubers store very well and this densely-fleshed generally resists slug damage fairly well - although not always. It crops heavily, but slugs are a problem because when the potato is nibbled it fights back and produces a chemical that tastes very earthy to the slug and you!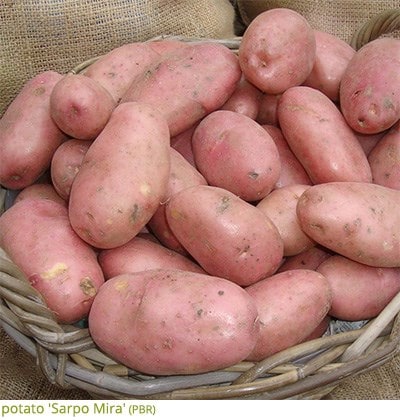 There are blight-resistant Sarpo varieties available and these were raised in Hungary using light-resistant potato species. I think the most palatable is 'Kifli' (2009), and early main crop that has shown great resistance to drought. Drought always affect yield however and one thing that amateur growers say about 'Kifli', is that this one needs a little bit more time in the ground. The Sarpo varieties include 'Sarpo Mira' (2002) and 'Blue Danube' (2009).
The best red potato for mashing is the early main crop 'Desiree' (1962) and this is still the world's most popular red potato. It will grow in drier conditions and it does have a good flavour. Red potatoes generally mash well and they also bake and roast and this has made 'Desiree' a popular choice over many years.
The garden potato continues to be really popular, because it's one of those cops that wants to do well for you. Commercial crops are heavily irrigated, sprayed and treated with anti-sprout and by growing your own you can be sure the healthy meal.