Style and fashion tend to dictate the plants we grow, sometimes to the detriment of the gardener. Conifers, for instance, tend to be shuffled to the bottom of the pack and yet few evergreens look as stunning in winter light as they do. There are skyrockets, cascading waterfalls and tight feathery balls. Their cones and needled foliage offer texture and form because winter light picks up all the detail. They come in a range of foliage colours too, from gleaming gold, to winter-green and blue-grey. Many develop stronger winter colour, particularly gold, and these add extra winter sparkle. Yet many of us only major on yew (Taxus baccata).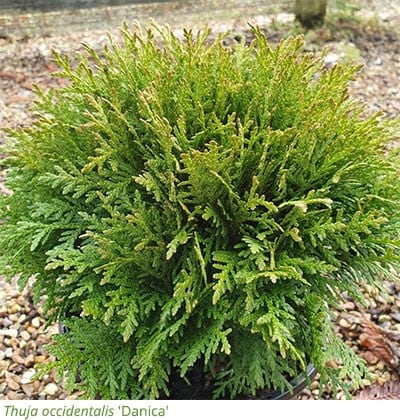 The problem is, gardeners tend to use conifers in a very unimaginative way and that doesn't inspire others. The craze for dwarf conifers (many far from dwarf) saw them planted on pebble screes in those very neat gardens devoted to alpine plants. The fast-growing Leyland hedge has also been off-putting and yet there are lots of imaginative ways to use conifers. They are particularly good on raised ground and one garden owned by John Massey, of Ashwood Nurseries near Kingswinford in the West Midlands, uses them to great effect close to a pond. They nestle among giant rocks and they're carefully pruned, almost in the Japanese tradition. When frost or snow descend they create a mini landscape that's reflected in the water. RHS Wisley's Curator, Matthew Pottage, is also a devotee and Doncaster-based garden designer Graham Bodle, squeezes them into his Chelsea show gardens and the judges love it!
In another very stylish garden, Malveleys, specimen conifers are used among plants with a winter presence, such as hydrangeas. The russet brown of the hydrangea heads, in this case from an easy hydrangea called 'Annabelle', are overhung with one of those weeping conifers and from a distance this looks like a gardener at work. In another bed there's an open airy conifer with branches that spread wide as if worshipping the sun. These specimens blend in in summer, but in winter they add a huge amount of structure. Head gardener Matthew Reese, ex-Great Dixter, is a plantsman and happy to embrace them.
Traditionally though, fashionable structure has been all about planting box and more box. However many a gardener has suffered with box blight or box caterpillar. This may not be completely devastating, because a seaweed feed toughens box foliage up and makes it less prone. It's also possible to cut out infected areas too. Jackdaws will eat box caterpillar grubs, as the National Trust reported at the organically run garden at Ham House. However there are conifers that recreate that round shape with no-clipping needed. So it's time to stop being blinkered about conifers and give them a chance!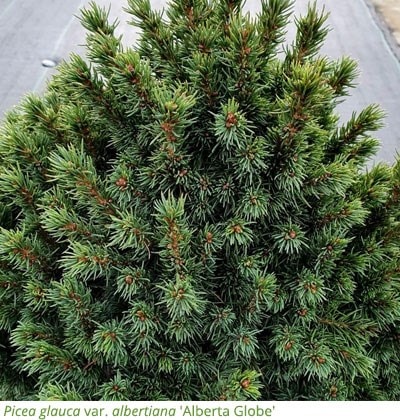 If you like a touch of golden sparkle in your garden the dwarf mountain pine tree, Pinus mugo 'Winter Gold' forms a rounded pouffe and, once the temperatures drop, the foliage begins to develop more of a golden aura in winter light. Once spring arrives the new growth begins to shine through so you get a combination of glistening green and gold that's perfect with miniature daffodils and blue scillas. As the needles are shed you'll get a textured mulch and this should be left in situ because certain plants love to grow under a needle layer. They include hellebores and hepaticas. This slow-growing conifer will reach a height of two to three feet (90cm) in 10 years and cover an area about three feet (90cm) wide. You could trim it to neaten it.
Many of these really small conifers arise as witches' brooms, those twiggy aberrations normally seen on the upper branches of birches. Conifers also do this and sharp-eyed nurserymen are always on the lookout for growth that looks completely different. There's a dwarf selection of the Alberta spruce named Picea glauca 'Alberta Globe', spotted by C. Streng Jr. of Boskoop in The Netherlands in 1968, that produces a small ball that only reaches sixteen inches (40cm) tall and twenty-four inches (60cm) wide once it's mature. The growth rate is said to be one and a half inches (3cm) a year. This green conifer could be perfect in a pot, or a series of pots and in winter light the snuff-brown cones and twigs shine through the green needles.
Thuja occidentalis 'Danica' also forms a sphere, very slowly, and this rich-green conifer has feathered foliage that splays outwards. It can take on a bronzed look in winter and it will reach about eighteen inches (45cm) in height and slightly wider across after ten years. 'Rheingold' has orange-tinted foliage in winter, so it's especially good close to Cornus sanguinea 'Midwinter Fire'. The young foliage is a vivid yellow-green and this slow-growing small conifer forms a cone of growth rather than a ball.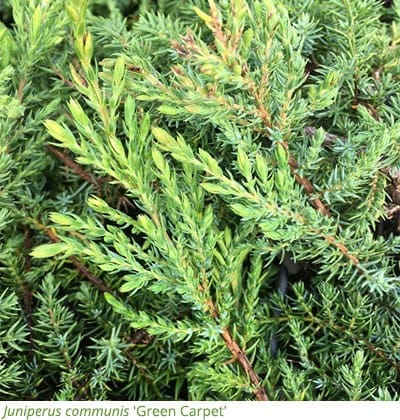 Junipers are more spiky and many of the smaller ones have a prostrate habit and stiffer needles branches that are prickly to the touch. Juniperus communis 'Green Carpet' is good at covering dry banks where little else will grow. In summer the foliage is a vivid-green, but it darkens in winter. Like all conifers it suppresses weeds due to the dense overhead branches. It will cover 3 feet (90cm) of ground eventually, but only rise to less than a foot in height. J. horizontalis is a faster spreader with creeping branches. Juniperus squamata 'Blue Star' is a superb dwarf conifer and it forms a lowbush of spiky grey blue branches. Many consider this the brightest of the blue-toned conifers. It will reach between twelve and thirty inches (30-75cm) after ten years and it will need a sunny position and good drainage and that makes it perfect for a sunny position. It forms a very contoured shape so this is one that you could use as a contrast among others.
Some junipers, such as Juniperus scopulorum 'Blue Arrow', have a very narrow, upright shape and these make perfect exclamation marks in a garden. 'Blue Arrow' is an improved version of 'Skyrocket', which used to be the most commonly planted fastigiate conifer. It's very similar in profile the slender cypresses planted in Italian gardens, but much hardier. 'Blue Arrow' needs a sunny situation and, after 10 years, it will reach shoulder height.
Pyramidal conifers also add structure and they're often planted in lawns. Picea glauca var. albertiana' Conica' is a slow-growing conifer that forms a perfect cone in sage-green. It will reach up to 4 feet (1.2m) after 10 years. Some gardeners grow this in handsome containers placed at strategic points, on either side of the door or close to steps. It's the perfect tree to bring in and decorate for a couple of weeks at Christmas and in spring the new growth is a paler colour and that adds interest.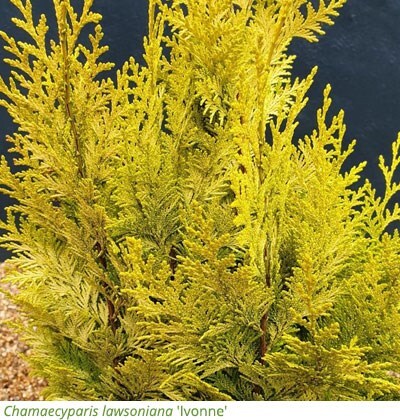 If you want a slender golden cone, Chamaecyparis lawsoniana' Ivonne', a form of Lawson's cypress, will provide a neat cone of golden feathered foliage that's soft to the touch. This could be used as a contrast among darker-leaved shrubs, or it could stand alone. If you prefer a really steely, grey-blue conifer that's not too tall, opt for Picea pungens (Glauca Group) 'Hoopsii', the Colarado Blue Spruce. This will reach about 10 feet (3m) in height after 20 years and it could be a small specimen in a lawn. Whenever you plant a conifer in a lawn it must be given its own space so that the branches developed evenly. Don't tuck it away in a corner and that's good advice for any specimen tree that you want to shine in winter light.
Conifers also make great hedges, although you cannot cut back into the old wood because they will not regenerate. Many of the Leyland hedges planted 40 or 50 years ago have become overgrown because they weren't given a yearly trim in August. If you can, grow them up to about a foot below where you want the hedge to end before you take the tips off and they will thicken up.
Larger conifers provide plenty of cover for garden birds and greenfinches are particularly fond of roosting among the taller ones so put away your prejudices and plant away!