A good garden should offer you something throughout the year - and that includes winter too, because gardens can look wonderful when winter sunlight slants through the garden spotlighting different areas and picking up detail and texture. When frosty weather arrives, it's literally the icing on the garden cake, but even damp, dreary days have a special charm. Then the garden wears army fatigues with sooty blacks, elephant greys, khakis and winter whites in abundance. Structure and silhouette take prominence, so the garden resembles a charcoal sketch and this is when gardens often look far larger than they are.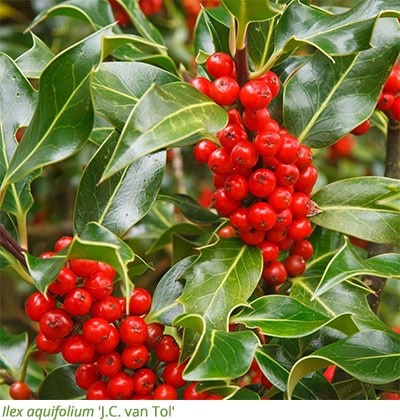 Rich evergreens come into their own once winter descends - whether it's a series of bright-green box balls, trimmed topiary, or an individual specimen holly. If your holly offers a touch of red, so much the better, because red glows in winter light and it seems to regulate the rest of the colour palette. Only female hollies produce berries however and most hollies have either male or female flowers. Pollen has to be carried between them and then berries follow. There is one exception. 'J. C. van Tol', a green-leaved, self-fertile holly that produces red berries along the stems without the need of another pollinator. It's often grown by florists because the stems are more pliable when it comes to winter arrangements and wreaths.
Most other hollies will need a partner of the opposite sex nearby. If you're in an area with lots of gardens close by there will almost certainly be enough holly pollen. However, if you're in a remote place you'll need to plant a male and female (the name will have (m) or (f) after its name) in order to get any luscious red berries.
Holly names don't help, so don't go by the names. The masculine sounding Ilex x altaclerensis 'Golden King' is in fact a female holly, despite its name. It produces large red berries and the rounder foliage is roughly margined in creamy yellow so it stands out well in winter light. 'Golden King' is adaptable. It can be topiarised into a lollipop, made into a tiered wedding cake clipped into a hedge, or it can go au naturel and form a large shrub. Clipping removes the berries.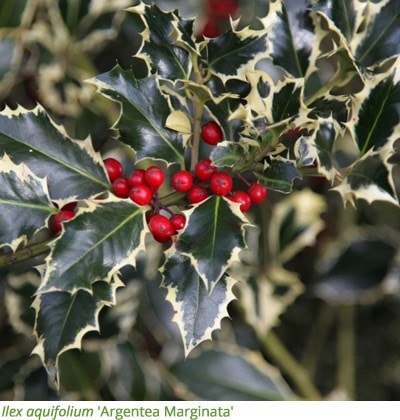 'Golden King' is faster growing than English holly because it's a named form of a hybrid between a tender, large-leaved Portuguese holly (Ilex perado) and prickly English holly (Ilex aquifolium). It was discovered in Downton Abbey territory, at Highclere Castle, and the Latin name (altaclerensis) actually means house of Clere. The family were keeping large-leaved tender Portuguese hollies in their orangery and the bees carried the pollen to native hollies growing in the surrounding oak woodlands. The resulting hybrid inherited rounder leaves from its Portuguese parent and hardiness from our native holly. Subsequently hybrids were found in many other locations, all with rounder foliage. Also, Highclere holly isn't as savage as English holly as the Latin name (aquifolium) refers to eagle's talons - aquila.
The female names are equally misleading as Silver Queen' is a non-berrying male! If you want berries opt for 'Argentea Marginata', a female with dark green leaves crisply edged in custard-yellow. In time this will grow into a handsome pyramidal tree.
Bamboo also looks gorgeous in winter light and the foliage rustles very gently, like an echoing whisper. The low light highlights the lacquered canes and warms the avocado-green of their elegant leaves. These tremble attractively in the slightest breeze, casting a flickering pattern of light and shade like a huge magic lantern at play.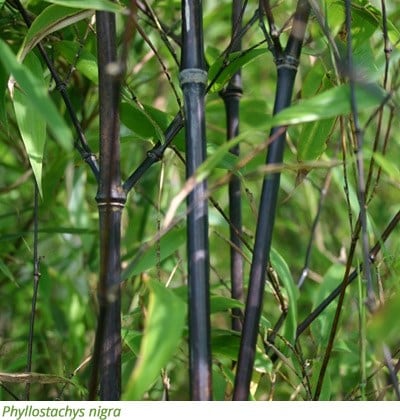 Gardeners are wary of bamboo, probably because the earlier introductions tended to be rampant spreaders, especially in the warmer, wetter western half of Britain. There are now more options, for in the past 30 years better-behaved bamboos have been introduced from the cold, mountainous regions of Chile and the Himalayas. These high-altitude varieties are not aggressive spreaders, but form clumps of limited size instead. They can be grown in containers as well as in the garden, although they must never be allowed to dry out. They're also useful as windbreaks and hedges, because they keep their foliage in winter.
Fargesias, from upland China, have thin, colourful canes topped by a fountain of fine foliage and they are often known as umbrella bamboos. Fargesia rufa, one of the showiest, has foliage with an unusual blue-green glow. Each slender green cane is banded with colourful sheaths that vary from orange-red to shrimp-pink, depending on the soil. Fargesia rufa will grow to a height of 2.5m (8ft), in a clump up to 1.2m (4ft) wide after ten years. The more spectacular Fargesia robusta 'Asian Wonder' has purplish stems banded in white. The leaves make a real winter feature because they shimmy and shake.
Phyllostachys nigra is the most widely admired bamboo, with black canes accentuated by white rings. Growth varies according to location and if you're in a wetter, warmer part of Britain it could make a sizable, tall clump. Phyllostachys vivax f. aureocaulis, which forms tight clumps up to 10m (33ft) high, has golden yellow canes marked at the base with an occasional green stripe. The even showier Phyllostachys aureosulcata f. spectabilis has custard-yellow canes grooved with deep green, and this bamboo can produce zigzagged canes as well as straight ones. It colours up best in harsh, exposed positions and the dark-green foliage provides a striking contrast with the gold and green canes.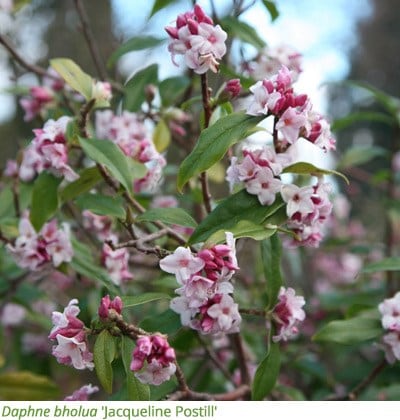 There's plenty of fragrance on offer in winter too, because plants still have to lure in pollinators whenever the weather's clement. Large blowsy flowers would be ravaged by the weather, so winter flowers tend to be small, subtle affairs in ivory-white, pastel-pink and pale-green. The flowers tend to be small and some have waxy, thick petals like the Daphnes. Others mere collections of stamens like those of Sarcococca and winter honeysuckle. Temperatures are cool so the fragrance is powerful and heady - and one of the pleasures of winter is catching a waft of perfume on a warmer afternoon.
The classic winter-flowering daphne is Daphne bholua 'Jacqueline Postill', a columnar evergreen with clusters of fragrant pink flowers in January. It's important to give this daphne a sheltered position because the tender flowers brown in very cold weather. Cold winters can make this wonderful winter flowering shrub drop its leaves, but the flowers will carry on.
There is the later flowering daphne, probably the easiest to grow, with tastefully variegated foliage and pink flowers from March onwards. This is Daphne odora 'Aureomarginata'. This makes a wide shape so it needs space, but it's such reliable scented shrub. Clusters of pale pink flowers are set off by neatly edged green leaves margined in yellow. New breeding in New Zealand, carried out by Mark Drury, has produced a hybrid between these two stunning daphnes has produced 'Perfume Princess'. This flowers in the first half of spring, due its Daphne bholua parentage, but it's easier to grow because the other parent is D. odora. 'Perfume Princess' is a slender, columnar plant rising to shoulder height. This will hold onto its leaves, even in cold winters.
Some fragrant shrubs produce flowers on bare branches. Witch hazels or Hamamelis light up January with spidery flowers in marmalade shades of yellow, orange and warm-red. They need good fertile soil to perform well and they prefer light shade or an open situation. Fragrance varies, but the sulphur-yellow 'Pallida' is freesia-scented and the striking flowers stand out well in a winter garden. The great thing about which hazels is that these spidery flowers can survive anything winter can throw at them.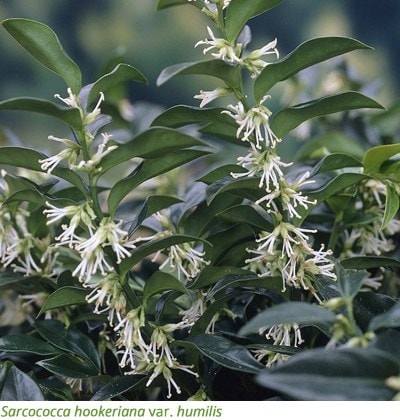 If space is at a premium, opt for Sarcococca, small evergreens that are often known as sweet box. Their flowers pack a heady fragrance not dissimilar to lilies. Even a small plant, in a container, can pack a powerful punch. The most elegant, Sarcococca confusa, has handsome green leaves and ivory white flowers.
There is a shorter sweet box, Sarcococca hookeriana var. humilis, that tends to sucker so this is good at the front of the woodland border. The foliage is smaller but there's still plenty of creamy white flowers. Sarcococca hookeriana var. digyna is very similar but the flowers are a dusky pink. If you want a really early-flowering sarcococca, plant breeder Peter Moore has raised 'Winter Gem'. This has handsome, larger leaves and flowers that appear to be pink.
You can also get excellent fragrance from two larger shrubs although both are a little Jekyll and Hyde because they look adorable in winter but somewhat scruffy in summer. They are both perfect in larger gardens and the most reliably fragrant is a Chinese evergreen called wintersweet or Chimonanthus praecox. The red-centred, pallid-yellow flowers look almost translucent in winter sun and the stems also last well in water. It's vital to find a sheltered site because frost and wintry weather can damage the flowers. In warm sites quince-like fruits follow. Winter honeysuckle produces flowers bare wood just before leaves appear. The cream-white flowers are adored by early flying honeybees. Again, the stems pick well and when the weather is really foul being able to pick a little posy and bring it indoors makes you feel so much better.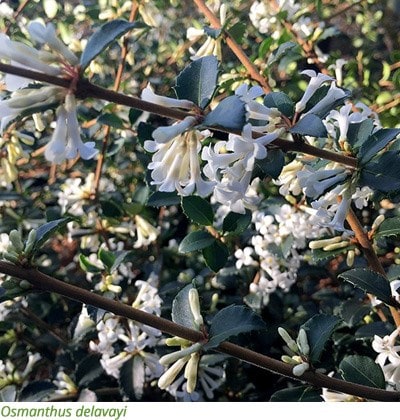 Winter cheer comes in other forms too and the pretty clusters of pink buds on the shiny evergreen, Viburnum tinus 'Eve Price' gradually open to warm-white. There's a red-budded form too, 'Lisarose', and these accommodating evergreens will flower in shade so they'll soften a building or a fence, although the dainty flowers aren't fragrant.
In the 1920s Burkwood Nurseries based at Skipworth close to Kingston in Surrey produced hybrids designed to withstand British winters. One of their best is Viburnum x burkwoodii and, in mild winters, this highly fragrant semi-evergreen will flower from February onwards. The rounded heads of white flowers emerge from pink buds and exude a strong lily-like fragrance. They also raised the evergreen Osmanthus x burkwoodii. The jasmine-like white flowers are held in swooning clusters above evergreen foliage which is warmed by snuff-brown stems. The more upright O. delavayi bears tubular white flowers up the stems and small evergreen leaves. Both are good in shady corner and they will light up a grey winter's day and nourish the gardener's soul.