Come the autumn the flowers may be fading away, eclipsed by shorter and cooler days, but there's still plenty of foliage whether on the ground, or held aloft against a sinking sun. Touches of lipstick-red, sombre-burgundy, orange-peel and mustard-seed glow in autumn sunshine, before the leaves fall and scatter on the ground - almost too lovely to pick up.
Lipstick reds
There are certain shrubs and trees that display a bright red-pink colour that glows in good light, which was good enough for Marilyn Monroe's lips and toes. The earliest of all to colour up are the spindle trees, deciduous forms of euonymus that also bear spindle berries in day-glow orange and vivid pink. The fiery foliage always arrives by September and lingers for four weeks before the leaves drop. The strange winged fruits, suspended on straight stems, are loved by birds and often result in savage battles between rival robins desperate to keep them to themselves. Not surprisingly they disappear quickly. Good garden forms include 'Red Cascade', a small tree that's easy, tolerant and smothered in spindles. The more shrub-like E. alatus bears lots of fruit and develops corky wings on the grey-brown bark, highly attractive in winter light.
More reds and pinks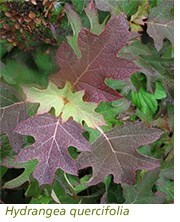 If you like autumn foliage and red berries Cotoneaster 'Hybridus Pendulus' is a small tree topped by lots of weeping branches studded with red berries and small leathery evergreen leaves that redden late in the year. Or you could add a sorbus and 'Eastern Promise', a small tree with finely divided grey-green leaves, will give you pink berries and foliage that colours to orange in autumn. An AGM variety, 'Eastern Promise' is easier to grow than many and makes a perfect foil for pink hellebores because the berries persist over winter and into spring.
Small gardens can also get a blast of red using the oak-leaved hydrangea, H. quercifolia 'Snow Queen', in a container or tumbling over a low wall. The conical white flowers fade to pink against a chorus of red foliage, flecked in pink and coral, or you could use the new charteuse-green form 'Little Honey': it will still colour up in autumn and is even more-compact. The compact Bergenia 'Overture' is also perfect in a small space, with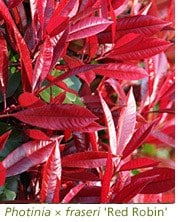 foot-high crimson leaves and lots of stems of bright-pink flower. Like all fleshy-stemmed bergenias it needs good drainage.
Those same hints of pink develop on the burgundy leaves of Cotinus coggygria 'Royal Purple', although it's larger and rangier. Cut back hard every year, only once established, it will develop larger lollipops at the expense of flower. Cotinus, commonly called smoke bushes due to their frothy flowers, come into leaf late and also lose their leaves late. This makes them useful additions to a prairie border - used with silver-awned miscanthus. Or you could add warm-red glints with the evergreen shrub Photinia x fraseri 'Red Robin' or the new 'Pink Marble'. Both have AGM awards and both produce red-tinted young growth that persists through winter. 'Red Robin' is a rich green and 'Pink Marble' a muted grey-green with cream. Both can be grown as specimens, or fused into a hedge. Cut both back in summer to promote young growth and underplant with spring-flowering blue muscari, to make the red tips seem even bolder.