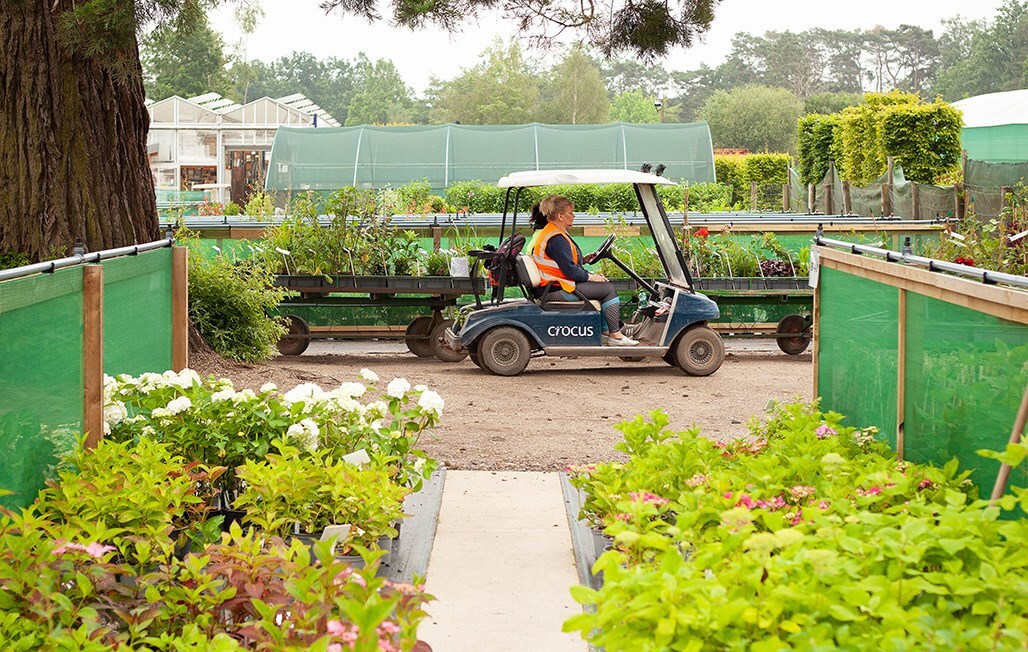 Whilst we've changed,
we know we can do better
Over the last few years, we've been implementing changes to make our business as sustainable as possible. We know we have further to go, but we're excited to share with you the improvements we've made so far.
Welcome to our Nursery
Discover the changes we've made to become more sustainable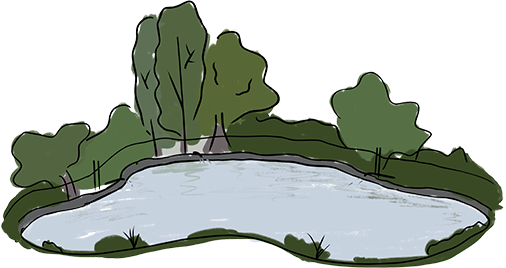 We use rain water to water our plants
By building a reservoir and recycling water off our buildings, we hope to be self-sufficient for our water needs.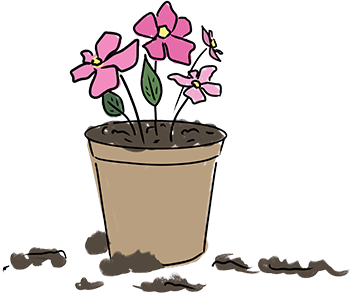 We're trialling peat free compost
As a result, we now use 30% less peat. Our goal is to remove peat from our own grown plants by 2025.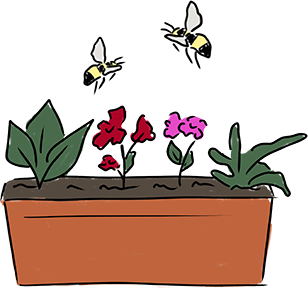 We've removed all neonicotinoids
Instead we are using a combination of biopesticides and natural alternatives.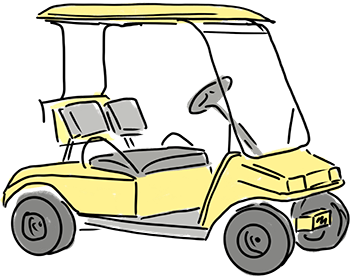 Our plant pickers are electric
With a 40 acre nursery, we need speed to pick your order! 95% of our tractor buggies are now electric.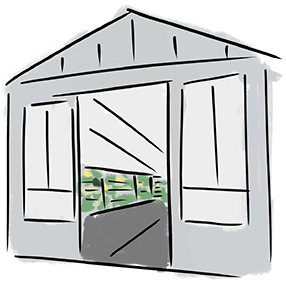 Our warehouses are heated using recycled material...
We've reduced our use of heating oil by 100% by building a wood burner and using wasted pallets.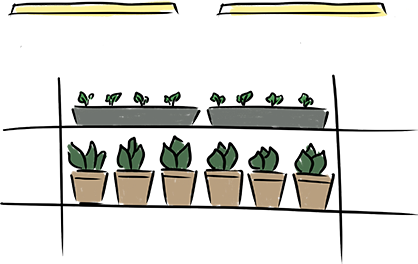 ...and are lit with LED lights
This has cut our energy usage by 60%. We're looking to install solar panels to be 100% energy efficient.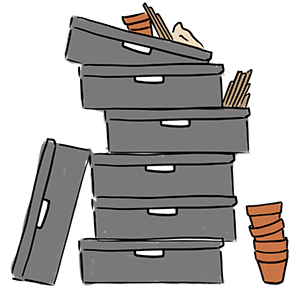 We recycle what's left
We recycle over 90% of the waste generated by us, including plastic pots, trays, cardboard, plastic and foam.
Your order, unwrapped
We're making significant changes to ensure you can recycle as much of your order as possible. So what can be recycled?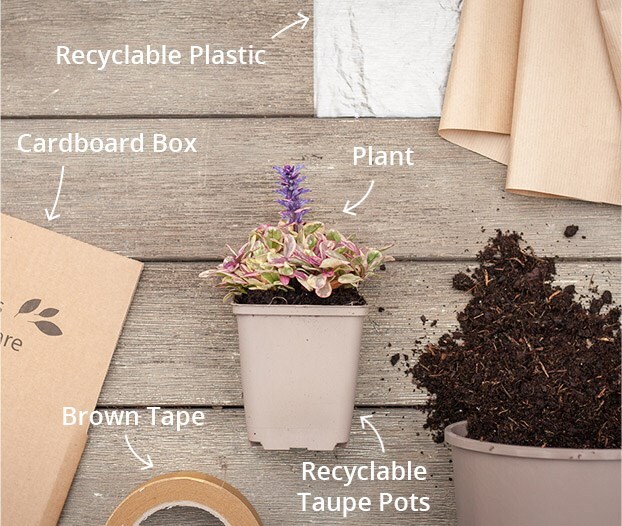 90%

90% of our cardboard and paper packaging is made from recycled material, and is recyclable.

100%

We only use recyclable plastic sheets, blister packs and bags in our packaging of plants.

2025

We are working with our suppliers to reduce the use of non recyclable plastic pots in our supply chain by 2025.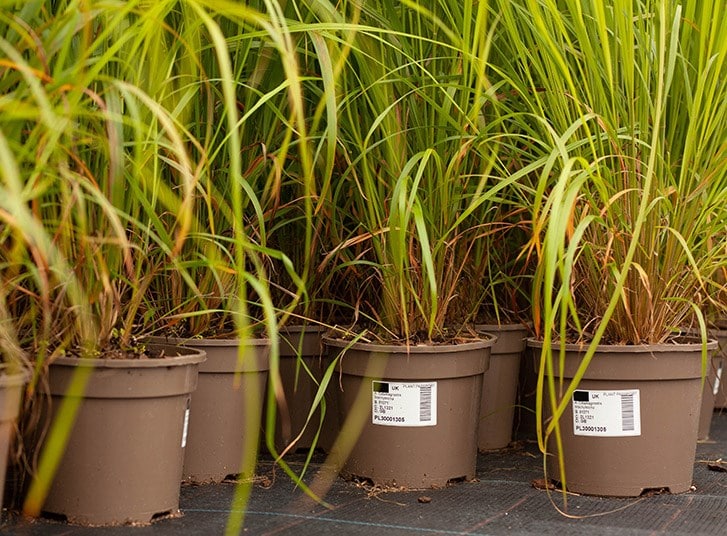 Our pot recycling scheme
For plants we grow in our propagation unit, we only use recyclable taupe pots. Just look out for ones pictured here in your order.
For all other non recyclable pots, we've launched our own pot recycling scheme. Simply pop in to our Dorney Court location and we'll take them off your hands.
Did you know?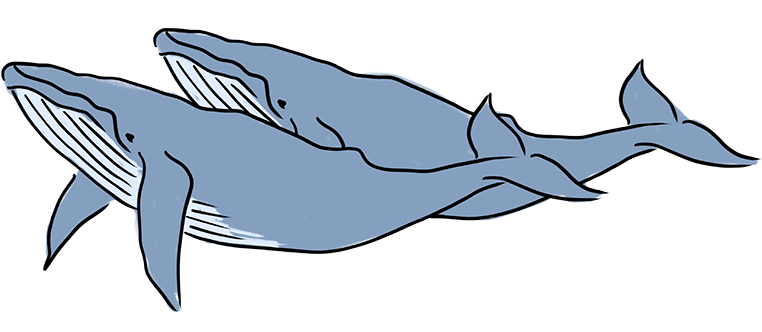 Did you know?
By stopping our printed catalogues and turning our 'How To Plant' guides digital, we've saved 77.5 tonnes of paper in 2020.
That's the weight of two humpback whales!
Did you know?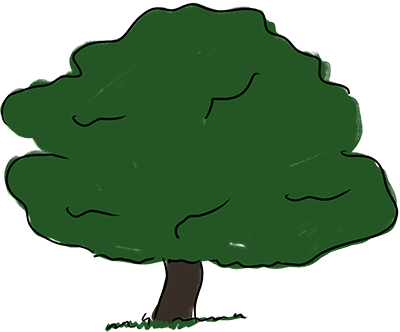 Did you know?
From replacing plastic tape with paper tape we've saved 13 tonnes of plastic each year.
That's the weight of a mature oak tree!
Did you know?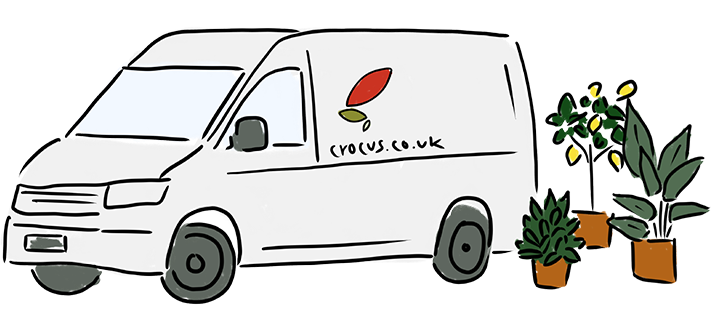 Did you know?
For larger orders we hand deliver the plants in our Crocus vans. This means we can use no packaging at all.
Naked plants as nature intended!
Any plants we grow ourselves are grown by our propagation team. By growing more of our plants, we can reduce the carbon footprint of each order. It will also give us new opportunities to grow a wider and more diverse range of plants.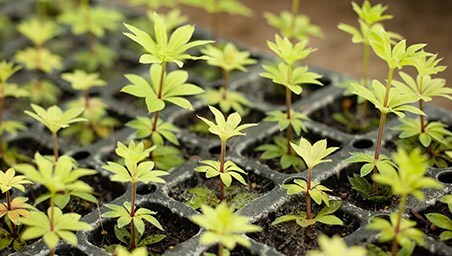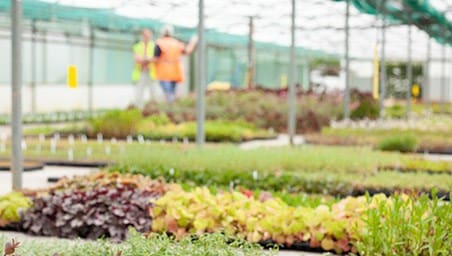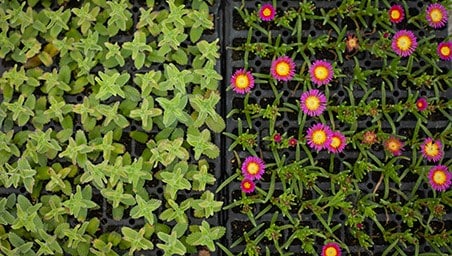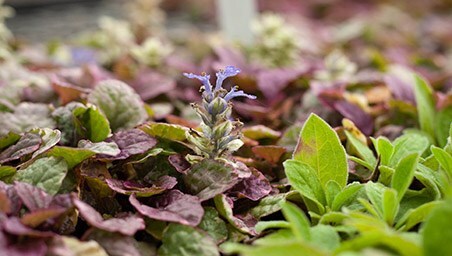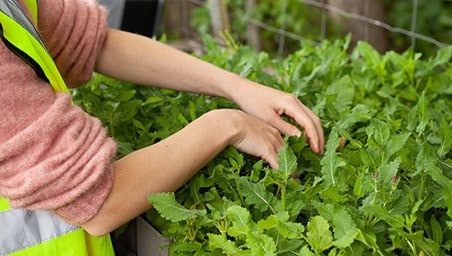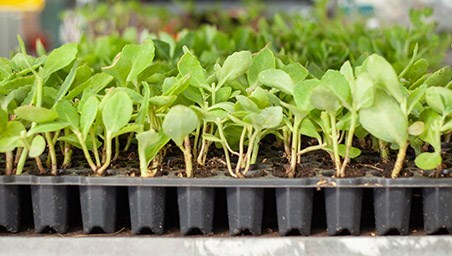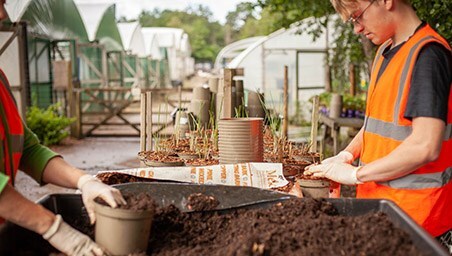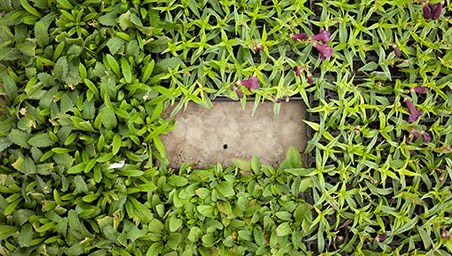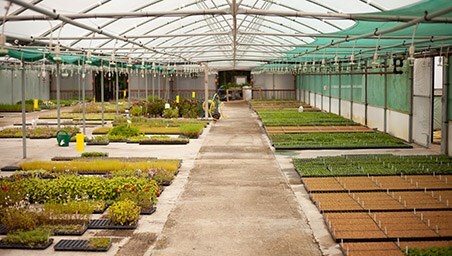 Our Policies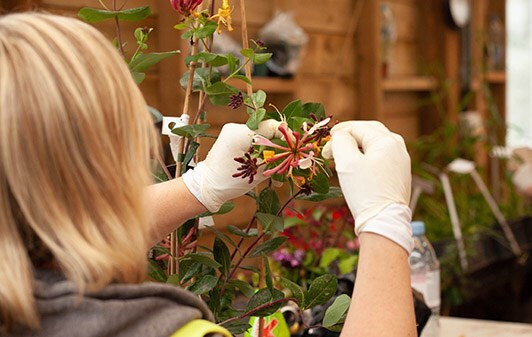 Stopped importing 'risk' plants
In 2017 we stopped importing olives and other 'risk' plants into the UK due to the growing threat of Xylella fastidiosa. We will continue to focus on growing more of our plants in the UK to reduce the possibility of invasive species.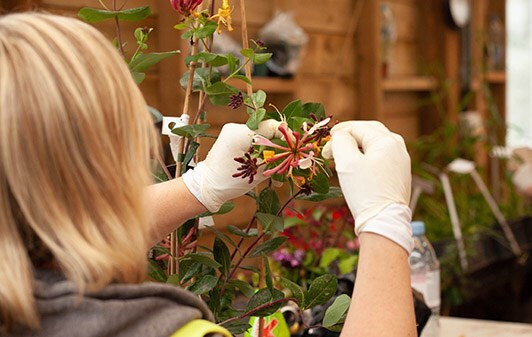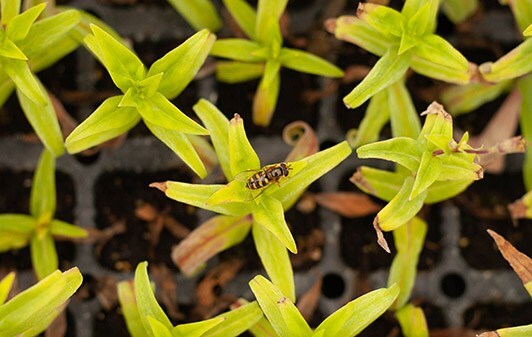 Sustainable pest management
We have taken a sustainable approach to pest management in our nursery by using biological, cultural, and physical methods. We have significantly increased our use of biopesticides and treatments based on natural products and predators. Such as introducing hoverflies to help deter aphids.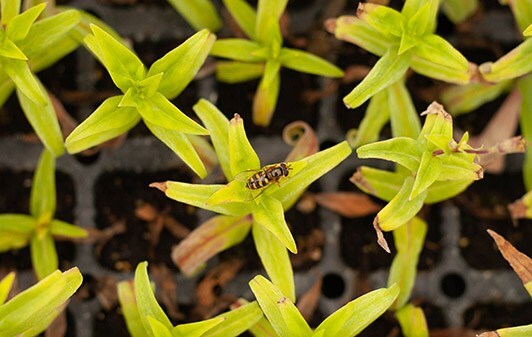 Reduced peat use by 30%
The horticultural industry has set a target of removing peat from professional use by 2030 and our intention is to improve on this date. Over the last few years we have run trials of peat free compost on our nursery. This has enabled us to reduce the amount of peat in our compost by 30%.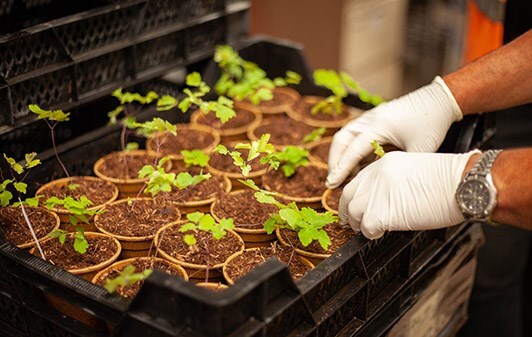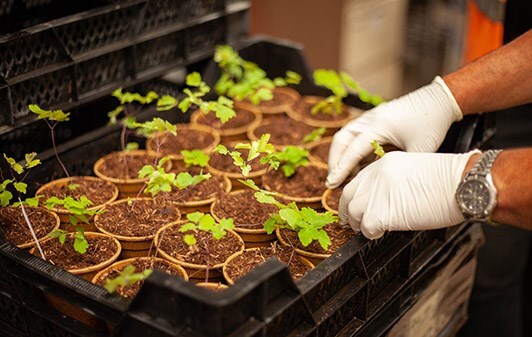 Increasing peat-free compost
As part of our peat trials we have grown 70,000 plants for Chatsworth in peat free soil. We are currently conducting a winter trial for Knepp Castle. The findings of which will help us on our journey to remove peat from our own grown plants by 2025.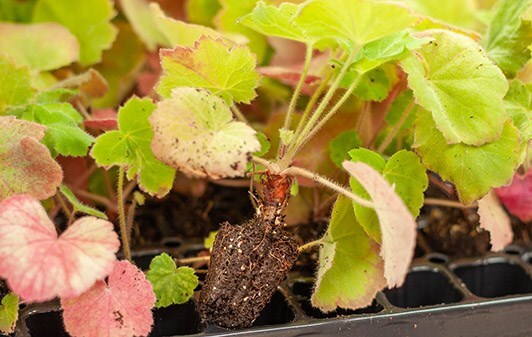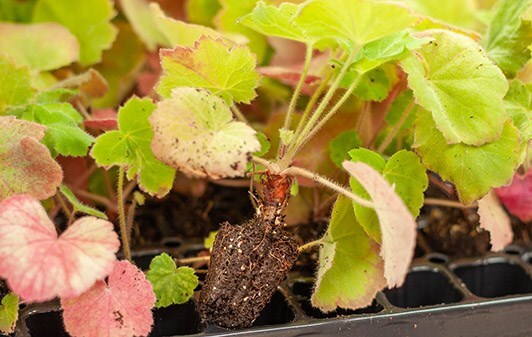 Aim to be peat-free by 2025
For our customers looking to buy packaged peat free compost, we will continue to increase the range on offer in our portfolio. We are committed to phasing out all peat-contained packaged compost by Spring 2022.
What next?
Whilst we're proud of the changes we've made, we know there is still a lot more to do. However, by being completely transparent with our customers, we hope you'll hold us accountable and continue to be proud of your Crocus plants.
Click on a to read more about our commitments to change
Plastic
We will significantly reduce the amount of non recyclable plastic pots within our supply chain by 2025.
Peat
We will remove all packaged compost from our offering that is not peat free in 2022.
Peat
By 2025 we will have eliminated the use of peat in our own grown plants.
Pesticides
We will eliminate the use of all neonicotinoids on our nursery in 2021. ✔
Pesticides
By the end of 2021 we will remove all products that contain Glyphosate.
Biodiversity
In 2022 we will achieve Plant Healthy, a standard for plant health excellence.
Carbon footprint
Store sufficient rainwater to supply 100% of our water needs by the end of 2021.
Carbon footprint
By January 2022, all of our cardboard boxes will be FSC certified. Currently, 95% are.
Carbon footprint
75% of our energy comes from renewable sources, by 2023 this will be 100%.
Charities we support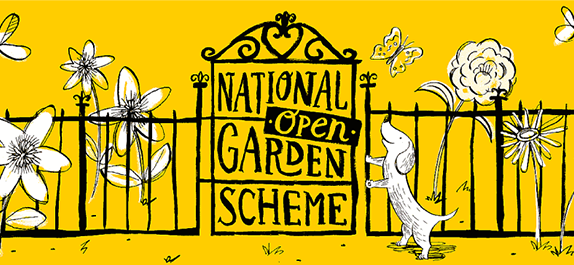 The National Garden Scheme raises funds for community nurses through admissions to private gardens and has given away over £60 million to nursing and health charities. Our director, Peter Clay, has opened his garden as part of the scheme.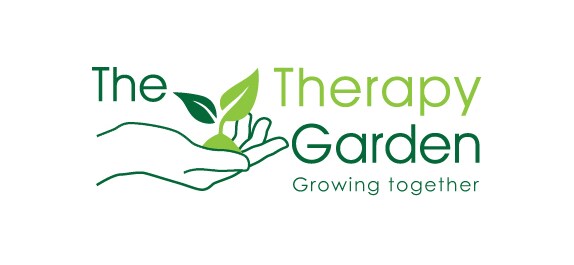 The Therapy Garden is a horticulture and education charity that uses gardening to generate positive change. With a beautiful garden located near our nursery, this charity aims to use the healing power of horticulture to connect with vulnerable members of our community.