Laurent-Perrier Garden by Ulf Nordfjell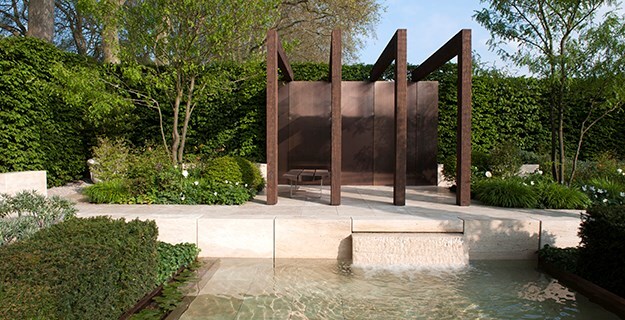 Ulf Nordfjell has taken his inspiration from two female designers who were pre eminent in the 80s. Neither knew the other: Ulla Molin was based in Sweden whilst Nicole de Vésian was based in the south of France. Both used natural clipped forms of shrub to echo the contours of the landscape. This garden is full of sculpted forms, from the needle oaks, (Quercus fastigiata 'Koster') to the clipped and unclipped balls of lavender, myrica, teucrium and rosemary. The shaped slabs of yew and 'cloud' enkianthus contrast with the screen of Oak along the perimeter. The garden is full of colour with soft pinks and blues, yellows and whites. Soft oranges are used throughout as the accent colour that unites the whole.

Water gushes exuberantly into a pool as if from an underground source and the materials of oak and copper and travertine. Add a warmth that is mediterranean in feeling but nordic in execution, a theme that is echoed in the beautiful bronze statue of Orpheus created by Swedish artist Carl Milles.

Click here to buy the plants from the garden

The Laurent-Perrier Diary - see how we built the garden