The Daily Telegraph Garden by Christopher Bradley-Hole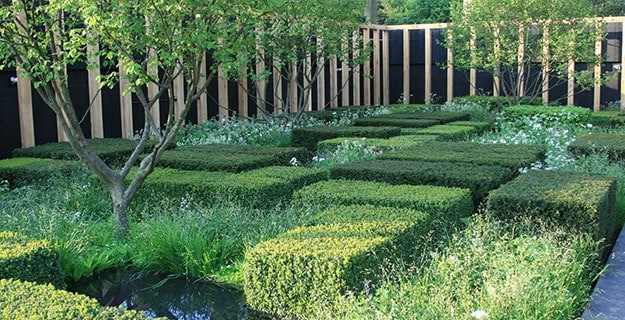 Christopher Bradley Hole's garden takes the Japanese approach to garden design and applies it to a rendition of the English Landscape.To visualise the concept, imagine you are soaring like an eagle over unspoilt countryside. Below you the geometric field patterns, the darker patches of woodland, and a river glinting and partially hidden below.To represent the layers of landscape, Christopher has chosen Hazel as the woodland canopy with box and yew and beech as the scrubby margins with a mix of grasses and perennials as crops and meadows below.

Whilst the underlying structure of the garden is very geometric, with a colonnade of oak along two axis retaining rectilinear blocks of yew, box and beech - the overall affect will be quite soft. Although not true multistems, the 3 Hazels will provide a soft veil that breaks up the view of the colonnade. The hedging elements are like soft cushions of green, edged with a brocade of grasses that are embroidered by gems of garnet and amber.

Click here to buy the plants from the garden

The Daily Telegraph Diary - see how we built the garden