Time to Plant for Early Summer
We're coming up to the perfect planting time, spring, and there are some floriferous flowering shrubs that straddle late-spring and early summer, providing flowers in summery shades of pink, purple and creamy white. These can either pre-empt your roses, or mingle with herbaceous plants that might include campanulas, astrantias and dianthus. Some will stand alone, as an architectural feature, and others are compact enough for large containers. The key is picking the right plant for the right job.
Viburnums  - Shrubs for Every Season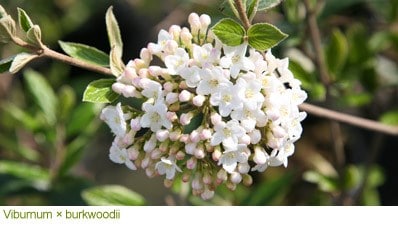 Many late-spring flowering viburnums have scented pink and white flowers held on spreading branches and these often perform with the main flush of tulips, either in April or May. Their strawberry and vanilla ice cream colouring provides a perfect backdrop for a sorbet of cool-mauve, pink, purple-pink, and deep-maroon later tulips. These might include the mauve-marbled white 'Shirley', the beetroot 'Negrita' and the elegant pink 'Mistress'.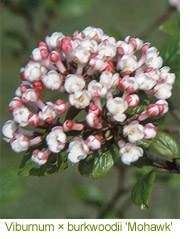 Viburnum × burkwoodii  are easily grown medium-sized shrubs that produce rounded heads of white flowers from apple-blossom pink buds, so are very soft on the eye. The shiny evergreen leaves, which may overwinter or open as the flowers appear, are healthy and the branching shape can be slow to develop.
The similar Viburnum × juddii is an even smaller shrub that produces sweetly fragrant all-white flowers in April and May. It has a strong constitution, forming a rounded profile with a domed head of fresh flower. It shines in shade too. Viburnum × carlcephalum flowers later, usually in May, producing larger round heads of white flowers softened by pale pink buds. It's extremely fragrant, with a heady lily-like scent. Many viburnums set berries, but they are best removed to prevent unwanted seedlings. If suckers appear, remove those as well because they are likely to be from the inferior root stock.  All viburnums thrive on clay soil, as many shrubs do.  
Daphnes
Daphnes are also highly scented and those that flower in late-spring and early summer are among the easiest to grow. If you haven't grown a daphne before, opt for Daphne odora 'Aureomarginata'. This will produce a low-growing, wide evergreen mound (roughly a metre or so each way) with green leaves edged finely in yellow. The ice-pink flowers have petals that sweep back on themselves.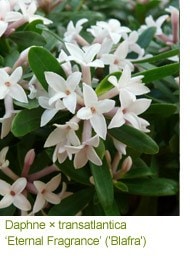 You could also grow the more compact Daphne × transatlantica 'Eternal Fragrance' ('Blafra'), bred by Daphne wizard Robin White of the now defunct Blackthorn Nurseries of Hampshire in 2005. The pale-pink flowers have long darker pink tubes and they can appear between April and November, but the main flush is late-spring. It's hardy too. Always site fragrant plants in a sheltered wind-free spot that gets warm afternoon sun, to trap the fragrance. If it snows, evergreen daphnes can get crushed and split by the weight of winter snow so make sure you clear it away quickly.  Daphnes are capricious plants and are not as long lived as many, possibly surviving an average of twenty years or less. Generally daphnes are not pruned and when their time is up they die quickly. However every garden should have at least one of these hedonistic beauties.
An Oriental Treasure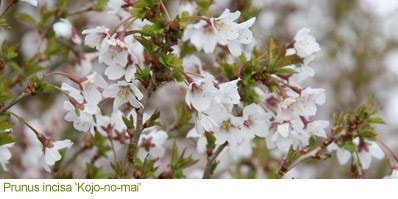 Blossom is celebrated in many Asian countries, but many of us do not have room for an enormous flowering cherry. However you can still celebrate the cherry blossom season by planting a shrubby Fuji cherry called Prunus incisa 'Kojo-no-mai'. This produces a twiggy arrangement of upright branches that slowly reach man height. The stems twist and turn slightly as they develop, slowing the sap, and producing lots of buds that open to blush-white year after year. It provides the same confetti style blossom as the winter-flowering cherry tree,  P. x subhirtella 'Autumnalis', but is far hardier.
For Early Summer Borders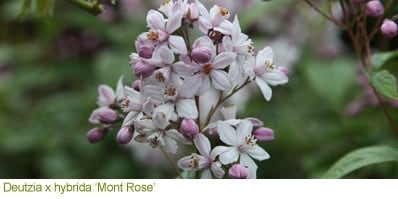 Summer-flowering shrubs often pre-empt and overlap old-fashioned roses, yet their multi-headed small flowers complement rather than upstage them.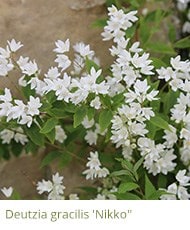 Deutzias, shrubs found naturally in the Himalayas and south-east Asia, need fertile soil so often do well near roses. They usually flower in June and the rose-pink Deutzia x hybrida 'Mont Rose' will flatter paler-pink roses and darker ones. Deutzias do get twiggy and untidy, left to their own devices. They will keep a better shape and bear more flowers if a third of the older wood is removed after flowering.
Kolkwitzia amabilis 'Pink Cloud' is a refined form of the Chinese Beauty bush, originally raised at RHS Wisley in 1946. Flowering slightly earlier than deutzia, usually in May, it's covered in masses of bell-shaped flowers each with a yellow throat. The branches swoon, making this a graceful addition, although it does need a warm position. Shape after flowering, removing one third of the old wood. When happy it will reach 3m.
Philadelphus for Citrus-scented Mock Orange Blossom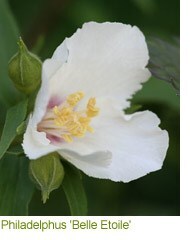 Mock oranges vary greatly from huge leggy monsters, to compact twiggy bushes so it's essential to choose the correct one. The smallest and slowest growing is 'Manteau d'Hermine' a double-white form, which rarely gets above one metre in height. This is perfect for a container or at the front of a narrow border, although the fully double flowers only have a faint fragrance.  Philadelphus 'Belle Etoile' is three times the size with very citrus-scented, wide-open white flowers that have a raspberry-pink blush to each middle. This goes perfectly with pink roses. Remove a third of the old wood after flowering to promote new growth for next year's flower.
If you want a darker splash of colour there's a new philadelphus with narrower, silvery foliage and downward-facing white flowers smudged in crimson. Found in plantsman Maurice Foster's garden, this unique philadelphus is named P. maculatus 'Sweet Clare' after Maurice's daughter.  It's naturally airy and needs no pruning.
Scented Lilacs
Some of the smaller-flowered lilacs have an exceptional scent that captures the freshness of late-spring and early summer. Their bright-green foliage and their twiggy habit make them especially perfect for smaller gardens. The flower heads may be smaller than those of the showy Common lilac, Syringa vulgaris,  but their exquisite scent and elegantly tubed flowers, which almost always open from darker buds, make them good garden plants. The diminutive Korean lilac, Syringa meyeri 'Palibin', is a slow-growing twiggy lilac which produces masses of lilac-pink flowers. It's an excellent container plant. The daphne lilac, Syringa pubescens subsp. microphylla 'Superba' has a heady scent and large clusters of rose-pink flowers that stand out well against the small dark-green leaves that also give it the name of the little-leaf lilac. Careful pruning after flowering will keep it tidier.
Architectural Statements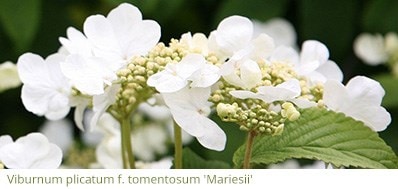 Certain shrubs have a tiered architectural shape, that's broader than taller, with almost horizontal branches that really show off the flowers to full advantage. These make excellent specimens stretching over a lawn, or placed strategically in the garden. Among the finest is Viburnum plicatum 'Mariesii'. Its spreading branches are covered in white flowers and thickly textured green foliage that colours up well in autumn. The more-columnar Viburnum plicatum f. tomentosum 'Kilimanjaro', a new one, has white hydrangea-like flowers with outer florets set round tiny flowers, creating a lacecap arrangement of long lasting flower heads. Viburnum nudum 'Pink Beauty' has a similar floral arrangement, but with pink flowers that age to an antique rose-red in autumn light. It is a stunner and red berries tinged with black follow. Finally.