With the garden devoid of summer froth and carpeted in autumn leaves, certain plants shine at this time of year. They take a giant step forward now that the garden has been stripped and thrown into sharp architectural relief by the minimalism typical this time of year imposes. The well-placed tree, the tall elegant grass shimmering against a winter sunset, or the ragged bark rimmed by low sunlight are winter treats. And then, when the shortest day has come and gone, the garden turns on its axis like a rolling coin spun for a bet. The days get longer prompting the first fresh flowers of the new gardening year.
Trees with winter presence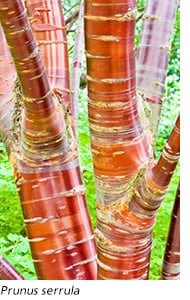 The tree is king of the showmen in winter, but it's important to choose a good one and to give it a central position. Don't hide it away in a dark corner, for anything that shines in winter light must get winter sun to shine. Plant with care and stake immediately. Opt for slow-growing trees if possible: they make a better shape than fast-growing, lanky trees. Winter trees are generally chosen for their bark, because this glows in winter light. Once your tree is mature, wash the bark with cool water and a car sponge (minus any detergent) to spruce it up. It will be well worth it.
High sheen and morse code messages from the green man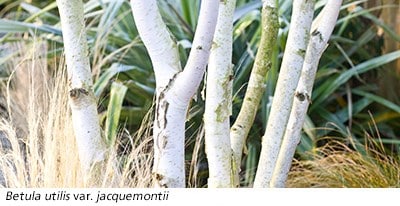 Birches provide the best bark and it can vary from cool-white to pearlescent pale-coral depending on type. The bumpy lenticels, which mark the bark horizontally, make patterns almost like morse code, adding fine texture. When the tree is mature it will shed bark, which could almost be written on, and there's nothing as soothing as hugging one of these birches on a cold day and feeling the warmth from within. It may look lifeless, but like so much of the garden it's hibernating.
The overhead branches of birches form a dark canopy of fine growth that provides a kaleidoscope of light and shade patterns throughout the day as the sun moves round. You can underplant them with spring woodlanders, or grow them as specimens in the lawn.
Betula utilis var. jacquemontii 'Doorenbos' develops silvery bark very early in its life - making it an excellent choice. A Dutch clone, named after Albert Doorenbos who spotted it in 1933, it was first known by the evocative name of 'Snow Queen'. This upright tree, of slender proportions, has an icy presence with almost white bark. Another fine form, 'Grayswood Ghost' was discovered in a garden at Grayswood Hill, Haslemere in Surrey circa 1956. This has larger leaves and, like all birches, it develops yellow autumn tints before the leaves fall. The Chinese Erman's birch (B. ermanii) usually has warmer-tinted bark but the cultivar 'Grayswood Hill' (from the same Surrey garden) has paler almost white bark to accompany the prominently veined, heart-shaped serrated foliage.
Late-season grasses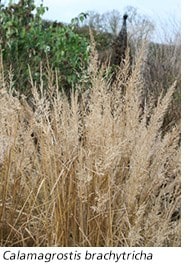 You don't have to strain your eyes to spot tall grasses. They lord it above the garden in winter, moving and swaying and catching low light. And yet gardeners are reticent, afraid that grasses will roam through their borders or set lots of seeds. In our cooler climate most grasses do not set seed and good grasses are clump formers, not running invaders. Perhaps the thuggish reputation of the striped grass, gardener's garters (Phalaris arundinacea var. picta) has put them off forever.
It's taller grasses that make most impact now and Miscanthus sinensis 'Malepartus' is a graceful light grass that allows the sun to shine through its veil of gossamer heads. 'Malepartus' is an early bloomer (from mid-August onwards) with finely-tined reddish awns that develop into mink-brown within two weeks. It's airier than most - and will reach 2m. 'Kleine Fontane' (literally little fountain) and 'Kleine Silberspinne' (little silver spider) are both shorter forms at 1.5m and 1.2m respectively. 'Kleine Fontane' opens pink and fades to silver and 'Kleine Silberspinne' opens silvery. These forms bear plenty of flower.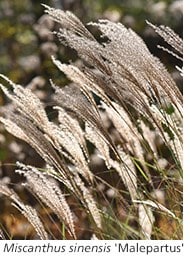 Miscanthus sinensis are hardy and easy on reasonable soil that is not too dry. They will keep their shape until late-January at least, but they're best cut down soon afterwards because they break into growth early in the year producing lush new foliage - usually by April. This bright young foliage can make an excellent backdrop for tulips. Cut miscanthus back too late and you'll be cutting into the new growth.
If you succeed with miscanthus you will also be able to grow the taller version of the purple moor grass - Molinia caerulea subsp.arundinacea. The last part of the Latin name refers to the tall grass Arundo, so look for this rather than the shorter statured M. caerulea subsp. caerulea 'Poul Petersen', named after a Dutch nurseryman, forms a neat clump of green foliage and the long stems and flower heads are purple-tinted before fading into winter. Those long stems really move and flow in wind to great effect, like all tall molinias, caressing the remains of tall-late-season perennials. 'Transparent' is a black-beaded fine form that looks wonderful after a winter squall.
If you want to create a rigid upright, the best grass is Calamagrostis x acutiflora 'Karl Foerster'. This shoulder-high grass packs in lots of stems topped by tapering upright grassy heads. These appear in summer and, as autumn and winter arrive, the sheath of stems turns russet-red. Pampas grasses, Cortaderia, are also very upright in form, and far too good for bungalow lawns. They add great winter presence and stand out well late in the year with the wine-red lollipops of Cotinus coggygria, the smoke bush. This deciduous shrub loses its leaves late on, developing flecks of bright-pink in cold conditions. Cortaderia selloana 'Pumila' is a relatively short and more compact plant, so ideal where space is limited.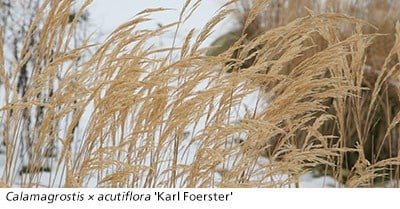 If you prefer fluffy caterpillars at the front of the border opt for Pennisetum alopecuroides 'Hameln', a much hardier form with browner fuzzy bear caterpillars topping a roundel of foliage. These will persist throughout winter.
Lipstick stems to fire up a winter's day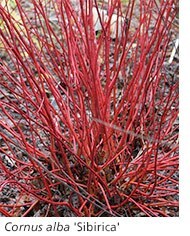 Silver, mink-brown and black are very much a monochrome scheme and the colour that lights everything up is red, however small the quantity. European dogwoods (not to be confused with the harder to grow Chinese and American species) develop damson foliage and colourful stems that include the red-stemmed Cornus alba 'Sibirica'. These thicket-making shrubs send up pencil-thick stems every now and again and winter light makes them look extra vibrant. Once established the technique is to cut them back hard every year in March or April, so that they produce new, shiny stems each year. The dogwoods have to be well established though, so allow them three years to settle in.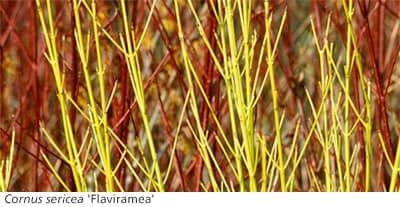 There are gold to green forms of dogwood, such Cornus sericea 'Flaviramea' and even a damson-black called C. alba 'Kesselringii'. These do well in any soil and are one of the few plants able to tolerate wet ground, so very useful near ponds. Still water also mirrors these stems to great effect.
There are also dogwoods that form small shrubs covered in small twiggy growth. These look like licking flames rising up in winter light, and they glow placed near green foliage, such as box (Buxus sempervirens). C. sanguinea 'Midwinter Fire' will make a small shrub, 1m at most, and benefits from having some of the older twigs removed every spring.
Intricate seed heads providing a profile and refuge.
Seed heads can be beguiling. However care must be taken not to allow seed heads that deliver hundreds of seed free reign. Remove most teasels, poppies, aquilegias, foxgloves and aconitums (the latter two while wearing gloves) as routine, unless it's a wilder place. You can enjoy acanthus seedheads in winter, because these rarely produce viable seeds in Britain. Their handsome brown oval seedpods are covered with a bract and the whole spire is wonderfully architectural. A. spinosus is the most architectural, a tall plant that should produce six or seven flowering spikes.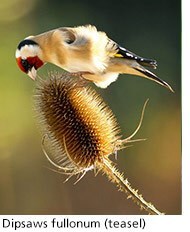 Phlomis heads are also useful in winter and their cavities, just like the bracts of acanthus, provide shelter for hibernating insects. P. russeliana (known as Turkish sage) bears whorls of yellow flowers on square woody stems and these fade with great grace, although this plant needs space to spread. Verbenas also fade well including the willowy purple V. bonariensis and the pink candelabra of V. hastata. Some self-seeding will occur, but it will not threaten.
Finally some plants, such as hydrangeas and sedums have strong enough flat heads to persist through winter. The golden rule is, if it flops, cut it back.