If you want a splash of spectacular colour in your garden in spring or early summer, rhododendrons are the answer. They come in a variety of sizes, from tiny alpines upwards, and their colourful flowers will last for many weeks. Most are Asian, acid loving, shrubby plants found in cool locations, often on sloping ground. Their conspicuous flowers are bird pollinated in areas where cool conditions discourage bees and other insects, while others (including most garden forms) are insect pollinated - and please the bees.
In Asia, summer rainfall tends to be heavy, but winters tend to be drier. Therefore, like most plants originating from Asia, good drainage and moisture retentive soil is a must for this group. And gardeners have to try to replicate these conditions for them to thrive. If your soil is acidic, with a pH below 7, you'll be able to plant rhododendrons straight into the ground. Plant them to the same level as they are in the pot. Don't be tempted to plant them deeply because the roots must be shallow. If you're not sure about your soil, the best way is to look at local gardens near you. If they're growing them, so can you. Gardeners with neutral to alkaline soil have two options. They can make a special raised flower bed, using ericaceous compost, to alter the pH to acid in that area. Or they can containerise their plants in ericaceous compost, using rugged pots. Whichever method you opt for, find a cool position away from the midday sun, and add extra organic material to improve drainage. Leaf mold, made from leaves picked up in the garden, is excellent.
As these plants are from cool locations, where summer rainfall is heavy, you will need to water well in dry summers, making sure that any excess water drains away. Tap water tends to be alkaline, so water butt water is preferred. Failing that, stand cans of tap water for several hours before using. This allows chlorine to escape.
Because rhododendron roots are shallow, they are very vulnerable to winter wet and cold. Therefore, always stand potted rhodos on pot feet and keep them away from heavy winter rainfall. Use a good quality ericaceous compost and add mycorrhizal fungi (Empathy rootgrow) to your mixture. A good quality compost will hold moisture and nutrients and the added mycorrhizal fungi will encourage quicker root growth.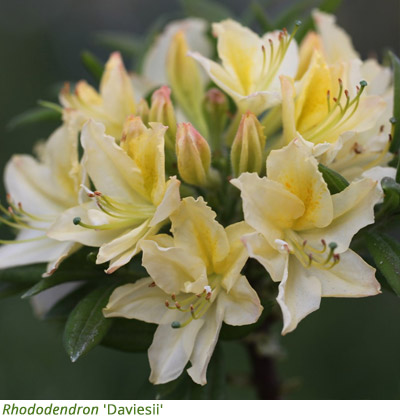 It's also important to feed rhododendrons, with a specialist food, between early spring and midsummer because this encourages more flower. There are fertilisers specially designed for acid-loving plants, such as rhododendrons. However all feeding should stop after midsummer, otherwise you'll produce lots of leaf.
Although this sounds difficult, once planted rhododendrons are not difficult plants to grow and many have good evergreen foliage, although some are deciduous. The choice of flower colour, from oriental red through to snow white, offers much to the gardener. The trick is to be selective, especially when it comes to size and colour.
If you like subdued colour, the deciduous 'Daviesii' has very fragrant, creamy white flowers in May. Each subtle flower has a touch of pink that gradually turns to yellow and these colours soften the effect and stop the flowers from looking cool and glacial. 'Daviesii' will reach roughly 5 feet (1.5m) in height and the leaves have a blue-green tinge. The slightly taller 'Cunningham's White' has white flowers, very lightly freckled in beige-brown. If you want a much smaller white-flowered variety, opt for the well-named 'Arctic Tern', although this does flower later so it's more of a summer feature. It will reach 2 feet (60cm) in height and it can easily be containerised.
Pallid-yellow rhododendrons soften spring and mix well with other woodlanders. 'Princess Anne' is a compact evergreen rhododendron, reaching just roughly 2 feet in height (60cm) so it's ideal in small garden, or in a pot, or at the front of a dedicated rhododendron bed. The cream-yellow flowers, which have showy brown-tipped anthers, appear in May, and the rich-green foliage has a fine red edge. This miniature rhododendron is smothered in flower, so it's an eyecatcher.
'Madame Masson' forms a large bush, about six feet in height (2m), but the starry white flowers have a touch of the green woodpecker about them because the upper petals are dappled in yellow-green. This flowers in June, extending the season. The similar 'Cunningham's White' reaches the same sort of height, but flowers in May, and it has a reputation for being a really hardy toughie.
Purple-flowered rhododendrons add an ornate richness to the spring or summer garden. 'Monsieur Marcel Ménard' has vibrant purple-pink flowers that display white anthers and the snuff brown, regular mottling on the upper petals adds extra vibrancy. The flowers appear in March and April, so this is early, and the rich-green foliage displays well throughout the year. This man-high rhododendron is a year-round feature although it's early flowering, so it needs a sheltered position. The later pink-purple 'Cosmopolitan' has a deep-red flare and these flowers fade as they age to apple-blossom pink. This large rhododendron will reach well over eight feet in height (2.5m).
If you want a blaze of oriental red, to add drama and substance, the new award-winning 'Scarlet Wonder' is perfect. It's a manageable three to four high (1.2m) in height so it could be accommodated in a large container or planted in a small garden. The slightly ruffled flowers emerge from light-brown scaled buds in May and the background of rich-green foliage creates a show-stopping contrast. This would be ideal on a shady patio.
The slightly shorter 'Nova Zembla' also has red flowers that emerge from extraordinary pineapple-shaped buds, giving months of interest. 'Baden-Baden', is smothered in waxy looking bright-red flowers in March and April and these linger. The evergreen foliage is exceptional and this three-foot high rhododendron forms a rounded shape so it's very good when containerised.
There's also a box (Buxus spp) substitute called Bloombux developed for its box-like foliage. It should be trimmed just after the pale-pink flowers begin to go over. It's recommended for neutral soils, because it's grafted on to INKARHO rootstocks. These were developed from a rhododendron found growing in a German lime quarry, but it's taken twenty years to develop and test. This rootstock produces hungry plants, so feed this well throughout the growing season to keep the foliage a healthy dark-green. If you're potting or planting a rhododendron with INKARHO as part of the description you will not need to use ericaceous compost and it will grow in neutral to alkaline soil. A normal slow release fertiliser, such as Vitax Q4, should be applied.
There's plenty of scope even if you've got a tiny garden and modern rhododendron breeding is concentrating on producing compact plants that will only reach up to 4 feet (1.2m) in height. 'Polarnacht', named for its botched dark-purple flowers, produces lots of flowers and these are held above the evergreen foliage. Grow this one and you'll create some Northern lights of your own, because there's a slight hint of sunset orange in some lights.
Azaleas have now been shuffled into rhododendron, but they tend to be either deciduous or semi-evergreen and their flowers tend to be held in smaller clusters. The semi-evergreen Bloomchampion series reblooms, giving five months of colour, and selected colours include pink, purple, white and red. It doesn't eke out it flowers though, it's covered in blooms and would make the perfect gift. Being semi-evergreen, it will drop some leaves in winter, eventually reaching three feet in height (1m).
Some of the species rhododendrons have delicate flowers and Rhododendron impeditum has violet-purple flowers and small, evergreen leaves. The clusters of flowers only have four individuals but there are plenty of them and this miniature will only reach about two feet in height (0.6m). It could be grown on a shady alpine scree, or at the front of a woodland border, or in a pot. It also has aromatic foliage.
Whichever one you choose, your garden will be a little more glorious in spring and early summer!