Self clingers
Take advantage and do some early spring planting, but only on clement days. You can never have too many climbers and twiners, and now is the ideal time to get them in. They take up little ground space, so they're perfect for smaller plots, and then they grow up towards the sunshine giving you flowers at eye-height, and a vertical accent to link garden and sky.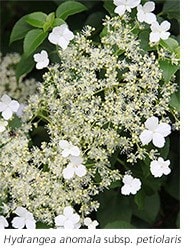 Self-clinging climbers attach themselves to masonry with adventitious roots, they can climb into guttering and into the eaves, but planted in the right place they soften brickwork and provide a natural barrier between garden and house. Many are also useful in shade. The dainty white lacecap flowerheads of the climbing hydrangea, Hydrangea anomala subsp. petiolaris look divine in soft light, with their tiny fertile flowers surrounded by larger petalled sterile flowers. The neatly serrated green leaves add even more cool charm. There's also a variegated form, Hydrangea anomala subsp. petiolaris 'Silver Lining' (PBR) with grey-green leaves irregularly margined in sauce-hollandaise shades. This will need a lighter position, because the partly-green foliage will produce less chlorophyll than the all-green forms. On the plus side variegated foliage usually indicates drought tolerance, because the paler parts of the leaf transpire less. On both of these hydrangeas, the brown bark curls away from the stems when the leaves fall in winter, and this adds seasonal interest. The similar Schizophragma hydrangeoides is slower and needs a little more cosseting and, like all Japanese plants, it's used to a rainy season in early summer. Water it well until it's really established, during June. The flowers of schizophragma have one large bract, rather than four separate petals of the hydrangea, and newly planted specimens will need to be securely tied to a framework to encourage aerial roots. A good tip for both.
If you want a not-too vigorous creeper to scale an ugly wall, perhaps the extremely handsome Parthenocissus henryana, which has black tinged five-lobed leaves attractively etched with white veins and midribs, is worthy of consideration. Augustine Henry (1857–1930), a customs officer stationed in China, lent his name to this and many other plants with stunning foliage. The leaves will colour up to crimson in September, but only in bright positions, and this Chinese Virginia Creeper (as its confusingly called) thrives best on a warm wall.
Even more autumn fire can be had from the large-leaved vine, Vitis coignetiae, and this loosely draped climber arranges itself in gentle swags via its tendrils, so it's often used round stone pillars and along porticos to give a classical edge to a garden. It's vigorous, with large leaves and small black grapes that are no good to eat, but it's grown for its enduring autumn colour which again is more pronounced in warmer sites. As with all grapes, only ever cut them back in mid-winter, or they will bleed and become weak.