Hardy geraniums

Mixed border geraniums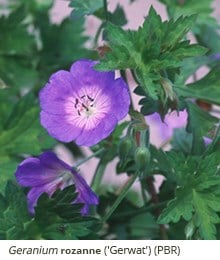 The best blue-flowered geranium is probably Geranium Rozanne ('Gerwat') (PBR). It has won the RHS Chelsea Flower Show 'Plant of the Centenary', and its large, summer-long flowers look great when tucked into the front of the border or used for under-planting roses. It grows to around 60cm tall and copes well in full sun or partial shade. G. x magnificum 'Rosemoor' is another cracker. The flowers are of the richest violet-blue and it will stop you in your tracks on a summer's evening as dusk falls and everything takes on an irridescence. This variety is a good geranium for a mixed border growing to 60cm where it makes a good partner for Gaura lindheimeri,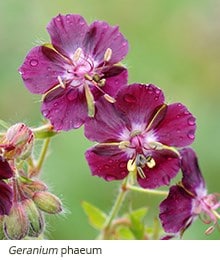 which bears starry white flowers that also glow in that fading light. It also has warmly tinted leaves in autumn. Another richly coloured geranium is 'Wargrave Pink' with its bright, salmon-pink flowers. It grows vigorously, holding its own in any mixed border. It will reach 30cm high, but can spread up to a metre. A real pale delicate beauty is G. pratense 'Mrs Kendall Clarke', which bears flowers of the loveliest pearly colour, flushed with a silvery pink or lilac. It grows into a good shape, reaching 60cm, and will not become too sprawling. If, on the other hand, you have lots of room and want your geraniums to roam plant G. phaeum . The flowers are quite small, but are a striking purple-brown against the fresh green of the leaves. This geranium will self-seed all over the place.
Front of the border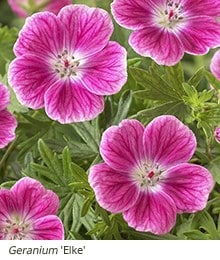 A beautiful small geranium is G. 'Elke' that bears masses of small purple-pink flowers, the petals of which are paler at their base and fade again to near-white around their edges. The foliage is great too, deeply divided and forming an attractive mound that takes on red tints in autumn. It only grows to only 20cm, so is eminently suitable for a rock or alpine garden, or the front of the border.
Another small geranium perfect for a sunny spot is G. 'Ballerina'. The leaves are a really softly textured green and the plant makes a very pretty mounding shape just 15cm high. The pale pink flowers with very distinct dark veins appear in May and keep going (if you give it a deadhead trim now and again) well into summer.
Ground cover
As a rule, geranium foliage is not noted for being aromatic. However, the wonderful evergreen G. macrorrhizum's are the exception producing delicious, lemony aromatic leaves, which turn shades of orange-red in autumn. They are mat-forming by nature and drought tolerant, making ideal ground cover. A really tough and reliable plant. Good varieties include 'White-Ness' (white), and 'Bevans Variety' (pink).
Growing guide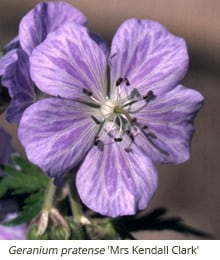 Geraniums are generally very adaptable and forgiving plants, which will tolerate most soils (unless really waterlogged) and, as a rule, cope with either sun or shade. The exceptions are the smaller species that do need sun and free-draining soil. During the growing season, feed with a balanced fertiliser such as growmore every month and water during prolonged dry spells. In the winter they will prefer to be kept quite dry.
Pruning off the dead flower heads will encourage further flowers later in the season. The foliage of some varieties, such as the G. pratense cultivars, can look tatty by midsummer, but they can be cut back hard with shears to encourage a further flush of fresh foliage. Give trimmed plants a thorough soaking and a boost with a high-potash fertiliser, such as tomato feed.
Geraniums are fairly trouble free although they can be attacked by vine weevil larvae, slugs and snails. Also, in dry conditions, they may suffer from powdery mildew. A good layer of mulch applied in spring will help to combat this. The mulch helps maintain the soil moisture level, which will prevent the water stress that encourages the fungus.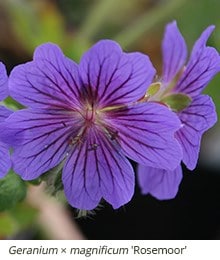 Propagation
Geranium seeds can be sown outside in containers in spring. Collecting seeds from plants in the garden is a difficult process. They have to be gathered at exactly the right time so that the seeds are ripe, but before they fall. It is much easier to take cuttings in spring. These should root well given some bottom heat. Larger clumps can be divided in spring. This will help them generate lots of fresh new growth and give you more plants to move around your garden or give to friends.