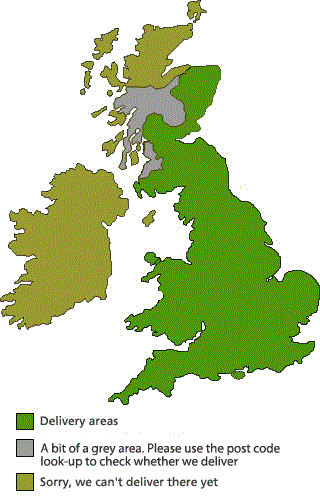 How much is it?
Flat fee of £4.99 for all orders, except
£1 for seeds
£2.99 for bulbs
So the more you order the better! All offshore addresses are excluded eg. Isle of Man, the Scottish Isles. However, we now deliver to the Isle of Wight with a £10 delivery surcharge.
Where can we get to?
At the moment we don't deliver to the whole of the U.K. (see map) and unfortunately we cannot delivery to BFPO addresses. To make sure you are in range, type your postcode in the box below.
:
If none of this makes sense, please call our customer services team on 01344 578 000 9am-5pm Monday to Friday (Calls cost 5p per minute from a BT line. Mobile and other service provider rates may vary) and we will try to help.
What about overseas?
One day, but not at the moment. Sorry