Narcissus 'Sir Winston Churchill'
Position: full sun or partial shade
Soil: well-drained soil
Rate of growth: fast-growing
Flowering period: March and April
Hardiness: fully hardy
Bulb size: 12/

Loose clusters of creamy white, double flowers, which are each flecked with orange, top the upright stems in spring. These slightly ruffled appearance of these double flowers is enchanting, and they have a sweet perfume too, so are ideal for adding to freshly cut bouquets.


Garden care: Wearing gloves plant bulbs 10-15cm deep and 10cm apart in autumn. After flowering feed with a balanced fertiliser, dead-head the flowers, but do not be tempted to cut back or tidy the foliage after flowering as this will interfere with the bulbs ability to store energy for the following years flowers.
Harmful if eaten/skin irritant
Delivery options
Bulb orders £3.99
Click & collect FREE
more info
Eventual height & spread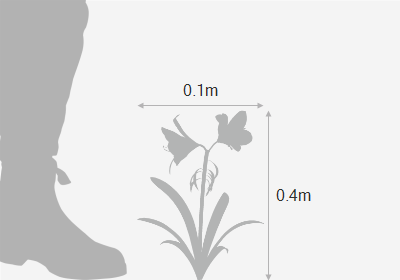 The bulbs were very good quality and all produced beautiful flowers.
FionaD
Chobham
These were the most enchanting Spring bulbs in my 2018 garden. A delicate, creamy white, frilly head with a beautiful fragrance. Extremely long lasting and an excellent companion in pots with early white tulips such as Purissima. These emerged in early April (after the Winter snow) and are still going strong at the beginning of May. I will be planting lots more next Spring.
HaveagoJo
London