20 + 10 FREE bulbs
£17.97
£11.98
Position: full sun or partial shade
Soil: well-drained soil
Rate of growth: fast-growing
Flowering period: March to April
Hardiness: fully hardy
Bulb size: 12/14

Forming in loose clusters at the top of the stems, the 4cm wide, creamy-white flowers have a central ruff of orange-yellow segments, which resembles an ember-like eye. The scent of the blooms is sweet and strong, which makes them all the better for patio pots, lining a pathway or cutting.


Garden care: Wearing gloves plant bulbs 10-15cm deep and 10cm apart in autumn. After flowering feed with a balanced fertiliser, deadhead the flowers, but do not be tempted to cut back or tidy the foliage after flowering as this will interfere with the bulbs' ability to store energy for the following year's flowers.
Harmful if eaten/skin irritant
Eventual height & spread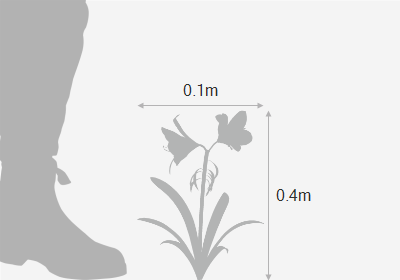 These bulbs look beautiful and unusual, and they smell gorgeous!
Katy
Norfolk
I would buy these bulbs again
Used these lovely bulbs along a path as their scent is fab and they last for ages.
N/A
Glos
I would buy this product again.
Lovely looking flowers and a beautiful smell to them. However I must admit I'm not the gardener, it is my husband.
Mickeybob
Worcestershire
A beautifully different "daffodil"
One or two were dead but this isn't uncommon in bulbs bought online.
ClassicGardens
Lancs
Gorgeous scent especially in the early evening
I first bought these for our own garden and now recommend them to all friends and clients. Compact, long lasting, delicate colour and an absolutely magnificent scent - we plant them en masse in pots, raised beds and borders.
TwickMummy
Twickenham
Superb display - sweet smelling
Beautiful, strong stunning flowers. Lovely scent, Very tall and hardy
Sarcy 24
Surrey