Planting companions for roses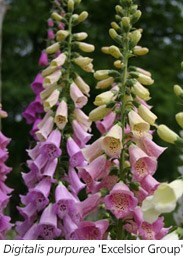 Early flowering roses tend to come in shades of white, pink or purple-pink and most forms of the biennial foxglove, Digitalis purpurea, have toning flowers in similar colours. These appear in rose time, but carry on after the first rose flush has finished. Their dappled throats are often a mixture of dark magenta or white spots, picking up the colour of many roses. The Excelsior Group can be planted in the autumn or spring. You could use the non-spotted albiflora, a pure-white foxglove that goes well with darker roses. Alternatively you could also use the peachy foxglove 'Sutton's Apricot' with creamy roses and blue flowers. This glows in dappled shade.
Biennial foxgloves produce substantial rosettes of grey-green foliage in the first year before they flower in the second, and then most die. If you want to keep a biennial in your garden plant it in consecutive years because this will ensure flowers every year. Otherwise you'll only get flowers every other year. The rosettes of foliage look handsome in winter and provide winter shelter for hibernating insects. These will help eradicate greenfly should they appear next spring. Biennial foxglove flowers are very bee-friendly, whereas many roses are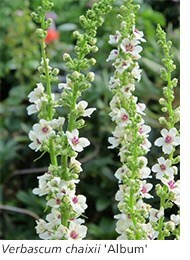 double and therefore no use to bees at all. The vertical spires break up the rounder rose bushes helping to relieve any monotony. After flowering, remove most of the foxgloves' seed heads and sow some if you wish. The seeds will need to be exposed to the light though, so if you sow them in seed trays sprinkle them on the surface of the compost. If you sow them in the garden, choose a light position.
Smaller
verbascums
will also provide good verticals. The slender purple,
V. phoenicium 'Violetta'
, often begins to flower in early May although the top flowers are still going when the
roses
start. You can allow this willowy, hardy
verbascum
to self seed, although it's truly perennial. Later in the year another perennial verbascum,
V. chaixii 'Album'
, provides slender tapers of white flowers in late-summer. Each small flower has feathery purple anthers and orange stamens, so it avoids looking glacial and flatters dusky roses perfectly.
Verbascum
buds form little buttons of great charm.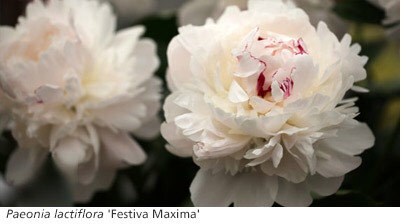 Other May-flowering partners could include types of Paeonia lactiflora. These are highly bred peonies that flower over many weeks in June and they should not be confused with old cottage garden peony (P. officinalis) that only lasts for a week in May. Lactiflora peonies can be divided and planted in the autumn. They have good foliage, that blends well with rose foliage, and similar flowers that can start earlier than the roses and then overlap. P. lactiflora 'Duchesse de Nemours' is a fragrant vision of cream with ostrich-feathered petals that flatter darker roses. 'Festiva Maxima', is a pale flesh-pink flecked lightly with maroon.
Delicate winged violets also throw out their wispy flowers in May and the pale-blue 'Belmont Blue' forms a good green crinkled mat topped by blue flowers that creep up into the rose. Cut them back hard after their first flush and again in September, to keep the mound of foliage tight.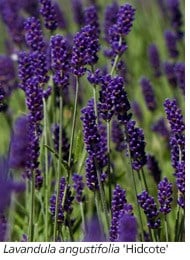 You can also plant English lavender, Lavandula angustifolia, and once established for a year or two this can be chopped back by a third in May to delay the flowers so that they follow the roses. English lavender should also be trimmed back hard once a year in late-August so that it bushes out before winter strikes. The dark purple-blue 'Hidcote' and the paler 'Munstead' both make compact bushes and are suitable for low hedges. 'Melissa Lilac' has fatter flowers and softer silver foliage and this can also be trimmed back in August.
Keeping the show going in autumn is also important and penstemons are perfect. However they vary greatly. Some are rather clumsy and tall and have a tendency to send up one flower spike at a time. It's the smaller-flowered penstemons that are most floriferous and the best of all (with apricot, cream, pale-yellow and mid-pink roses), is the old cultivar 'Andenken an Friedrich Hahn'. It throws out spike after spike of narrow-tubed, claret flowers and it's one of the hardiest as well. Penstemons cannot be cut back until spring is well and truly here, however few things carry on as late.
When it comes to late flower, almost the last man standing are the white forms of Gaura lindheimeri, a dainty long-flowering perennial. The simple white flowers, borne on slender wands, have long stamens and the sepals and stems are rhubarb red so this is a ballerina of a plant that looks fragile, but is wiry and strong. It can go on until late-November and that hint of red-pink picks up roses of many colours.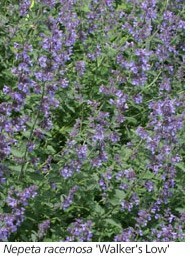 Blue flowers suit apricot, and yellow roses make pinks stronger as well as adding a sultry note to reds. However good blue flowers are few and far between. If you want a soft sea of pale-blue, use the silver-leaved, non-stop flowering Nepeta 'Six Hills Giant'. It will sprawl and flow like waves on the sea and it can be chopped hard back at least twice and still give you an encore late on. It's sensational under the silver-pink rose 'New Dawn'. However it can smother plants, so if space is tight opt for Nepeta racemosa 'Walker's Low' because this is less aggressive.
For a darker, inkier blue go for the upright Salvia x sylvestris 'Mainacht', for its upright candles of purple-blue flowers and crinkled green foliage. Or plant Campanula lactiflora 'Prichard's Variety' for its July-flowering clusters of violet-purple bells. Once this has flowered cut it back by a foot and it will flower again and keep going until August. It doesn't wander off and stray like some campanulas do, but it does have a tendency to flower itself out.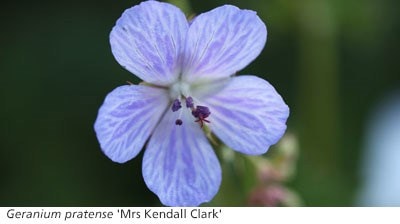 Hardy geraniums also work well and the sterile, long-flowering pink and white 'Elke' is excellent at the front of roses. The late-summer flowering 'Rozanne' sprawls and will take up a metre, but positioned carefully it is stunning. The summer-flowering upright G. pratense 'Mrs Kendall Clark' is a vision of pale-lavender petals marked by white veins. However deadheading is needed to prevent unwanted seedlings, although she does come true. Like all geraniums, cut her back to nothing if she looks shabby and she will produce fresh green foliage within ten days.