Posh Pelargoniums


These South African plants, often called geraniums, will provide colour for many months with little or no maintenance. Just feed them and deadhead them and they will shine throughout summer and autumn. You can mass them together in a trough, or grow them in pots as elegant single specimens, or bed them into the ground. The choice is yours.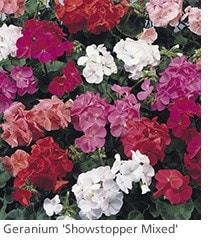 Pelargoniums offer variety as well as versatility. More modern, highly-bred pelargoniums come in showy colours and they produce rounded mops of large flowers above rounded scallops of leaf. You can either go for a riot of colour with Showstopper Mixed (in shades of pink, red, apricot, lilac and white), or opt for a fiery blend of coral, orange-red and cherry-red with Hot 'n' Spicy Mixed. Each plug will measure 5 - 7cm tall (over 2 inches in height) and will grow away quickly in a greenhouse, growhouse or on a windowsill once potted up.
You might prefer something subtler and scented-leaved pelargoniums offer smaller, bee-friendly flowers and interesting foliage that scents the air whenever warm sun shines. The oily covering promoting the scent, is a natural sunscreen and it can provide mint, citrus or rose scent among others. You can't resist stroking the foliage of these plants so they make good arrangements near seats and doorways, or as single specimens along a low wall.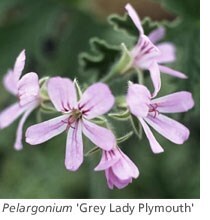 'Attar of Roses' really does smell of roses and the soft, vivid green foliage frames clusters of wispy pink flowers decorated with maroon-purple stamens and dark veining. Mingle this among the highly divided, grey-green and cream foliage of 'Grey Lady Plymouth', a minty pelargonium that is so much better than 'Lady Plymouth'. Then add one lemon verbena (Aloysia citrodora) to the arrangement for the narrow foliage born on wiry stems is pure lemon sherbert when stroked. This arrangement will please the eye and soothe the senses from June until late-October, for pelargoniums are capable of shrugging off late (but not too heavy) frosts.



Invest in the scented pelargonium collection featuring five plants, 'Grey Lady Plymouth', the white-flowered 'Fragrans', the citrus scented 'Lemon Fancy', the pink-flowered 'Orsett' and the camphor-scented P. tomentosum - the pelargonium with the most strokeable foliage of all. Plant the latter on the edge so that it can ramble over the side, rather than smothering the others. There's also a fabulous white collection of pelargoniums containing five excellent varieties, all with a hint of pink to soften the effect.
If you want sophisticated elegance go for P. 'Ardens', a delicate pelargonium with long stems topped by smouldering red flowers, each petal touched in black. Or opt for the night-scented purple vision 'Lawrenceanum'. Or use the two-toned pale and lipstick-pink 'Renate Parsley' for its lax habit and masses of pansy-like flowers. These are equally good grown indoors.
Try taking cuttings in July and early August. Fill a small seed tray with coarse horticultural sand and water it well. Take the cuttings in the cool of the day, choosing non-flowering side shoots about two inches (5cm) in length. If there are flower buds, pick them off. Trim the cuttings below a node (where the leaf joint is) and remove or reduce any large leaves to lessen transpiration. Plunge them into the sand so that two-thirds of the cutting is submerged and place the tray in a cool, shady position for several weeks. Then pot up individually into compost, such as John Innes no 1. You can also leave your cuttings in situ until next spring, although they will need protection from frost.