Camellias (the winter-flowering sasanquas)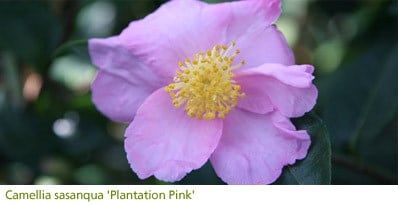 Most camellias need acid soil to do well. However the sasanquas, which flower between November and February, will tolerate most good garden soils with a neutral pH. They are found naturally in Southern Japan and have been grown in Japanese gardens for centuries as ornamentals and also for their oil. This is used in cooking, on the hair and for many other purposes. They are not highly frilly in form, like some camellias are. The Japanese admire sasanquas for their simplicity of form whether grown in temple gardens, or as miniature bonsai. Their ability to tolerate drought has made them highly popular plants throughout the world.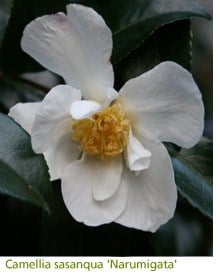 'Plantation Pink' is a robust variety, bearing lots of single pink flowers. 'Winter's Snowman' has white anemone-centred flowers, with a hint of clotted cream that prevents a glacial feel, and these look exquisite next to the glossy green foliage. The historic 'Narumigata' has cupped single white flowers softened by hints of pink. Single-flowered forms are less frost-affected.
The sasanquas form large shrubs and are best planted in the garden, or in very large containers. Forms of C. japonica are best grown in ericaceous compost, in containers, because most garden soils are not acidic enough for them. Camellia flowers, especially the double frilly forms, brown if they thaw too quickly and for this reason camellias are best grown in areas that don't get morning sun. West-facing is usually the best aspect, although a sheltered north-facing position also works. 'Spring Festival', an early pink form with rose-like flowers, is grown all over the world. Or try the reliable red 'Adolphe Audusson' if you prefer stronger colours.