Cotinus - puffs of smoke or lollipop leaves?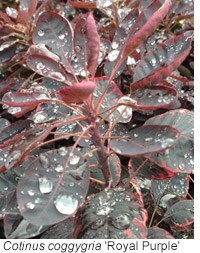 Smoke bushes (forms of Cotinus coggygria) can be cut back hard in late-spring to produce much larger lollipop-shaped leaves, with fewer or even no flowers. Prune them lightly, or leave them alone, and they will make big shrubs (as wide as they are tall) that 'smoke' by producing airy wands of flowers that gradually disintegrate into grey tangles - hence the name. 'Royal Purple' is an older purple-leaved variety that could be left and, once autumn arrives, this always develops bright-pink edges to the leaves. Quite beguiling!
Others are principally grown for foliage and 'Grace' was one of five seedlings from a deliberate cross between the American chittamwood (Cotinus obovatus) and a variety of the Venetian sumac (C. coggygria `Velvet Cloak') made by Peter Dummer, propagator at Hillier's nursery, in Winchester, in the late 1970s. He named it after his wife. It turns the colour of Victorian cranberry glass in autumn, but in summer the leaves have hints of jade and gold. This vigorous hybrid puts out long wands after pruning, so it isn't suitable for a windy, exposed site. 'Golden Spirit' matches its name, with golden-yellow leaves that turn to orange in autumn. Smoke bushes, or Cotinus, need a sunny warm position in order to flower and develop leaf colour. They are vigorous on rich soil, less so in poorer conditions. All come into leaf late.