Matteuccia struthiopteris
This fern is deciduous so all its fronds will die back in autumn, then fresh new growth appears again each spring.
Position: partial shade
Soil: humus-rich, moist but well-drained, neutral to slightly acid soil
Rate of growth: average
Hardiness: fully hardy

This wonderful deciduous shuttlecock fern is at its most beautiful in spring when the large, pale green, lacy fronds start to unfurl and filter the sunlight. It is one of the best foliage plants for areas of moist, dappled shade and works particularly well planted in groups next to water or in a woodland garden in between deciduous trees.


Garden care: Remove dead fronds in early spring. Lift and divide large colonies in spring.
Delivery options
Standard £4.99
Click & collect FREE
more info
Eventual height & spread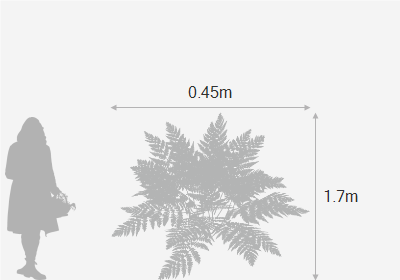 Notes on Matteuccia struthiopteris
"Damp conditions and sheltered shade make this upright fern open its erect green fronds, like apple-green caterpillars stretching for more, an early summer phenomenon"
Great quality healthy plants
My Ferns arrived in immaculate condition beautifully packed and bigger than I was expecting them to be. The Ferns look lovely and healthy and I can't wait to plant them. Thankyou! wish I'd have ordered more.
LadyV6871
Peterborough
I have the fern in a bright but fairly shaded site with other ferns
momolinda
Berkshire
Have allowed it spread this year and will eat some next year.
planter
West Midlands
Healthy and well packaged.
Bought this for around my pond. Very moist soil and in a shady location.
Becca
Nottinghamshire
Matteuccia struthiopteris
100.0
Hi, I bought 2 of these at the recent Crocus sale and planted them in dappled shade in completely different spots in the garden. I've watered them well daily but they are both struggling with the fronds dying and no new growth coming through. Any tips to save them? thanks Jo

jojoj

Hello, It's difficult to advise why the plants are not thriving from your description, but these ferns like fertile and reliably moist soils, ideally with a neutral to acidic pH, therefore, they may benefit from a mulck of composted organic matter - and if they are planted beneath an existing tree, shrub or hedge with a substantial root system - a little more water.

Helen
Who can resist the allure of water in the garden? The gentle gurgle of a running stream creates a sense of calm and tranquillity, while a simple pond makes a focal point with magnetic appeal. You can create lush and natural-looking planting to show off th
Read full article