Half hardy annuals better sown in trays
If you are wanting to have a go at growing seeds then the easiest of all are the annuals because they are programmed to germinate, flower and set seed within one year - therefore they pop up easily because there's no time to waste. Most will provide nectar and pollen aplenty, but the easily accessible single-flowered forms are best as they're more bee-friendly. There are some hardy annuals that are best sown in trays in early March, preferably in an unheated greenhouse, and then pricked out into three-inch pots ready for planting out in May or early June.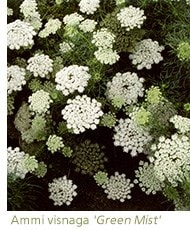 Blue cornflowers make large plants treated in this way and, if deadheaded, this annual can flower over many months. The deep-blue flowers of cornflowers (Centaurea cyanus) cut well and mix with summer-flowering pastels such as phloxes, paler floribunda roses and peonies. The cobalt-blue flowers also set off orange flowers. Darker black-purple forms of cornflower need careful placing however: like many sombre flowers they can merge into the background and disappear from view.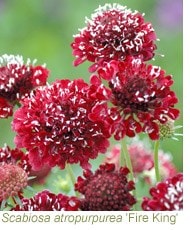 Annual scabious are also highly successful if pricked out and pot-grown and they flower until late into the year if deadheaded. 'Black Knight', although sultry in tone, is saved from being drab by white anthers covering the pincushion. Scabious cut very well and this dark form would be perfect with white umbellifers whether it be the floppier white Ammi majus, or the more-erect August-flowering Ammi visnaga. Or you might use the white snapdragon Antirrhinum majus 'Admiral White' instead. Other good scabious include the redder 'Fire King' and a new lemon-yellow to apricot form of Scabiosa atropurpurea called 'Fata Morgana'. This is far shorter than most and full of cuttable flowers.