Some plants may be too generous with their seeds, but most can be safely left to form and when covered in a gossamer of trembling cobwebs, weighed down with glistening dewdrops and catching the autumn light, the garden is a magical place. When winter finally arrives those spiders and other tiny beasties will make good use of any seed heads, using them as shelter, so leaving some of them intact not only looks lovely, it's extremely eco-friendly too.
Grasses add profile and movement so they should always be planted in a light position preferably one that catches midday sun. As the days shorten the awns break up and become almost transparent, taking on a silvery patina as they age. They appear to shimmer, making a perfect foil for jewel-box, late-autumn flowers including asters and their close relative, the tall purple ironweed Vernonia arkansana 'Mammuth'. Garden worthy grasses don't run or become invasive by self-seeding, but the trick is to pick the right grass for your situation. Then find some partners of a similar height, to avoid a little and large look.
Taller Grasses and Perennial Partners
Most taller grasses flower in the second half of summer. However Stipa gigantea is often in full swing by early May, with man-high stems that fountain straight out at an angle from low grey-green leaves. Known as the golden oat grass, the ten or so stems will shimmy and shake for nine months of the year - whether they're rising above ornamental alliums in May or shivering in late-autumn winds. This is a grass to gaze through, as light and airy as honeycomb and exactly the same colour. Stipas resent division though. It usually sees them off.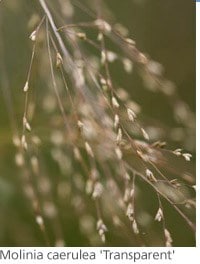 Tall molinias, including named varieties of Molinia caerulea. subsp. arundinacea, have flowers from July onwards held well above the foliage. Varieties vary in habit, but 'Transparent' is well-named for its awns that form fine beaded heads. In drier gardens these gradually turn to jet-black, although molinias thrive in all soils. Part of their charm is their habit of holding their flowers high on lots of straight stems and they happily do this cheek by jowl with tall perennials. The key word with these tall molinias is arundinacea, literally arundo-like, because this denotes a tall grass.
Good partners might include the dark-red bobbles of Sanguisorba officinalis 'Red Thunder', a perennial that also looks like a grass from a distance. Or you might use the tall purple bergamot Monarda 'Scorpion' as a partner. Bred by Piet Oudolf, this tall purple monarda has black-tinted bracts under the flowers and the square, resilient stems last into winter - an Oudolf priority. Like all monardas it pleases the bees.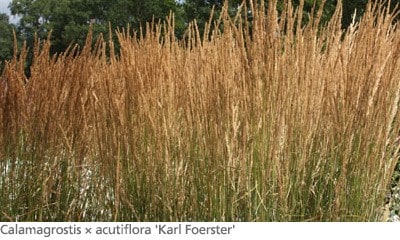 The most upright grass of all, Calamagrostis x acutiflora 'Karl Foerster' forms a four-foot high russet sheath of stems in autumn. The flowers appear in June or July and the stems can snap at the nodes at this stage so find it a key position in a sheltered place and it will give you vertical presence for many months. It's right at the top of most people's best grasses, for it's rocket-like, stem-packed silhouette is unique.
The grassy stars of autumn are named forms of Miscanthus sinensis, because they offer great diversity of form and a variety of colours in both foliage and flowerhead. This attracted early gardeners like Gertrude Jekyll and William Robinson over a hundred years ago and 'Zebrinus' (1877) was a Jekyll favourite, grown for its elegant shape and green foliage discretely banded in cream horizontal lines. The Japanese variety 'Morning Light' is a fine-tined vision of cream and white verticals, with small insignificant flowers. It is slow-growing and diminutive and it's been grown for centuries in Japanese gardens as a foliage plant.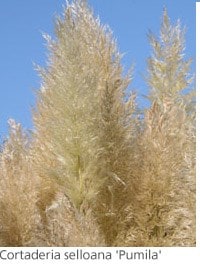 The most popular varieties are plumed though, and colour can vary from wine-red, to pink or silver. All age within four weeks to varied shades of silver and brown but the awns also vary in texture. 'Gracillimus' (1888), a heritage variety Jekyll would have known, is late to flower with finely cut reddish flowers held above a rounded mound of fine foliage. 'Malepartus' (a more-modern variety) flowers a full four weeks earlier and is similar in shape and form. Both are classics. Those north of the Watford Gap should opt for earlier flowering miscanthus, not the later arrivals, because they may not flower for you in cool summers. October always benefits from a pampas grass and Cortaderia selloana 'Pumila' is far too good for the front lawns of suburban bungalows. It's a superb as a corner of the border plant, lighting up winter days.
A hint of colour among the grasses is always useful and the wine-red lollipop leaves of Cotinus coggygria 'Royal Purple' create great contrast, setting off the grasses as they fade. The airy smoke-bush flowers begin to disintegrate in September, mingling in with the grasses, and cotinus keeps its wine-red foliage late. When temperatures fall there are often bright-pink flecks and edges to the leaves.