Pepperpots, lace and satin-white skeletons.
Some plants may be too generous with their seeds, like the aconitum, and may need cutting back to prevent inferior seedlings, but most can be safely left to form and when covered in a gossamer of trembling cobwebs, weighed down with glistening dewdrops and catching the autumn light, the garden is a magical place. When winter finally arrives those spiders and other tiny beasties will make good use of any seed heads, using them as shelter, so leaving some of them intact not only looks lovely, it's extremely eco-friendly too.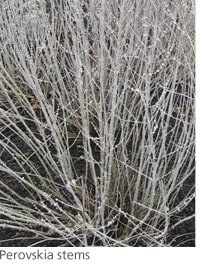 One of the best winter silhouettes, a silver-white upright collection of fine stems, is provided by Russian sage (Perovskia). In late-summer it's covered with blue spires of flower, but in winter the white stems remain to form a wide witches' broom that stands out well against the bare, brown earth. This silver-stemmed plant is hardy, even in the coldest gardens, and it seems to thrive in wet and dry summers alike because it's found naturally in Afghanistan, Iran, Pakistan, and Tibet.
Lavendins (labelled Lavandula x intermedia), santolinas and shrubby phlomis all persist through winter, before they are cut down in spring.
The pepperpot heads of Phlomis are very woody and last for many months. Many are sub-shrubs, but Phlomis tuberosa 'Amazone' is a lilac-pink perennial that dies away in winter to leave dark stems punctuated with occasional whorls of seed heads. It's a Piet Oudolf favourite and flowers in the first half of summer yet still keeps a winter profile. It's a useful aperitif in the prairie-border, most of which is much later into flower.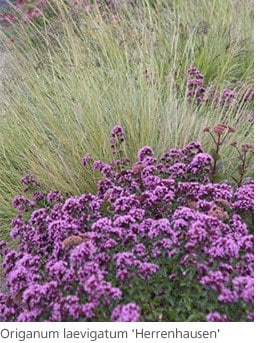 Origanum laevigatum comes in many forms, some rather floppy. However 'Herrenhausen' has wiry stems, dark rosettes of foliage and two-tone pink and purple flowers that turn blacker and blacker, getting lacier as the temperatures fall. This black-lace seed head is a stunner among silvers that might include the silver-green fingered leaves of Artemisia ludoviciana 'Valerie Finnis'.