Climbing and 'pillar' roses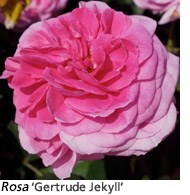 Many climbing roses have over-large flowers on leggy stems, due to their old-fashioned Hybrid Tea blood. Their pliable stems are ideal for winding around a pillar before the new growth hardens, usually in October and November. This slows the sap and helps produce more flowers. The following two are exceptional 'pillar roses', not leggy monsters that need to be viewed from the bedroom window. 'New Dawn' (technically a repeat-flowering Rambler) is very healthy with perfectly-formed silver-pink flowers and neat, healthy foliage, while 'Aloha' has salmon-pink cabbage-like blooms that achieve perfection. 'Aloha' will never disappoint, so overcome the ugly Hawaiian name and plant it! A lot of David Austin roses can also be used as pillar roses too, including the buff-yellow 'Graham Thomas', the cream-white 'Claire Austin' and the glowing-pink 'Gertrude Jekyll'.
You can also defy gravity (another way of slowing sap flow and getting more flowers), by pulling rose stems downwards, or by looping ramblers along the fence to produce arching shapes rather like a looper caterpillar in motion.  
There are some repeat-flowering ramblers, but they tend to be shorter and less vigorous. 'Phyllis Bide' bears small salmon-pink flowers, but she's thorny so position her carefully away from paths. Less thorny and with more apricot than pink flowers is the lovely 'Ghislaine de Féligonde', a rose with very glossy foliage that deserves to be grown more widely. This small rambler can be grown as a shrub as well and it will tolerate a north-facing position.
If something more vigorous is needed for a north-facing position follow Vita Sackville-West's advice and plant the versatile Noisette rose 'Madame Alfred Carrière'. It's in many rose buffs 'Top Ten' and can be grown anywhere. The foliage is shiny and healthy, the easily-trained stems are smooth and thornless, and the blush-white roses begin in June and linger on towards Christmas.
Finally 'Gloire de Dijon' has to get a mention as it can be a joy with its really fragrant, heavy-headed flowers that hover between buff-yellow, apricot and salmon-pink. The circular blooms swirl like whipped fondant icing enclosed by a cup-like sweep of outer petals. Its main flush is in June, with a few now and again afterwards, and the scent is heavenly.