Hydrangeas - which one to choose?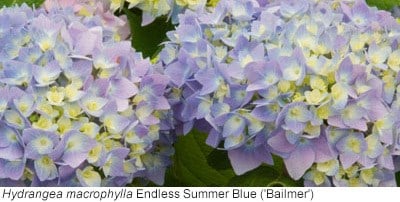 Hydrangeas come in many guises, but the blue and pink mopheads and lacecaps that flower in summer are generally forms of Hydrangea macrophylla, an Asian species that prefers lots of summer rainfall and drier winters. This can be tricky in drier gardens, but it does well in coastal gardens and in the west of the United Kingdom where winters tend to be less-severe. Most traditional varieties flower on old wood, so if this is killed every year flowers are scarce. You can create a shelter belt by planting these hydrangeas on the shadier side of a low wall. This keeps the plants warm in winter and conserves moisture in summer.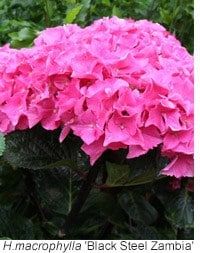 Blue flowers only appear on hydrangeas in acid conditions, but you can apply a colourant to encourage bluer blooms, or you could grow one in a pot of ericaceous compost, although you must water it with rain water not limy tap water. If you're on acid soil 'Endless Summer Blue', an American variety, will flower on old and new wood, so this will perform in colder gardens too. There are black-stemmed hydrangeas, including the recent 'Black Steel Zambia', which produces enormous deep-pink heads. Or you could plant the intricate pink-edged white Japanese-bred double 'Miss Saori' winner of The RHS Plant of the Year 2014. The latter is perfect in a container and all have flowers that fade into winter, creating papery seed heads that can either be enjoyed indoors, or left in situ to fade into winter skeletons. Don't cut back until spring!
Those on drier gardens could plant the American Hydrangea arborescens 'Annabelle' a drought tolerant, durable hydrangea with lime-green foliage and lime-green clusters of buds that look superb in early July. Domed heads of white flower follow, even in dry positions. This was discovered growing wild near Anna in Ohio in 1975, hence the name, and launched by the Gulf Stream Nursery. There is a now a pink form called 'Invincibelle', developed at North Carolina State University's Mountain Horticultural Crops Research Station.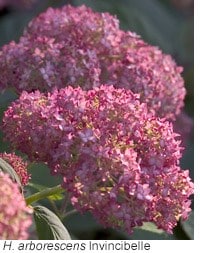 In autumn two other types of hydrangea light up shadier areas. Hydrangea paniculata produces long buddleja-like panicles rather than mopheads. There are some delicate white, lacy forms such as 'Kyushu' and this is the most popular with insects. 'Tardiva', a creamy white, is equally refined. 'Limelight' starts white and then develops to lime-green as it fades, with medium-sized flowers that light up shade. Or you can get massive heads, a foot long or more, and these look majestic under enormous trees. 'Vanille Fraise' the colour of strawberries and cream, and the white 'Silver Dollar' are both impressive.
If you have a low wall, or a large container, the floppier stemmed Hydrangea quercifolia 'Snow Queen' produces white conical heads against oak-shaped foliage and this colours up to red in autumn. It's perfect for a shady corner.