Choice plants in March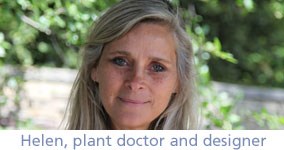 I know the weather can still turn nasty and there will still be some pretty hard frosts on their way, but the days are getting noticeably longer and the sun feels a little stronger. The most determined plants are full of energy and raring to go, breaking out of bud or pushing through the soils surface. To help them along, make sure that all the beds get a good mulch of composted manure - but not before anything that needs to be moved has been, and any over-large gaps in the border have been filled.
Our monthly favourites
Cracking Combination of the Month
The Magnolia adds height and structure and produces flowers that break from silken buds like magnificent, rich plum balls, while spread out at its feet the Pulmonaria forms a rich green carpet, that is topped with large blue-violet flowers.
Why I like it and what it's useful for:
An adaptable multi-stemmed shrub, which with a little formative pruning, will become more tree-like if its lower branches are removed. With a maximum height of around 6m, this beautiful plant should definitely be near the top of the shortlist when choosing a tree for a small garden. In full flower, it makes a jaw-dropping display, and it will create an elegant centre-point to the spring garden. Under-plant with spring flowering bulbs if you really want to show off.
Why I like it and what it's useful for:
It's a whizz at filling difficult shady spots beneath trees and shrubs and it will provide a low maintenance carpet of dark green leaves and spring flowers. Not only is this little plant vigorous, but it is one of the first lungworts into flower each spring. To me, it's a much more appealing lungwort than those with the spotted foliage, as the leaves provide a solid backdrop to the vibrant violet-blue flowers. It is also tolerant of most soils as long as they are not too dry or continuously wet.
Why I like it and what it's useful for:
This is a sublimely beautiful cutlivar and it's perfect for training against a wall, where the bare, splayed branches can reveal their apple blossom-like, spring flowers to perfection. Alternatively it makes an unruly, but effective hedge or screen, where its thorny stems will deter even the most determined intruder. If you are into that kind of thing, the lumpy greenish-yellow fruits which follow on after the flowers, can be used to make jams. A tough shrub, it will grow just about anywhere, but it flowers best in full sun.
Why I like it and what it's useful for:
The name comes from latin and literally translates to 'first rose'. It is always a welcome sight in spring although it is not as common as it once was. It used to be widely distributed throughout wooded areas and hedgerows in the UK, but the temptation to pick the sweetly scented, pale yellow flowers has proven too strong and sadly this has resulted in their decline. It is now illegal to gather them from the wild and I think it would be lovely if we could plant oodles of them to help get the numbers right back up again. It is also very beautiful.
Why I like it and what it's useful for:
If I had to make a list of my top 10 plants, this would definitely be on it. I love it. It's wonderful for adding structure and colour to the border and it settles easily into most planting schemes. Described by Gertrude Jekyll as 'one of the grandest plants', it is still incredibly sought after by the best garden designers today. The sulphur-coloured flower heads contrast beautifully with the grey-green foliage and will usually last for several months. It also copes quite well with drought once established.
Why I like it and what it's useful for:
In my mind cherry trees are inextricably linked to Spring. My favourites are the ones that have smaller flowers and finer foliage, as to me they don't look too overblown or blowsy. This one fits the bill perfectly. It's also one of the earliest into bloom each year, so it gets the season off to a nice start. A shrubby plant (strictly speaking it's an apricot) with almond-scented blooms, it is perfect for smaller gardens or large containers as it rarely reaches over 2.5m.