Crocus in the press
For all press enquiries, please contact:
Email: press@crocus.co.uk
Address:
Crocus.co.uk Ltd
Nursery Court
London Road
Windlesham
GU20 6LQ

Garden Retail and Garden Industry Awards - 2016
Gardens Illustrated - February 2016
Garden News - November 14, 2015
Gardens Illustrated - November 2015
Garden News - September 19, 2015
Gardeners' World - September 2015
Gardens Illustrated - August 2015
Garden Centre Retail - July 2015
Amateur Gardening - June 2015
All i want for christmas - December 2014
Gifts for the garden - December 2014
Stylist's notebook - November 2014
Dine Alfresco - July 2014
Insideout - June 2014
Growing under glass - March 2014
The London Magazine - October 2013
Gardens Illustrated - October 2013
Which? June 2012 edition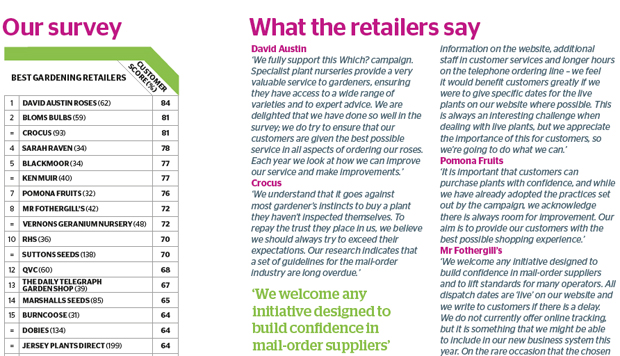 The best and worst online and mail-order plant retailers
Three online and mail-order companies stood out as members' favourites in our survey: David Austin Roses, Crocus and Bloms Bulbs. About nine in ten people were satisfied with their experience of buying or receiving plants or bulbs online or by mail order from each of these companies. The same amount also said they would use them again and would recommend them to a friend.
Which? Magazine
June 2012
The Independent
There are plenty of small nurseries in the UK down plent of small lanes selling intriguing-looking plants. But sometimes you travel a long way to talk to a nursery owner who doesn't seem that interested in acutally selling you anything. Who won't sell you the best thing out of their polytunnel, but will fetch selling plants from somewhere else, which don't look quite as good.
Or you order from a tempting-looking catalougue, but receive an order of slightly misshapen, neglected-looking individuals in sizes just beyond "rooted cutting", too delicate to be planted out. In the end they expire on a window sill, a preety good reminder never to order from that catalogue again.
All gardeners should be passionately interested in rewarding good customer service. For example, crocus.com is one of the biggest horticultural companies in Britain and doesn't need that much help advertising its wares, but an order from Crocus, in my experience, come invariably safe, sound and, most importantly, bushy. I have never received a wilty delivery from them. And you always open a gigantically large box to find a satisfactorily large plant inside.
Emma Townshend
The Independent
Sunday, 22 July 2012
Britain's most influential gardeners
"The online nursery Crocus has become the supplier of choice for most of the leading designers at Chelsea and other high-profile shows, and is therefore acknowledged within the industry as the horticultural powerhouse behind a high propotion of gold-medal winning gardens. Co-director Mark Fane - already widely respected has consolidated his influence recently by taking up voluntary positions at both the RHS (as a council member) and the Garden Museum (as chairman)."
Telegraph Gardening
January 2012
Chelsea Flower Show: The Telegraph's hat-trick
Cleve West scooped Best in Show at the Chelsea Flower Show with his tranquil sunken garden – an unprecedented third consecutive win for the Telegraph. Stephen Lacey talks to the team behind this winning streak
Three consecutive Best in Show awards speaks volumes for the unsung heroes of the Telegraph gardens' construction team. As Ulf says, "All show gardens are a question of teamwork, and the team at Crocus are exceptional." For Cleve, they are "the dream team – so dedicated. Everything is double-checked and backed-up like a military operation."
Mark Fane, who oversees these military operations, has been building Chelsea gardens for the past 18 years, previously for Waterers Landscapes and since 2000 for Crocus, the online plant nursery, of which he is a director, along with Peter Clay. In that time, he has notched up 18 gold medals and eight Best in Show awards – the first Best in Show award being for Christopher Bradley-Hole's seminal Latin garden for The Daily Telegraph in 1997.
"The secret is planning. We try to make every decision before we get to Chelsea," he tells me. "And everything we can build ahead of the show, we do.
"For example, this year we made Cleve's dry stone walls in advance in sections, so on site all we had to do was piece them together. The scale of the operation is pretty vast, with probably around 50 different people involved in the garden, so we make sure everyone knows they are an important cog, what is expected of them and that jobs have to be done properly – even down to washing out the cement mixer after use, which we even had Cleve doing."
The quality of the plants is down to Mark Straver, described by Fane as Crocus's "plant supremo". Some of the plants are raised in Crocus's own nursery, and others Mark sources from different nurseries around Britain and abroad, and then brings to Crocus, so they can be potted on and watched.
"Mark has a brilliant eye," says Ulf. "And he can help give your planting an edge by suggesting new and unusual plants, as he did for me with those wonderful eremurus [the dramatic missile-shaped foxtail lilies]."
Project managing these last three Telegraph gardens for Crocus has been Peter Harket, from PH Landscaping in Devon. "He is the great organiser and enforcer," says Andy Sturgeon. "You always feel that he is one step ahead in the build, rather than one step behind. Crocus are very good at taking all the stress away like this, even including all the form-filling, so a designer can focus just on the design."
"At Chelsea, there is no crossing of fingers and hoping that something will work. Everything is carefully programmed in sequence, and we aim to finish building in a week and a half. Then I give the designer a pair of knee pads, and he has six or seven days to do the planting."
"That timing is really important," underlines Mark Fane. "Plants need several days to settle down, turn to the light and look natural so we like to finish planting on the Friday before show week." He said he knew this year's design was going to be good as soon as he saw Cleve's plant list.
"It is a really interesting and unusual mix. I was a little nervous about some of the colours, but the result has turned out to be fantastic. And Cleve has been a dream to work with."
Stephen Lacey
27 May 2011
Power 100: 2011
Peter Clay (Crocus director)
Crocus online mail order garden centre was set up by Clay and Mark Fane with venture capitalist backing in 1999. The company provides plants and builds Chelsea Flower Show gardens. It has recently co-branded to build a National Gardens Scheme portal on its website to give 15 per cent of revenue to the charity. This means if you buy plants from the RHS you are buying plants through Crocus. It is doing the same for the Daily Telegraph. Sales were down to £7.2m from £8.43m and losses of £1.015m because of the recession in 2009 but for the financial year to 31 October last year sales were up 30 per cent to £8.4m and with profits at £94,000. Trade has grown 20 per cent year-on-year this year.
Garden Retail
May/June 2011
Interview - Peter Clay, director, Crocus
The company has built Chelsea show gardens and is moving into shared portal offerings for organisations such as the RHS. Former advertising executive Peter Clay set up Crocus in 2000 with Mark Fane, who sold Waterers Landscapes to ISS for £35m a decade ago.
Q: What are Crocus's latest developments?
A: We've co-branded with the National Gardens Scheme, with a portal on its site and will give 15 per cent of revenue from the site to them. We are the engine behind the RHS garden shop. We're doing the same for the Daily Telegraph.
Q: How profitable is Crocus as a business?
A: We were profitable before the recession, but we had a hit the year before last. We're hoping that things are picking up now. From 1 November to 31 October 2010 we were profitable in difficult circumstances. For the past five months we've grown turnover 20 per cent year-on-year.
Q: What are you doing at Chelsea this year?
A: We're building and supplying plants for Luciano Giubbelei's Laurent Perrier garden and Cleve West's Daily Telegraph garden. We've also supplied plants for Melbourne Botanic Garden's garden and Robert Myers. We will also supply some trees to Bunny Guinness and others.
Q: Do you open Crocus to the public?
A: We have an open day on 16 April. People can see the nursery and get discount rates. Following the Chelsea show, we have a sell-off on 4 June.
Q: Where do you source your plants?
A: We try and use the best of British where we can. We work with the specialists such as Orchard Dene and Marina Christopher and lots of other local nurseries. We also source a lot from French and Dutch liner growers. We grow 40 per cent of our own.
Q: Is the business looking for new growers?
A: Please get in touch. We're always amazed by who is out there that we haven't heard of.
Q: Don't plants need to be high value to make a profit online?
A: It is difficult because the public don't really see the value in plants and prices have not increased for years. We're lucky because we have high average order values - £63 including £5.99 delivery - so you get a lot of plants delivered for the postage.
Q: What couriers do you use for delivery?
A: We use a mixture. By using two or three at any one time it gives us cover if one goes bust. It is no longer costing us to send out a plant.
Q: What is your professional background?
A: Advertising. I started in 1983 and worked for 16 years for top agencies. I left to set up Crocus with Mark Fane.
Q: Who are your backers for Crocus ?
A: We were started with a rainbow of angels. Jacob Rothschild put things together and backing came from a mixture of Cazenove Capital Management and specialist internet investor New Media Spark. We have good blue-chip backers.
Q: What is the future for the business?
A: The future is increasingly online. People of all ages look to the internet to solve shopping problems as well as for information. It's an automatic default. People have trust in the internet.
Q: Can you explain what your product mix is like?
A: The plant-related element is 53 per cent, with 38 per cent products and eight per cent others such as cut flowers. Plants were 60 per cent last week.
Q: How many plants do you stock?
A: Up to 3,000, plus garden products, chemicals and tools. We're increasingly plant-focused.
Q: What do your best sellers tend to be?
A: It varies. The general market has been huge for fruit and veg but we don't benefit quite as much as other retailers because a lot of people like to buy plugs and through us the cost is higher. Veg is one of the few areas which is price-sensitive.
Q: What do you think of garden centres' online offerings?
A: They're a bit patchy - a little bit half-hearted among the major retailers. They seem to be concentrating on getting their retail mix right.
Q: Would you move into bricks and mortar garden centres?
A: Possibly. Certainly our open days are a huge success. People love coming to the nursery, so that might be something we do. But at the moment we are happy doing this.
CV
1983-99: Deputy managing director, BMP-DDP (third-largest advertising agency in the UK)
1999 to date: Director, Crocus

Matthew Appleby
21 April 2011
Best and Worst of the Decade
Gardening
Going Up
Crocus.co.uk
The smartest mail order company in town, set up in 2000 by plantsmen Peter Clay and Mark Fane
Daily Telegraph Special Issue
December 12th 2009
Top 20 mail-order plant nurseries

The internet has transformed gardeners' shopping habits.
Val Bourne picks the best online plant nurseries
Brilliant all-rounders
Crocus (0844 557 2233; www.crocus.co.uk) made mail-order fashionable when two plant lovers (Mark Fane and Peter Clay) started the website in 2000. The Rolls-Royce of mail-order nurseries, it offers 4,000 plants, including unusual ones such as Dianthus cruentus, with one of the best, most intelligently organised online sites
The Daily Telegraph
November 2009
The great garden that led to Crocus
When Peter Clay created his Herefordshire garden, the difficulties he faced sourcing plants led him to help found the online nursery, crocus.co.uk :
In 1996 there was no garden, so having welcomed in the view, Clay turned his attention to the matter of planting some borders. He found this quite difficult. 'I had a vestigial memory of my maternal grandmother's herbaceous borders in Hampshire, but she was on chalk in a dip and I am perched on a windy hill on sandy loam.
I turned to The RHS Plant Finder [the annual publication that lists the garden plants available in Britain and their suppliers], but found it a bit like code-breaking at Bletchley Park.
I would ring up one nursery in Dorset looking for astrantias, for example, and they would say they had three, and I would say, "But I need 300!" So I would buy the three, and then ring up a nursery in Scotland, and they would have 15, and so on. The postage would cost as much as the plants.'
He felt there had to be another way of doing it. 'Mark Fane, who ran Waterers Landscapes in Surrey, was an old mate. We went out for a curry and began scribbling ideas on the tablecloth.
Mark came up with an online nursery. Google had shown how accessible knowledge could be. Our dream was somehow to combine all the best nurseries with an encyclopedia on gardening.' Thus, in 2000, Crocus was born.
Fane had also previously introduced Clay to the designer Tom Stuart-Smith. 'I got Tom to come down here, tell us what to do, and test out Crocus's ability to supply a nice big palette of plants all from the same source. He deliberately put some abstruse stuff in, so I think he was amazed that we were able to assemble everything he specified.' Since then Stuart-Smith and Crocus have worked together on numerous projects, including six Chelsea Flower Show gardens.
Stephen Lacey
The Daily Telegraph October 2009
Chelsea Flower Show 2009: Meet the master builder
Behind the big-name Chelsea designers are the people who build the gardens. Cassandra Jardine meets Mark Fane, 'the control freaks' control freak'
Mark Fane has won 12 gold medals at the Chelsea Flower Show and five "best in show" awards. Never heard of him? That's how he likes it. Garden designers are welcome to the glory; "I prefer to remain in the shadows," says Fane. But he knows – and they do too – that he is the designers' secret weapon, the man who translates their vision into reality or, as he puts it, "the control freaks' control freak".
Two posters decorate the Portakabin boardroom at Crocus, the online plant supply firm that Fane co-founded in 1999. One shows Jinny Blom's gold-winning Chelsea garden from 2007; the other, Tom Stuart-Smith's "best in show" for the Telegraph from the year before. This year, yet more trophies may be competing for wall space because Crocus is creating the Swedish modernist garden that Ulf Nordfjell has designed for the Telegraph and also Luciano Giubbilei's sculptural garden, featuring a triple hedge.
Queues of designers beg him to build their gardens and supply the plants - Blom describes him as "the Chelsea favourite". "He has an eye for quality," says Andy Sturgeon, "Nothing is ever a problem for Mark," says Stuart-Smith, who tested his mettle in 1998 by tossing him a seemingly impossible plant list. "He thinks challenges make life more interesting."
For more, see: http://www.telegraph.co.uk/gardening/chelseaflowershow/5130187/Chelsea-Flower-Show-2009-Meet-the-master-builder.html
The Daily Telegraph
09 Apr 2009
Plants from cyberspace
Matthew Biggs visits the Surrey HQ of award-winning online nursery Crocus, whose huge stock of desirable plants tempts the public and Chelsea show-garden designers alike. Photographs Fiona McLeod
Since www.crocus.co.uk opened for business at 6.13am on 2 April 2000, it has become the quintessential 21st-century online garden centre, a one-stop shop renowned for its seductive images of must-have plants, where customers can visit the garden centre from the comfort of their own home.
Through its wholesale outlet, Crocus supplies top garden designers including Tom Stuart-Smith, Isabelle Van Groeningen and Andy Sturgeon. This benefits both sides, allowing Crocus to keep in touch with the latest trends and ensure that 'hot' plants are available to its customers.
Crocus also has a reputation for being able to find Chelsea designers plants that are unusual or obscure. This year, Tom Stuart-Smith asked for Selaginella helvetica, a fern-like perennial for deep, moist shade. After guidance from a fern expert and several phone calls, it was tracked down to a small nursery in Germany, which supplied the plants, and other new cultivars.
This year Crocus is building gardens and providing plants for Arabella Lennox-Boyd and Tom Stuart-Smith, and supplying plants to Andy Sturgeon and others. And many are from the same range that you can buy online for your garden from the comfort of your home.
Mathew Biggs
Gardens Illustrated May 2008
Crocus beds into Homebase with plants online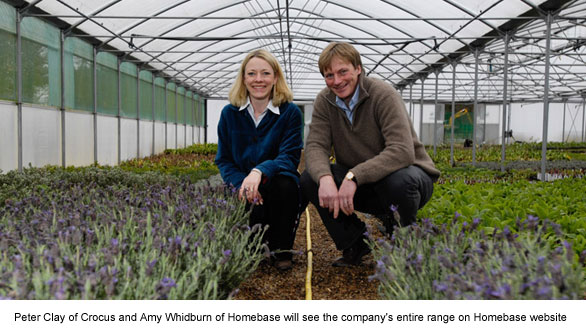 The deal will see Crocus - the UK's largest online garden centre - offer its entire range on the Homebase website.
Crocus was founded in 2000 with £1.5m of seed funding from a consortium of investors, which included Lord Rothschild and Henry Kravis of private equity group Kohlberg Kravis Roberts. Last year the retailer made a small profit on sales of £10m. Amy Whidburn, head of trading at Homebase, said: "Like Homebase, the Crocus business is based on providing customers with the highest quality plants, and the new partnership will allow Homebase to deliver a much greater choice"
Daily Telegraph April 2008
As shopping on the web becomes increasingly popular, even the staunchest supporters of the high street are making the most of the internet. But building brand loyalty online is no mean feat - impeccable customer service and unfaltering delivery are just two of the many prerequisites. We asked some of the biggest names in retail, industry experts and the Retail Week team to select the online retailers they respect the most. Well-known web sites and independent retailers alike feature among the stars of cyberspace.
Crocus.co.uk
"This site oozes passion and expertise about plants, with a touch of Titchmarsh and Dimmock celebrity on top. Above all - with the most perishable and fragile of products - the care taken in packaging and transit is superb, with consistently high plant quality. Lead times pale against Amazon, which has raised the bar for all online retailers, but on the key dimensions of authority and reliability, it's hard to fault."
Alan Giles, chairman, FatFace
Retail Week - July 2007
Everything in the garden is.....available over the internet. Keen horticulturalist Margaret Dibben puts five online nurseries to the test to find out whether there's more to going digital than having green fingers.
Crocus score 9/10
'The website is informative and easy to use and offers a choice of more than 3,000 varieties. Crocus guarantees to replace plants if they fail within one year, and you can return any plant within seven days. I bought phlox paniculata 'David'. It had been reduced in price from £5.95 to £4.45, with delivery costing £5.95 for any number of plants. The plant was delivered in a pot, in outstanding condition. Small green shoots quickly developed. Size-wise, the pot was 2 litres in volume and the roots just reached the sides. Delivery was 'within one week' and the company throws in a Virgin Wines voucher for new customers. It arrived on 15 January. Overall, this is the best website for plants'.
The Observer - March 2007
'.. if we are a nation of garden lovers, and, one could argue convincingly, the greatest gardening nation on earth, why are our garden centres in crisis? It's not only the late, cold, wet spring and the hosepipe-less, parched summer that will have caused some people to give gardening a miss this year, and that has hurt smaller companies in particular.
Whereas, in the 1970s, the rapid expansion of garden centres filled a long-term gap in the retail market, now there is more competition than ever before. Large DIY chains sell plants and related goods at prices very few independent retailers could compete with, because of the power of bulk buying…..
But there is obviously still a huge market for places selling plants in an individual way and one that helps gardeners who are keener than they are experienced. It's all very well being told by well paid, well trained garden designers on the telly that you should plant in such-and-such a style, but if you get to a huge nursery and find you don't know what you're looking at, you're just as liable to come away empty-handed.
This is where the internet has been making significant inroads into the market. Companies such as Crocus, the online nursery that supplied the plants for Tom Stuart-Smith's "Best in Show" Daily Telegraph Chelsea garden, keep up to the minute with fashions in horticulture and give their customers a tailor-made service, supplying a whole border if needed or selling plants by colour…..
In America, for example, some garden centres divide their plants up between what grows in shade and what thrives in sun, as well as giving regular demonstrations on pruning and other practical matters. That would be a start, because, if you can't compete on price, you have to do it with service.
The truth remains that, even with the vagaries of the weather, there has never been a better time to be a gardener in Britain.
Lila Das Gupta,
The Daily Telegraph, 19 August 2006
I live on a communal garden in Notting Hill, but also have a little bit of garden of our own. Needless to say this offers my neighbours opportunity to craft perfect Chelsea Garden Show standard displays in their own back yards. I tried it myself: I tried seeding the lawn, bribing the communal gardener, and blagging plants from neighbour the owner of Crocus (online retailer of plants etc) basically porn for the green-fingered) but nothing ever worked.
Rachel Johnson,
Evening Standard, 22 May 2006
'Keen but clueless' in his garden, Peter Clay was frustrated at the lack of help available. So he set up an online business to fill the gap - and found a huge market of baffled customers.
Peter Clay was 42 and the highly paid MD of an American ad agency when he felt the first flush of the male menopause. "It was a purely visceral thing," he says. "I was restless, looking for a move before the gardening bug came along and I thought 'That's it!'"
Five years on, ex-Etonian Clay has morphed into the Johnny Boden of horticulture with Crocus, the online and mail-order plant centre, which was recently awarded eSuperbrand status.
The Superbrand Council (Crocus was one of 300 chosen out of 3,000 for the 2006 listing) also ran a survey asking online customers where they would spend a £100 windfall. Amazingly for a tiny company, Crocus was placed fifth behind such giants as Amazon and eBay.
The company has won a clutch of prizes, grown exponentially (they sold 75,000 plants in 2000, and expect to hit 500,000 this year) and has won five gold medals at the Chelsea Flower Show, building and supplying plants for show gardens.
The customer profile wasn't hard to dream up: "it was me", Clay says, "a keen but clueless gardener." Imagining yourself as the customer is no bad way to do business and they were on to something as the dotcom bubble was still a novelty and they were catering to time-poor, urban people who wanted a garden to reflect their taste and lifestyle. "These people were already using the internet for all kinds of things," says Clay. "The democracy of the net allows people to learn quickly and gardening doesn't have to be a life-time apprenticeship."
The Times Magazine, 20 May 2006
Internet garden retailer Crocus has announced growth of 45 per cent in 2005 despite difficult market conditions.
Consumers using the site are younger than those visiting garden centres and spend more freely, according to (managing director Mark) Fane. "Our consumers are interested in saving time – that, coupled with an extensive range, is what we provide."
Fane sold Waterers Landscape to ISS in 2000 for £35 million. He maximised his existing contacts from Waterers in setting up Crocus.
Further acquisitions are planned following the purchase of www.gonegardening.com earlier this year. Expansion plans include doubling annual turnover by 2010. Fane added: "People still want to visit garden centres, we are just giving them another option."

Horticultural Week, 6 October 2005
While gardening centre sales have been flat, mirroring the high street in general, internet retailing is still on an upward curve. Online-only garden retailer Crocus's sales in June of this year were nearly 50 per cent higher than last year.
Crocus founder Peter Clay says: "Gardening seems to be a beneficiary of the consumer trend towards 'cocooning', which means that people are increasingly happy to shop from home, rather than venture on to the high street."
Horticulture Week, 11 August 2005
With Chelsea just weeks away, horticulturists around the world are frantically pruning and pampering plants to perfection. However, at a nursery in Windlesham, Surrey, the air is one of relative calm. The team at Crocus, the web-based nursery, has been preparing for this year's show since April 2004, working on the Laurent-Perrier garden designed by five-times gold medal winner, Tom Stuart-Smith.
For Tom, having the right team is a vital ingredient for success at Chelsea. Crocus has put together his last four medal-winning gardens; its strength, he says, is in its organisation and ability to deliver; 'Crocus has huge tentacles and will find anything'.
Sourcing is down to one of Crocus's three permanent buyers, Mark Straver. Mark orders literally millions of plants every year for the nursery, so he knows instantly who to call for the best plant, and never buys from anyone unless he's visited their nursery.
Gardenlife Magazine, June 2005
While most of the horticultural website companies that began in 2000 are now pushing up the daisies, crocus.co.uk is positively blooming.
Its customers buck the trend of typical internet users and their average spend is four times that at an ordinary garden centre.
Garden centres had a tough time in 2004, posting zero or negative growth. "Bad weather meant no one went out shopping in early spring," said Mr Clay. "They sat at home and ordered through us." He said the typical spend at garden centres is £14 to £15. The first purchase by a crocus customer is £25 to £30.
With more than 100,000 customers and growing by 40pc each year, crocus takes it as a good omen that it bucks the trend for internet customers, usually males under 30. But of its customers, 35pc are in their thirties; 29pc in their fifties and 85pc are female. "When we began", said Messrs Fane and Clay, "52pc of our customers described themselves as keen but clueless, and 48pc as experienced. Nowadays the figures are reversed. It would be nice if that were because of us."
The Business Telegraph, 17 January 2005
Two old schoolmates set up Crocus to give gardeners a much wider choice of plants.
The business is a breakthrough in the £3 billion-a-year garden sector. Not only are 80% of Crocus's sales online, but it ensures that customers get larger-than-usual plants, elaborately packed and always in perfect condition. It is now the biggest online seller of plants in Britain.
At a time when many garden centres are cutting back their range of plants to fewer than 250, Crocus lists up to 3,000. If it doesn't have them in stock, it can get them to its customers within a week, often from specialist nurseries.
Now, more than four years after the launch, the careful husbandry of Fane and Clay has developed the business. Turnover has topped £3.5m with a forecast of £4.5m for the year to October 31, 2005.
The Sunday Times, 19 December 2004
A Majestic performance
Despite the collapse of the dotcom bubble, The Sunday Telegraph's @chievement 2001 awards for excellence in technology and e-commerce attracted almost 200 entries, a record…Crocus.co.uk, an online garden centre, picked up the small business award, which was open to those with an annual turnover of less than 1m…Alison Hutchinson, chief executive officer of Barclays B2B.com, called on firms to "go back to basics" and focus on customers' needs, rather than jumping on the dotcom bandwagon. "As one of the judges of the @chievement 2001 Awards, I was delighted by the basic approach which makes Majestic, Tesco and Crocus such outstanding winners. Each has focused on ensuring that its e-commerce strategy is as integrated within its business model as its attention to providing excellent products, customer services, marketing and fulfillment." "We are a small company, but thanks to the @chievement 2001 Awards we are talked about in the same breath as Tesco.com - one of the most significant forces in e-commerce," said Peter Clay.
Richard Fletcher,
The Sunday Telegraph, 1 July 2001
Crocus blossoms on the net
This year's Chelsea Flower Show produced a new star in Crocus – not the humble spring flower, but an online garden centre which became the first internet company to win one of two gold medals at the horticultural extravaganza. The Crocus garden, designed by Tom Stuart-Smith and sponsored by Laurent Perrier, wowed the judges with its avenue of 12 lime trees and a meadow comprising 2,000 Japanese grasses and 6,000 herbaceous plants…The garden has drawn attention to Crocus the company, one of the few British B2C internet outfits that has continued to forge ahead despite the collapse of the dotcom bubble, and which is gaining increasing acceptance among gardeners.
Lauren Mills,
The Sunday Telegraph, 3 June 2001
Net gardener sows seeds for success
Dotcom doom has been beaten by the great gardening boom. Crocus.co.uk, an online nursery, has raised third-round financing of £2m from a clutch of blue-chip investors including Cazenove, Lord Rothschild and Henry Kravis, founder of Kohlberg Kravis Roberts, the American leverage-buyout specialist. Mark Fane, chief executive of Crocus, says this time around it was much harder to raise funds. Most dotcom firms would amend that to say it is all but impossible to attract finance. "There was much more analysis this time," Fane said. "If you go back 18 months to when we first started, there was such euphoria about the internet that fundraising was relatively easy." Although investors may have turned away from the internet, customers have not. Crocus, which sells plants and provides information and advice to gardeners, is seeing sales rise by 50% every three months. The company believes this round of financing will see it through to profitability in two years' time.
Kirstie Hamilton
The Sunday Times, 18 March 2001