Monthly Choice - September 2014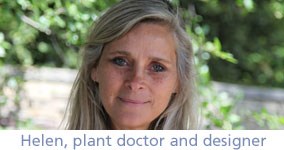 Although summer is still in full swing, a lot of plants are starting to look a little worse for wear. Call in the cavalry and give your garden a boost with these little lovelies, which are just coming into their prime. Many of them will keep on flowering well into the autumn.
Our monthly favourites
Cracking Combination of the Month
This is a classic combination that will create lots of late colour in the herbaceous border. The shape of the daisy-like flowers (one large and one small) compliment each other, while their colours, which are at each end of the spectrum, offer a fresh contrast. Better yet, the yellow eye of the aster mirrors the rich golden 'petals' of the black-eyed Susan.
Why I like it and what it's useful for:
First introduced around 50 years ago, this plant has won heaps of awards over the years. Quite right too, as it produces an abundance of flowers over a really long period, it is short enough not to need staking, it is long-lived, low maintenance and it attracts butterflies, bees and hoverflies. If there is room, plant it in bold drifts where the golden yellow flowers can be lit up in the low autumn light.
Why I like it and what it's useful for:
Often unfairly maligned, asters are seen by some as dowdy, old fashioned plants that should be relegated to the compost heap. Not so this one though. It is distinguished for its resistance to mildew and it will flower its socks off for months on end, providing lashings of colour well into autumn. The flowers will provide a rich source of nectar for butterflies and bees, but if cut and added to flower arrangements, they will often last for weeks in a cool room
Why I like it and what it's useful for:
Every garden (especially the shadier ones), should have some of these. It naturalises easily, forming large clumps that can be divided within a few years, and the flowers are great for cutting. Use it to fill gaps at the back of a border, where it is robust enough to stand up well without flopping - even in unpredictable weather. First discovered in Verdun, France in 1858 it is now one of the best loved Japanese anemone of them all.
Why I like it and what it's useful for:
First and foremost it is an excellent foliage plant that will slowly form a generous clump of colourful, fern-like leaves. From early autumn onwards, it also produces dark, statuesque stems that rise up, carrying slender flower heads that are crammed with small blooms, each one resembling a mini starburst. These add softly swaying movement, and like lit candles, help illuminate a partially shaded spot.
Why I like it and what it's useful for:
There has been lots of Hydrangea breeding going on in recent years and this has resulted in a glut of new cultivars coming onto the market. To me this one really stands out though as unlike the older forms, which could only produce a flower on the current years growth, this one can flower on both new and old wood. That means that the plant will often flower from early summer to mid-autumn. Not bad at all.
Why I like it and what it's useful for:
The stiff, upright stems will add a structural element to planting schemes, while the feathery flowerheads, which move beautifully in the breeze, create movement. Added to that, their colour continues to improve throughout the autumn, so you get several months of rich colour. Easy to grow and very decorative, if you like ornamental grasses you should put this one on your shortlist.