Tulipa 'Little Beauty'
species tulip bulbs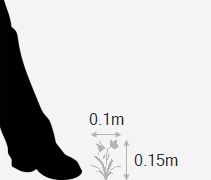 Position: full sun
Soil: fertile, well-drained soil
Rate of growth: average
Flowering period: March - April
Flower colour: bright pink
Other features: all parts of the plant may cause a mild stomach upset if ingested; contact with any parts of the plant may aggravate skin allergies
Hardiness: fully hardy
Bulb size: 6/8

From amongst the lax clumps of long, slender leaves, upright bowl-shaped flowers emerge on short, sturdy stems. The hot pink petals often have a green flush on their outer edges, while the inside eye is a mix of creamy white and rich blue.


Garden care: From August to November plant the bulbs 15-15cm deep and 10-15cm apart in a sunny spot with fertile, well-drained soil. While actively growing, keep them moderately well watered and remove the flowers after they have faded. At that stage a balanced liquid fertiliser can be applied each week for 4 weeks before they die down.


Harmful if eaten/may cause skin allergy
There are currently no 'goes well with' suggestions for this item.